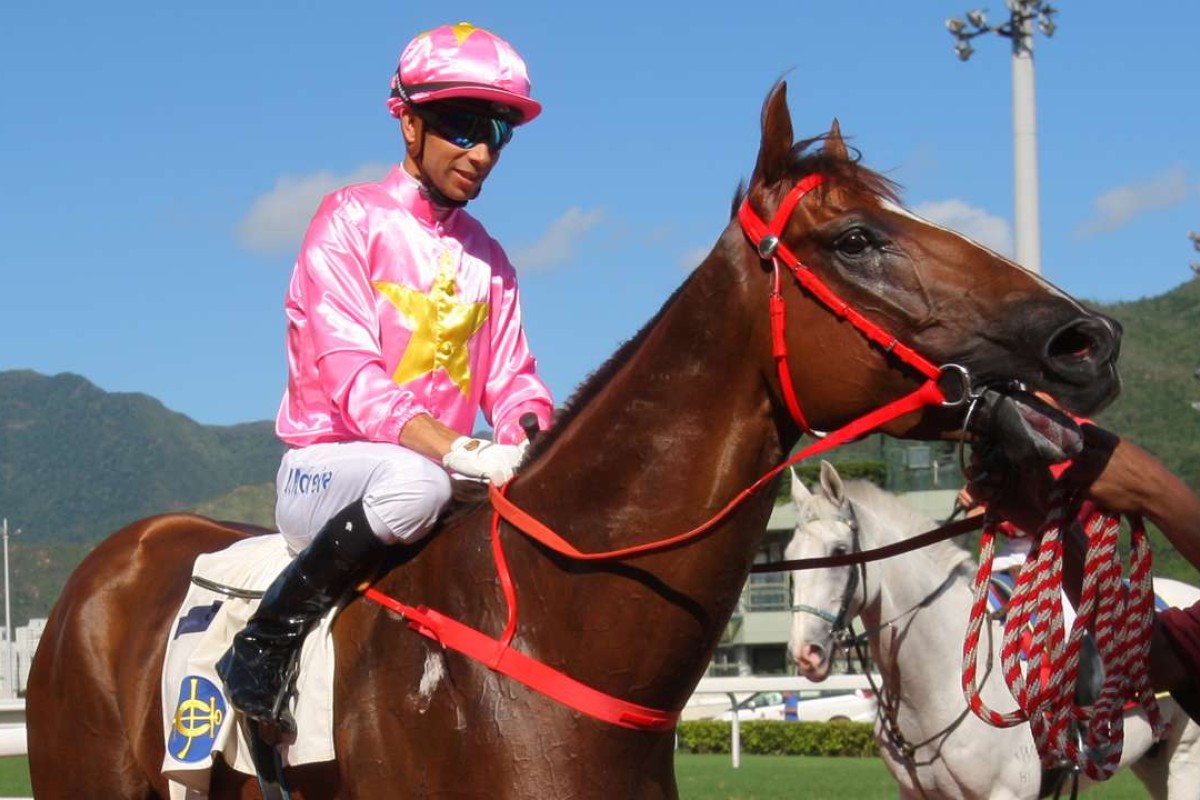 Champion jockey Joao Moreira scooped up the final Group races of the season at Sha Tin yesterday with two four-year-olds with big race aims next term but might be spared having to choose between them on the last day of the current season.
Moreira's four wins included a fairly hollow victory on John Moore-trained Helene Paragon in the Premier Plate (1,800m) before more of a squeaky rear end effort to scrape in on John Size's Sun Jewellery in the Premier Cup.
But while Moore has every intention of taking Helene Paragon through to the Sha Tin Mile Trophy on July 10, Size said it was "unlikely" that Sun Jewellery would go there, even if his rating allows it.
"It doesn't look an ideal scenario to me – run today first-up for three months at 1,400m then have to carry 133 pounds over a mile three weeks later – so I'd say he's not likely to run," said Size, which will please Moreira, who got back on the gelding for yesterday's win after losing the mount to Ryan Moore when he had to choose earlier this season between him and Thewizardofoz – a decision that cost him a Classic Mile and Classic Cup.
In a very slowly run Premier Cup, Sun Jewellery sat behind Dashing Fellow (Chad Schofield), then gave favourite backers plenty to think about as he inched past the leader in the final 100 metres by a short head, but Size was unperturbed.
"About a week after he ran in the Derby, Sun Jewellery looked like he'd had enough, which was no surprise," Size explained. "So he had some time off and did quite well within himself and I gave him some work to see if he could race again. The signs were good and I was happy to run him, otherwise he ends up with too much time between races.
"Luckily, we found the right sort of race and it was a bonus to come out and win it, and the win also helps to get his rating up, which helps you get into the races you want to run in next season. But I wasn't surprised that he had a bit of a battle because Dashing Fellow is always hard to get past and he'd done no work in front, so I thought they both did a pretty good job."
Dashing Fellow's stablemate Helene Paragon – or "El Toro" as Moore said the horse has been tagged amongst the racing press in Spain, since he hails from there – had a somewhat easier passage, looping the field from last and winning clearly.
Moore had described Helene Paragon as a top miler in the making recently, and said that probably the Derby 2,000m had been a touch too far but he was back-pedalling after the soft win.
"Going back to the 1,800m today was all about programming – that's the race that was on – but everything went right, he relaxed beautifully out the back and finished off like a horse who would get 2,000m," Moore said. "So probably we'll enter him in December for the Mile and the Cup and we'll see where we go. Maybe he's our standby for the Mile if Able Friend doesn't make it. We'll see.
"He's always had something a bit special about him this horse and I couldn't be happier with his progress."
Moreira said he feels there is still a lot to come with Helene Paragon even though this win will take him over 110 in the ratings.
"I didn't mind being so far back because I could feel him relax and save his energy for the finish. He's broken the course record and finished like a really nice horse," he said. "He is high in the ratings now, I know, but he will go even higher. He is on the way to matching the really good ones at level weights."