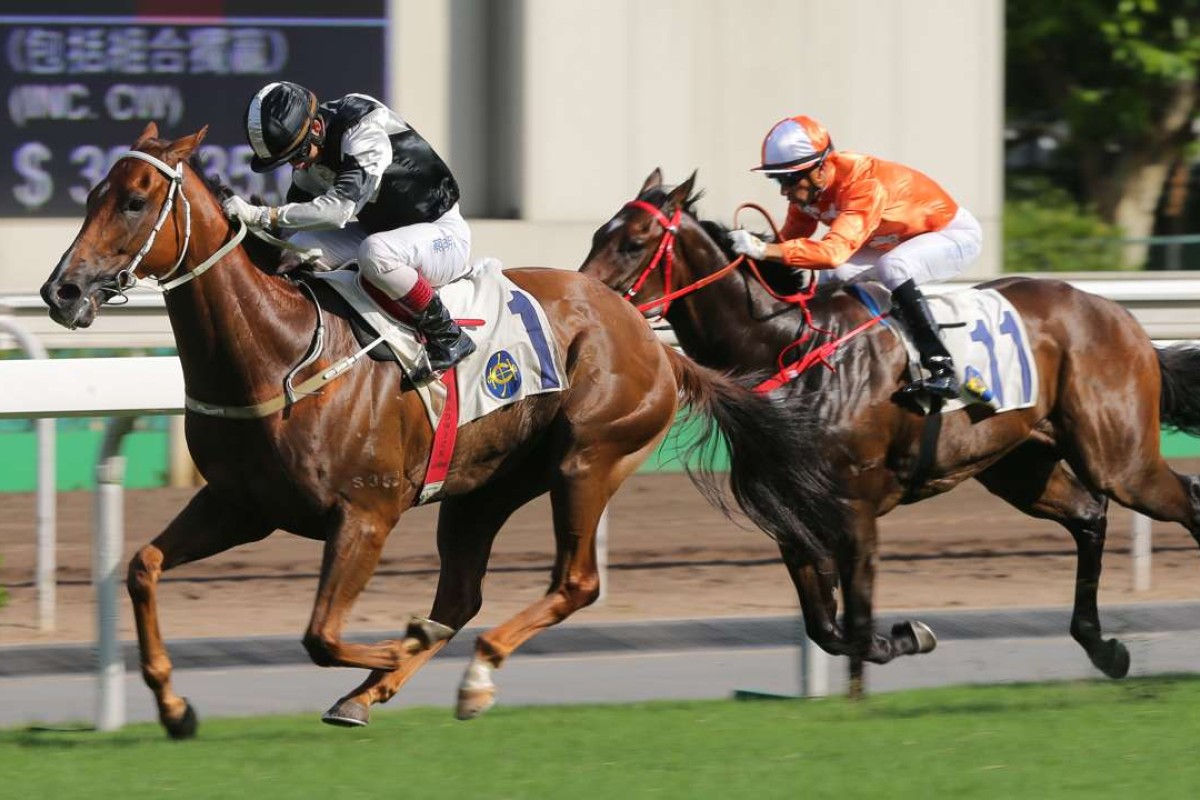 For the best part of three years, champion jockey Joao Moreira has smashed records and wowed Hong Kong with his Magic Man show, but maybe the day was always destined to come when he sawed a man in half and it turned into a bloodbath, and it happened with Love Shock in the Members Cup.
Stewards grilled Moreira over his tactics on the 1.6 favourite, after Love Shock became locked three-wide in a high-speed duel for the lead with Chevalier Star (Neil Callan) and Shinning Moon (Alex Lai Hoi-wing), several lengths clear of the rest of the field.
No action was taken against Moreira but the Brazilian was told more was expected of him and issued with a stern reprimand by chief steward Kim Kelly, and the jockey didn't spare himself either.
"That was a shocking ride," he admitted. "I am very disappointed. I had to make a decision and I admit it turned out to be the wrong one."
Moreira explained that trainer John Size had asked him to ride the three-year-old for speed from the gates then look to tuck into a gap behind the leaders.
"John said to jump as well as I could – he usually says that – send the horse forward as much as he is comfortable. He said there would be pace on the inside of me, the leading horses should open up and I could slot in," Moreira explained.
"So, when we jumped out, I gave him some help to get going and when I did that I beat Chevalier Star for speed. After 200 metres, I was probably a neck in front of Chevalier Star, which didn't show as much pace as he usually does, and I was travelling on the bridle. So I looked over and behind, inside, there was Supreme Falcon and he had two horses inside him. If I come back now, I'm going to be four wide."
So Moreira said he made the executive decision to press on and get around the horses inside him.
"And when I did that, as soon as I did that, Neil Callan dug his horse up and so did the rider on the inside," Moreira said. "If I had come back, we know after the race it would have been the right thing to do. But there was a point where I had to commit, at that moment I didn't have the option to come back because I would have been wide and when I committed to go forward and the two underneath me dug up, I was stuck there."
Love Shock did an excellent job to still get to the front inside the 200 metres but succumbed late to finish fourth to Clever Beaver, who gave Matthew Chadwick a winning double, his 300th winning ride in Hong Kong and a good laugh as well.
Chadwick had Tony Cruz-trained Clever Beaver camped fourth, following the three squabbling leaders, and he was full of confidence in running.
"I was laughing out loud even at the 800 metres at what was happening up ahead – I knew I was going to win," said Chadwick, who had won the opener for Gary Ng Ting-keung on Class Five battler Mizzen Grey and brought up the minor milestone of 300 wins for his old boss Cruz on Clever Beaver.
"There's not a lot to say about this horse," said Cruz. "He's honest, tries his best but he is limited. Class Two is a bit hard for him and coming back to Class Three he was able to win, when the other jockeys made things a bit easier for him. He got a perfect ride, some of the others didn't."