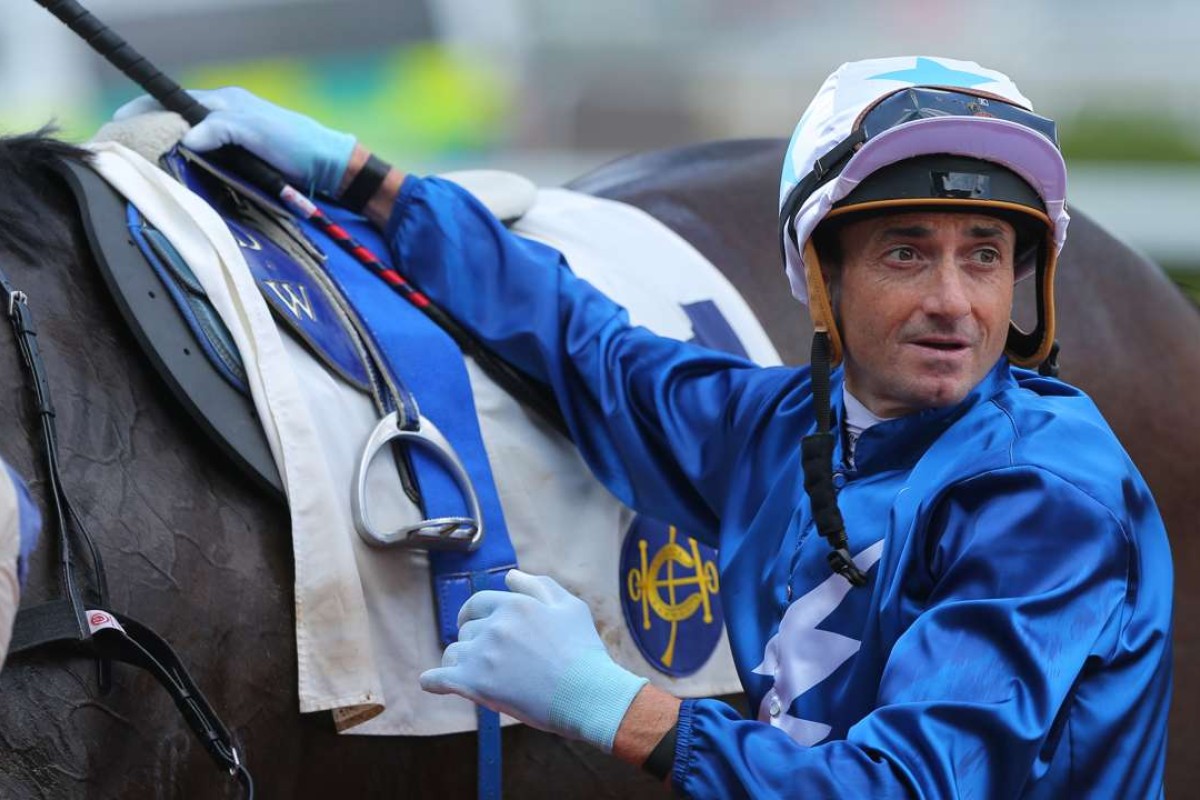 Francis Lui Kin-wai feared history was about to repeat itself and was worried for Douglas Whyte's safety when whip-shy four-year-old Iron Boy nearly threw away a Class Four win with some wayward antics yesterday, but the trainer will still resist putting blinkers on the gelding going forward.
Australian import Iron Boy was working into the contest late when Whyte slapped the sprinter in the right hind and the obviously thin-skinned type took exception, abruptly veering off course and seemingly putting his first local win in jeopardy.
In the end, the result was nowhere near as bad as when Iron Boy produced an eerily similar sidestep at Sydney's Canterbury racecourse in May last year, on that occasion dislodging gun jockey Hugh Bowman as the horse reacted badly to a right-hand strike with the whip.
Top jockey Hugh Bowman's spectacular fall at Canterbury. http://t.co/LiFXVawhgy pic.twitter.com/FIOKtArnmn

— The Australian (@australian) May 27, 2015
The son of California Dane had shown a similar tendency at Kembla Grange at a previous start as well, and even though Bowman came away from his fall without serious injury, Lui admitted he was concerned when Whyte was left scrambling to keep his mount going straight with 200 metres to go.
"I am happy he won of course, but I'm more glad Douglas managed to stay on after what happened to Hugh on the horse," Lui said. "It was a good piece of riding to pick him back up after that, to switch hands and win."
After the horse had dislodged Bowman, former trainer Matthew Smith placed blinkers on the horse with immediate effect – the then three-year-old breaking through over 1,400m – but Lui said the blinkers won't be deployed here just yet, saying he wanted to give his horse more time to develop.
"Even though he has now had seven starts for me, he is still improving and I don't like to push horses too quickly, that's not my style," he said.
Whyte agreed the headgear should be kept for a later date and wasn't surprised that the winner only just scraped home by a short margin after looking a little lost when seeing clear space.
"I think he is a blinkers horse, but we should only use them when we need a trump card," Whyte said. "At the moment, he is doing things right – other than that incident – but now that I know him better I can ride him accordingly," Whyte said.
"He reacted to the whip, but he hadn't been in a forward position and about to hit the front here either. He has been in behind them and hadn't really seen daylight, so it was probably a combination of those factors. He is a nice horse going forward, I'm glad he picked up again after I switched hands and got to the line."