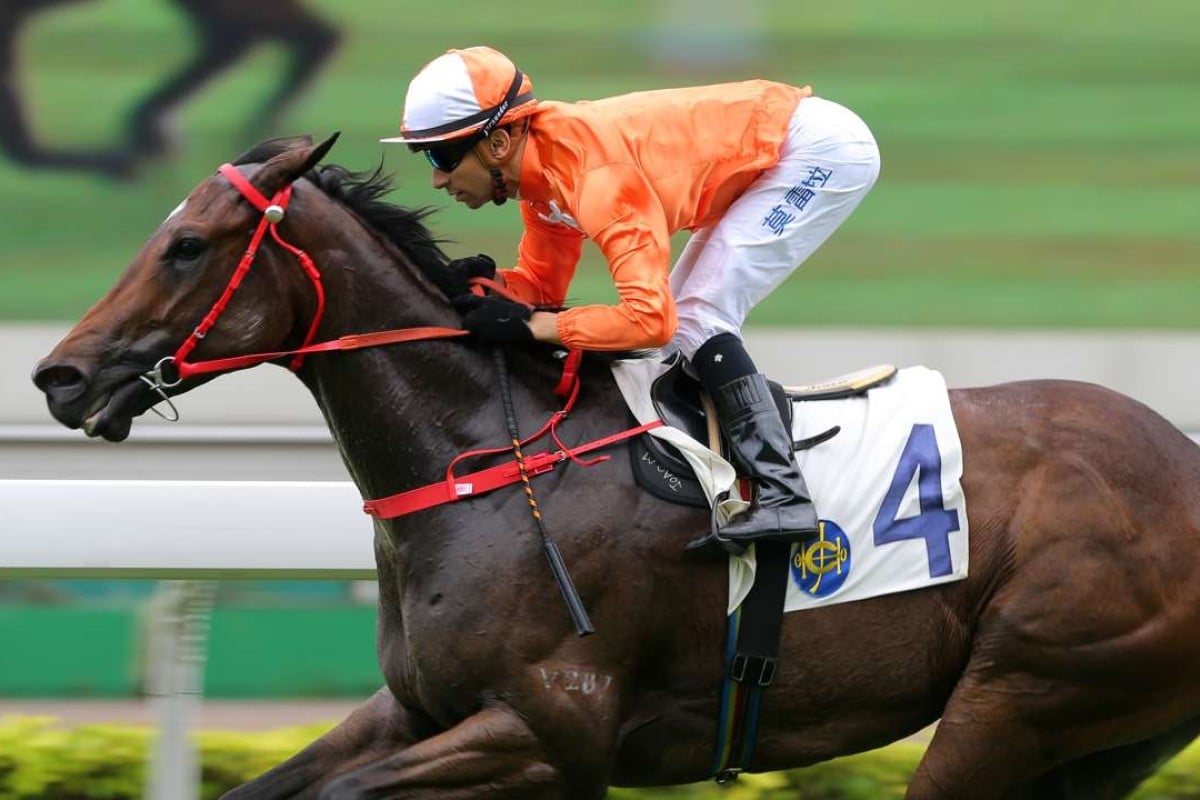 The racing stewards were, or should have been, stuck in some kind of moral dilemma on Sunday after Joao Moreira's Love Shock ride, but it's hard to feel too upset for them as it was a cage of their own making.
We have yet to sit down and work out our top rides of 2015-16 for the end of season review pages.
What would be the pick of the Magic Man's stellar efforts, we couldn't really say, but there's no doubting that this was his worst ride of the term.
And we aren't hanging him for that – within 18 hours of that ride, Lionel Messi had put a penalty into the crowd at the Copa America final, too. They're all human, they all make mistakes, even clangers.
But one mistake nobody should make is to think that the hottest topic of conversation at Sha Tin track work on Monday morning, in English or Chinese, would not have been along the lines of: "Well, if that had been (insert any jockey name), he'd have got time."
In the past decade, there have been 19 bans handed out for failing to take all reasonable and permissible measures to win or obtain the best possible place in the field – two-thirds of them local riders, but the expats have held their own with seven charges.
And they have ranged from rides with a flashing red light and a siren attached, to the more sticky area we are talking about with Moreira – the error of judgment.
In some of those past cases – Thomas Yeung Kai-tong's ride on Packing Winner still stands out as a monument to severe injustice – we would even argue that the "error of judgment" cause for action was absent.
What has happened with "reasonable and permissible" – rule 99 (2) – is that the officials have attempted over time to build up a notional database, if you will, of rides that could and, perhaps in many cases, should have been done differently and produced a different outcome at the winning post.
A better placing, maybe a win instead of a defeat. And riders have been punished on that basis.
That project has been necessary because it would be an extraordinary ride in 2016 that would see a jockey banned for failing to run on merits.
It simply doesn't happen in most places because the only difference between the bad ride on a non-trier and the bad ride on a trier is one of intent – and proving intent requires some pretty specific evidence.
So there has been a benchmark in construction for the level of misjudged ride sufficiently egregious that stewards can use "reasonable and permissible" to ban the jockey, without ever having to suggest anything more sinister (or difficult to prove) than a poor ride.
As a result, stewards have been able to put away the odd deliberate non-trier, but other jockeys, who may simply have zigged when hindsight says they should have zagged, have been caught in the net, too.
And that has always made us uncomfortable due to its implications when such rides happen frequently every race day.
And that surely is where everyone found themselves after Moreira's shocker on Love Shock, an odds-on favourite carrying tens of millions of dollars in various bets.
As the 1.6 favourite, half of the HK$148.7 million bet on the race included Love Shock somewhere – and only some bets using him in First Fours or as fourth home in the Quartet survived.
Moreira himself said it was a "shocking ride" and admitted that, after the race, everyone could see it would have been better to steady than press on. Alas, there are no do-overs.
Perhaps another rider with a past record under rule 99 (2) would have been looking at a month or two on the sidelines to consider his Love Shock ride, but how do you take action against your champion, record-vaporising jockey whose integrity is beyond reproach and his clear intent is to win?
We wouldn't even want to roll our trolley upsides with him at ParknShop, he's that keen to win everything.
Moreira should not have been suspended because, as mentioned earlier, we have always been a little uncomfortable with stewards using this rule to punish what is simply a mistake.
It is a rule the use of which will always carry the whiff of corrupt behaviour if only for its proximity to rule 99 (1), dealing with horses running on their merits, and its application is too arbitrary anyway. There have been a lot more non-triers and about a trillion more mistakes made in races in the past 10 years than the list of riders punished under 99 (2) would suggest.
But, if Moreira had been banned, then that action would not have been out of step with how this rule is used.
Because the Magic Man is who he is, we don't believe that even for a single moment the stewards contemplated taking action against him on Sunday.
And that is also where this use of 99 (2) becomes a moral dilemma as much as it is a matter of the rules of racing.
Should your champion rider, who is expected to be nearest to perfect, be penalised for a stand-out lapse? Or do you only punish the journeyman, the less-skilled jockey who is expected to make mistakes constantly, when he makes a mistake of the same magnitude?
Depending on your answers, is it then the case that there are different rules for different people?
We will leave that to everyone's own view and say that we do sympathise with the stewards, who have relatively ineffective means with which to handle those rides, which really are undertaken with bad intent, but these are the sort of slippery questions that won't go away when honest mistakes become just as culpable.