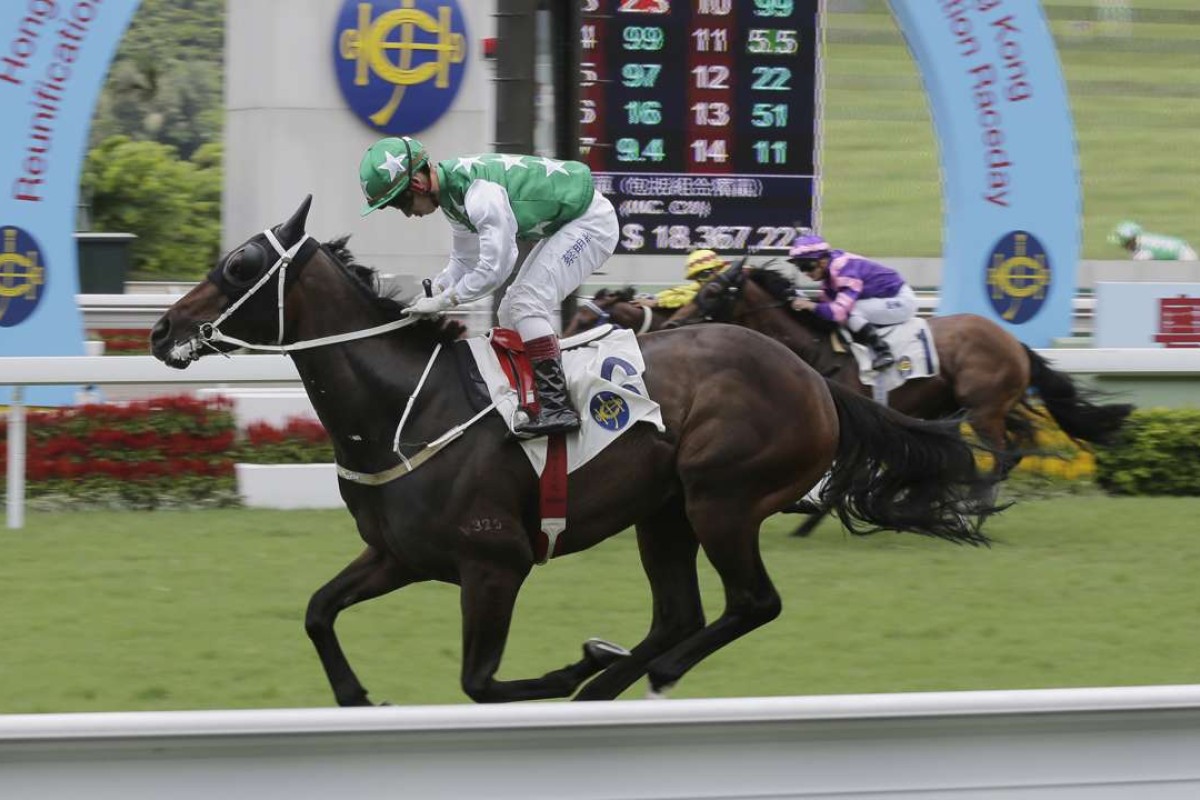 Griffin wins are usually just a pointer, a guide to something better to come somewhere off in the distance but the here and now was frighteningly good when Tony Cruz-trained Pakistan Star produced one of the performances of the season to win his debut on Friday.
A HK$6 million buy in March at the Jockey Club's international sale, despite a few issues with his breeze-up, Pakistan Star (Matthew Chadwick) did a nice impression of another son of Shamardal, Able Friend, in a breathtaking performance that saw him post a finishing sprint of 21.2 seconds, seven-tenths of a second faster than the next best all day and one of only two horses to crack 22 seconds.
As he had done in his barrier trials, German-bred Pakistan Star began very slowly to be conspicuously last after 100 metres but it only got worse from there, as he struggled to stay in touch with the field and drifted to some five or six lengths behind the second-last horse at the 800m mark.
Tickets might have been torn up and some bad language used at that stage of the race but the turnaround was titanic – Pakistan Star tacked on to the stragglers getting to the home straight,then unleashed a stunning final 400m to win going away by almost two lengths, with Chadwick sitting up on the line.
"I don't think he beat anything special, the griffin races haven't been that impressive so I did say to the owners that I thought he had a blowout chance today," said Chadwick. "Today was about his ability more than where he's at mentally."
WATCH: Pakistan Star's highly impressive win
The first blow to Pakistan Star's chance came on declaration day when he came up with gate 14 of 14 but Chadwick said that he almost saw that as a plus.
"In these griffin races, with so many inexperienced horses, you never know if they'll go fast or slow. So from the outside, if he was slow out as I expected, I thought at least he'll have some room," Chadwick explained. "From an inside gate, if he missed the jump, he could get cooped up inside. He's very quirky, he looks after himself a bit. Mentally, he's not there, which we've known ever since his breeze-up before the sale, but he is making progress in trackwork and learning all the time."
Horses sold in the international sale are required to do a short breeze-up of a few hundred metres down the Sha Tin straight so that prospective buyers can get a look at them and, for reasons of salesmanship, the cosier the breeze-up looks, the better for the price, usually.
Mark Richards, the club's international sale manager, who purchased the good-looking three-year-old at Deauville, explained that Pakistan Star's workout didn't give much encouragement to onlookers.
"He's been a nice horse from the start. He was bred in Germany at Gestüt Wittekindshof, his half-sister was a two-year-old winner in Europe and Listed-placed, so I thought there was a fair chance this one would come to hand fairly early," Richards said.
"Everything continued to go really well with him until the day before the breeze up here. He just stopped in the tunnel going out on to the track and wouldn't move. No reason why. Then on breeze-up day, he refused to go past the cooling fans on the outside of the track, he ended up having to be hard ridden to get going at all and didn't finish off his gallop well.
"I was a bit gutted because we knew he had some talent. Anyway he was still a popular lot and Tony Cruz seems to have got the hang of him. The sprint home was pretty impressive today and he looks like a Derby horse next season."