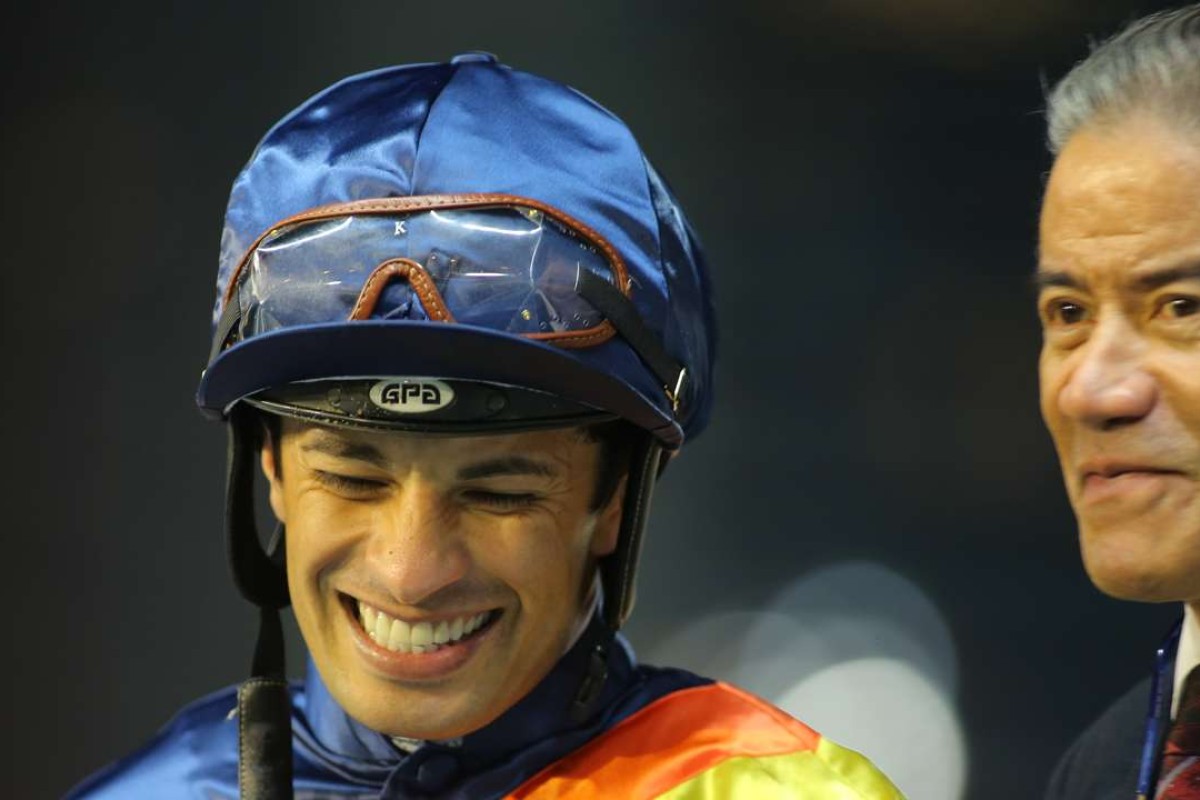 Silvestre de Sousa, it's time to pull the opposite of a Brexit and leave Britain.
Well, not quite, as he shouldn't head to Europe, but back to Sha Tin – and the Jockey Club should be doing all it can to make it happen.
There's the problem, though: what can the Jockey Club do, outside of paying appearance fees? That won't be happening, but De Sousa is the man to break the stranglehold effect the dominance of champion Joao Moreira threatens to impart on Hong Kong racing.
The 34-year-old De Sousa was a star in Hong Kong during the winter – in less than 10 weeks he rode 16 winners from 107 rides, this at a time where the jockeys' roster was at capacity and, for at least part of it, when Ryan Moore was in town.
De Sousa is strong, skillful, tactically aware, but most importantly light, just like his former Sao Paulo Jockey Club apprentice school classmate Moreira. His complete dominance is making it more difficult to attract big names for full-time roles, while at the same time bringing a certain sense of sameness to proceedings and, at worst, skewing and suffocating betting markets.
The "Moreira factor", when it comes to recruitment, is more than just a theory – jockeys have openly expressed concern at what is left over to ride for after the rapacious Moreira has his fill of winners.
Australian jockey Tommy Berry would be near the top of the Jockey Club's hit list for a full-time role, and although he has both professional and personal reasons to decline John Moore's overtures for a stable jockey role, he did also admit that Moreira's overwhelming support was another reason to delay what he says will be a full-time move sometime in the future.
"It's a one-man show at the moment," Berry told the Post in a recent feature. "When I look at going back to Hong Kong I want to be up with the best of them, and to compete with Joao is very hard to do."
So how does throwing yet another top jockey into the mix make life better for anyone else – it should be just harder then, right? Not necessarily. The problem isn't competition, it is just one man's dominance, and the fact De Sousa can ride close to the minimum, and do it strongly, would mean he provide the perfect circuit breaker.
As it stands, if a trainer has a horse in the bottom half of its grade, the stable starts making plans around Moreira riding it. Maybe if De Sousa provides another option, they won't hold back a horse and it will make for more competitive racing – something that will be desperately needed with an extended schedule next season.
Of course De Sousa is the reigning champion in Britain, but the former retained rider for Godolphin doesn't get the big race rides –he has instead plowed and carved a niche for himself as a meat and potatoes guy, travelling the long hours required to ride a winner or two.
It's a bit mean to anyone earning English pounds to be doing currency conversions at this time of economic upheaval, but the HK$13 million De Sousa's horses earned during his short term stint equates to more than £1.2 million – and more than twice as much as the total amount earned by his runners in his championship year, £605,713.
Those numbers are an example of how De Sousa is snubbed for the big rides from the powerful stable. Second to the Brazilian in 2015 was Ryan Moore, who, as number one for Coolmore, rode 10 less winners than Moreira but his horses earned more than five times as much with £3,148,299.
At Royal Ascot, De Sousa had an astonishing four rides over five days, which is utterly ridiculous for a jockey of his stature. Last week De Sousa rode a winner at Yarmouth, 90 minutes drive from Newmarket, where first prize was £3,234.50 – it's worth more to run fourth in a Class Five at Happy Valley.
Who knows, maybe Moreira would welcome the competition from his countryman. As it stands, he has an almost inhuman workload and it makes you wonder whether fatigue was a factor in the recent "Love Shocker" ride on Love Shock two weekends ago. Jockeys at this time of the year are suffering badly, and Moreira, who is a particularly energetic pilot, rarely goes without a ride in a race – his workload is reaching ridiculous levels.
So if cold hard cash in the form of the highest per race prize money in the world doesn't do it, what will bring De Sousa to Sha Tin full-time? It probably comes down to family first and the Jockey Club should be sending a recruitment team to Newmarket complete with brochures for local schools.
This isn't a comment on the quality of riders here, at all – it's a top notch group, and it's possible De Sousa could even make things easier for the likes of Zac Purton, Brett Prebble, Douglas Whyte and Neil Callan, not to mention the heavyweights Nash Rawiller and Opie Bosson. I mean, it can't really get any worse for them, can it? Ahead of Wednesday's meeting at Happy Valley, Moreira (161) has more than twice as many winners as second Zac Purton (80).
For now fans, and Moreira's rival jockeys, will have to look forward to an extended stay from De Sousa though the winter, arriving once the flat season finishes in mid-October, leaving him time to arrive in time for Hong Kong's Group races at the end of that month.
While De Sousa is puzzlingly snubbed in England, at Sha Tin and Happy Valley his stock is at an all-time high. It might be time to pull a backward Brexit and cash in.