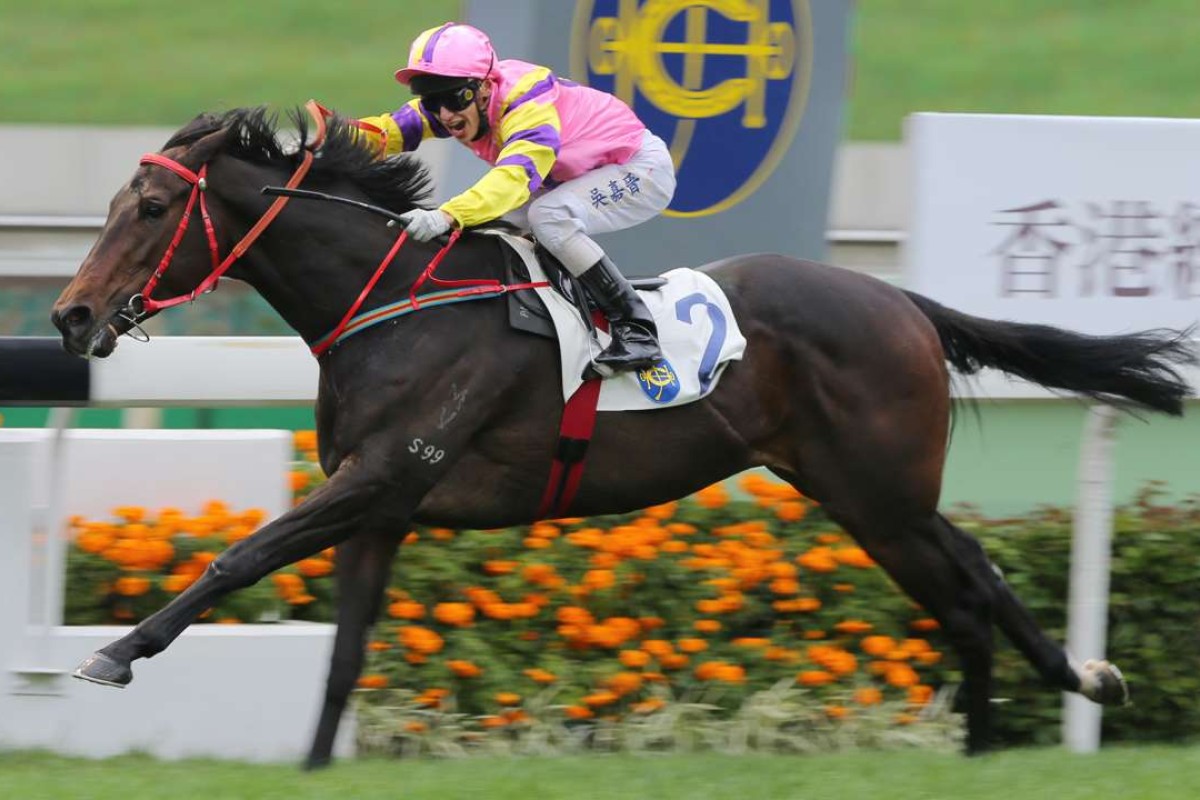 One of our hobby horses in recent seasons has been the steady increase in uncompetitive runners in racing in Hong Kong and the 2015-16 season will again see an unprecedented level of horses not holding tickets.
This season is not quite completed, of course, with 20 races to run, but they won't make a huge amount of difference to the statistics the season has already generated from 764 events, so we thought this season's last On The Rails column could be our annual look at the numbers.
In those 764 races, we've had 9,589 runners and more than 1,200 of them have gone around at odds of 99-1 or better, all the way up to Flying Machine who followed them around at 645-1 one day.
And we're actually leaving out anything that was 98-1, which is hair splitting of the highest order, so this suggestion of uncompetitive racing could look even more brutal.
The trend line under handicapper Nigel Gray has been quite clearly a rise in uncompetitive horses
That is almost 12.7 per of the runners this season, so more than one in eight runners have been considered little or no chance of winning (yes, OK, two did win but feel free to do the maths – 1,217 runners for two winners ... the flat bet return doesn't look too flashy.)
And that figure for uncompetitive horses is rising every year.
In 2011-12, it was short of 8 per cent, and in subsequent years almost 9 per cent, almost 11 per cent, 11.44 per cent and now this.
As we understand it, the handicapper takes no blame for this but, in a jurisdiction where 98 per cent of races are run at handicaps, the purpose of which system is to make more rather than fewer competitive runners, it must sit at his door.
In fact, those figures for the 100-1 chances in 2011-12 and 2012-13 were actually a downward blip – in 2010-11 it was just over 10 per cent – but the trend line under Nigel Gray has been quite clearly a rise in uncompetitive horses.
In fact, the proportion of 100-1 chances is now more than double where it was when Gray took the reins in 2007.
Of course, it is a fluctuating figure. Under the previous handicapper, there was a season when 100-1 chances hit almost 8.6 per cent of the runners, but it was generally less than 8 per cent and for the four years before the change of management that level was under 6.8 per cent every year.
The system that Gray inherited produced a low for this century of just 5 per cent of runners going out at 100-1 in 2007-08, but the trend has been upwards since.
Interestingly enough, there is a similar trend in the rise of multiple-winning horses in recent years, so it seems linked that winning horses are not penalised heavily enough for wins or, perhaps more to the point, relief for horses which have found their mark is not forthcoming.
Winners generally whine that they have been penalised too heavily, while place-getters are unhappy that they are "penalised for consistency".
The problem with those views is that if winners and place-getters, which are earning cheques, do not get penalised in the ratings then the penalty falls to those least able to cope with it – the ones that aren't earning stake money.
Losing horses are the ones dealt the real blow by a handicapping regime which is not dynamic enough, and there are a lot more of those horses.
So why do we care?
Uncompetitive horses still eat, drink, require vet and stable staff care. So they still cost money to keep. But, according to the Jockey Club, potential owners are queued back for four or five years, so it obviously isn't a turn off that your uncompetitive horse is just going to chew up money for a year before it finally becomes competitive.
Does it hurt turnover? Well, that's something we can't know as we can only measure turnover created under the conditions imposed, not those imagined, but we can't see how it helps.
Uncompetitive horses are not backed by their owners and connections, or tipped to friends or colleagues, who of course don't pass on that tip they didn't get.
And considering what poor results these 100-1 horses produce, they are effectively scratchings, downgrading the worth of Hong Kong's healthy average field sizes, just speed humps getting in the way of the handful of runners every race that are considered real propositions. And there is inextricably a link between field size and turnover.
Still, turnover this season has been, to use that good old football cliché, a game of two halves – hands up if you've ever wanted to say that with a straight face in public.
After all the doom and gloom mid-season that saw forecasts of turnover being down by 5 per cent, the turnaround in the last 40 meetings or so has been significant.
In the first or second races tonight at Happy Valley, pari-mutuel turnover on local races will push through the HK$100 billion mark for the season, or around one meeting later than that number was breached in 2014-15, and there is every likelihood that pari-mutuel turnover will fall only 1 per cent or so short of equalling last year's number. (That doesn't include simulcasts, which have been up by HK$380 million, 16 per cent, and the fixed odds Jockey Challenge, for which no specific official figure is published but gut feeling would suggest it hasn't risen and may even have come back a little.)
So, maybe it doesn't cost turnover then. Or, more likely, it costs those percentage points that go missing in an unexplained fashion in seasons like this, because it certainly takes a lot of the value out of racing and reduces its appeal.
The average price of a favourite sunk to an all-time low this season as a result of uncompetitive races. Only once previously had the favourite averaged a price under HK$30 for every HK$10 bet but this year it was down to HK$29.68. This time 17 years ago, that was standing at HK$36.29.
It would be unfair to sheet all of that change home to the handicapper's failings. One thing markets do constantly is become smarter, and punters have, with more and better information, collectively become better analysts.
The Jockey Club has steadily rolled out improved information over the past 17 years and punters have responded by using that information better to more readily identify the likely winners.
And that job is now being made so much easier by the annual rise in the ones they just throw straight in the bin as no-hopers.