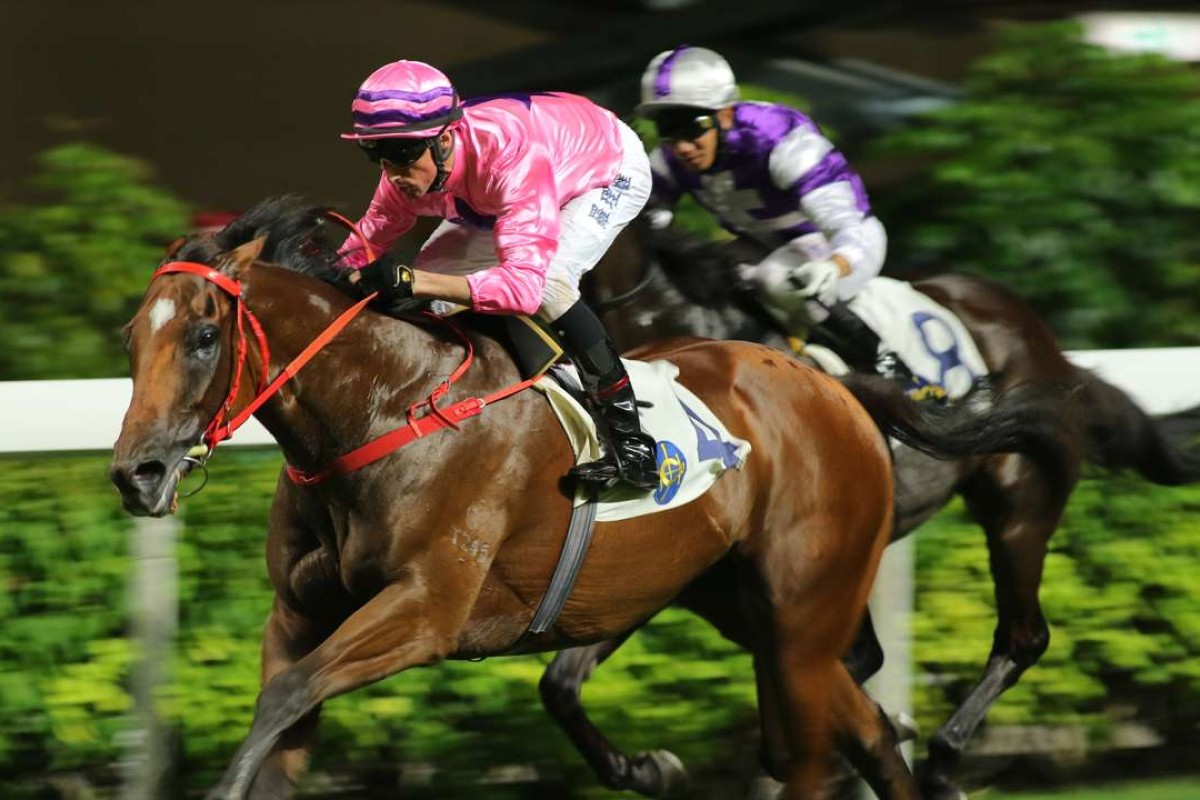 Lucky Year wound up an excellent season with his fourth win of the campaign at Happy Valley on Wednesday night but the gelding won't be given much time to rest on his laurels with trainer Danny Shum Chap-shing identifying the HKSAR Chief Executive's Cup as his target at the opening meeting of next season.
"He has done a lot of his racing here at Happy Valley this season but his form at Sha Tin was good when he started racing and I don't have any worry about taking him back there," Shum said after Lucky Year (Nash Rawiller) sat off the pace in the Class Two Luger Handicap and swamped the lead in the final 100m to score running away by two lengths.
"He's a good horse and the better races are at Sha Tin and I think he would have a chance in a Chief Executive's Cup."
The win put a seal on Shum's dominant season at Happy Valley but for other trainers the final night at the city track for this term allowed a last chance at redemption.
Three of the bottom four-ranked trainers scored wins, with Andreas Schutz taking the opener with Forever Fun (Jack Wong Ho-nam), Gary Ng Ting-keung the second with Precious Gem (Vincent Ho Chak-yiu) and David Ferraris finally getting the win with The Sylph, part of Joao Moreira's winning double.
After four straight seconds, The Sylph got home narrowly over Victory Boys and there was an extra wait while the runner-up's rider Brett Prebble looked at the head-on film to see if a protest might be warranted.
"It's a relief to get a win with him finally but I think he could be a horse who comes good next season,"
said Ferraris. "He has a high head carriage still but he's a lot better than he was at the start and tonight
he really fought well when the other horse challenged."
Connections of Circuit King also got an overdue victory as birthday boy Neil Callan threw the three-year-old over the line to win by a nose - his first win after 13 prior starts for seven seconds.
"He drew a gate tonight which helped and I think coming to Happy Valley with the short straight made a difference," Callan said.
"He's only a young horse, he'll take some confidence from that into next season."
David Hall and Paul O'Sullivan had already taken their leave for the season but their absence didn't stop them training winners, with Hall landing Super Turbo in the last to give Ho a double, and O'Sullivan-trained Moment Of Power sealing the Tony Cruz Award for Kei Chiong Ka-kei.
The award for the leading local rider of the season had still been a two-cornered contest coming into the night, with Derek Leung Ka-chun trailing Chiong by two wins but he missed narrowly in an earlier race on Ho Ho Feel and Moment Of Power took the gap out to three and just to much left to do.
John Moore-trained Frederick Engels may have run his final race with a disappointing effort in the eighth but the Siu family did have a winner with an overall disappointment, Savvy Nature (Moreira) scraping home.
"He's not the most reliable but he's won two races now, both 1,800m here, and both after perfect rides," said Moore. "Overall, you'd have to say he's been disappointing. I wouldn't have thought he'd need Class Three to win a second race."