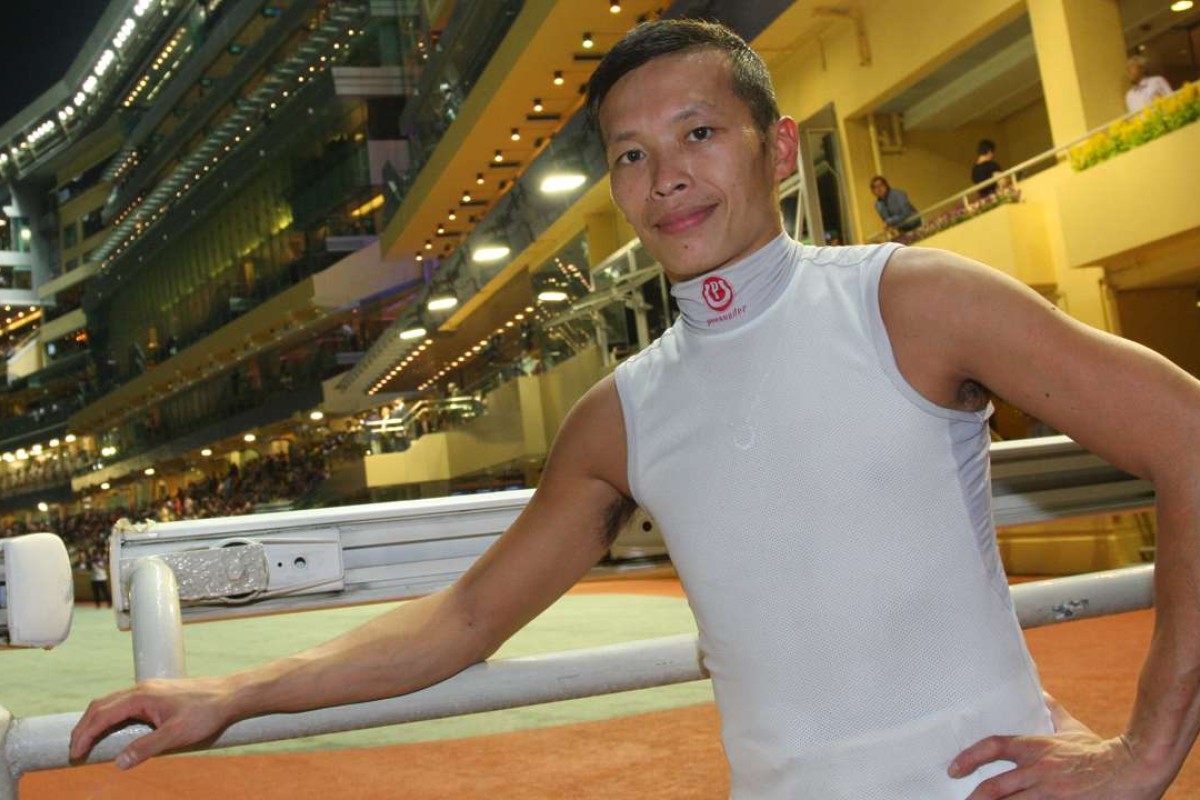 Battling jockey Jacky Tong Chi-kit has one simple wish for Sunday's season finale at Sha Tin, his final day of race riding – one more win.
The fact Tong has endured a forgettable season with just one win from 259 runs and is riding a 227-race cold streak makes that fairy-tale result seem highly unlikely, at least statistically, but the 33-year-old hasn't given up hope.
"I've got five rides, I'll try my best – one more win, that's all I want," Tong said on Wednesday night at Happy Valley, where he managed a second on a rare ride that was a realistic chance, 8-1 shot Fish N' Chips, which was second to Moment Of Power in a Class Three sprint.
Tong has become accustomed to riding horses given next to no chance of winning – just 10 of his rides this term have been rated single figures in betting – and in a jurisdiction that has seen a marked increase in horses rated 100-1 or higher in recent times, Tong is the jockey drawn to ride many of them.
"I ride a lot of bad horses, it's hard, and for the last two seasons I have tried my best but my heart just hasn't been in it," he said.
What has kept Tong going is his wife Ice, and two school-aged children, Pasu and Clement – and, more specifically, Hong Kong's exorbitant kindergarten fees, so he added, only half-jokingly.
Tong says another trouble with riding the horses no other jockeys want, other than the fact they don't win very often, is that they are not only bad, it's that they are quite often mad as well.
"I don't just get slow ones, I get all the crazy ones too," Tong says, with his ability to stay on the back of a jittery or just plain obnoxious thoroughbred to come in handy when he moves to the next stage of his career, that of a trackwork rider.
"Not every jockey can ride the crazy ones, and they don't want to either. I don't have much choice, I've had to take them, but I can ride them as well."
Jockey School apprentices spend the early part of their apprenticeships overseas and much of Tong's on-the-job tutorial was spent riding around the rough and ready tracks in outback Australia, dirt courses that often didn't feature a running rail along the back straight.
When Tong arrived home at Sha Tin he initially found himself indentured to the late Ivan Allan, whose unconventional training methods didn't stop with horses. Tong says Allan was a hard taskmaster and forced his apprentice riders to "hop around the stable trotting ring like rabbits" to maintain fitness.
"When I would get to where he couldn't see us, I would walk," Tong said. "He was a bit cruel, and he didn't give apprentices much of a chance to ride in races. We just worked in the stables for long hours, sweeping and cleaning."
It was Allan's departure that cleared the way for Tong to join Caspar Fownes, where the youngster found not only more opportunities and less bizarre workout routines, but a boss that had more of a personal touch with staff.
A career-best win tally of 22 in 2006-07 included a three-timer and an association with Tony Cruz's top liner Floral Pegasus, on whom he won two straight races before being replaced by Robbie Fradd and Frankie Dettori when the big races rolled around.
That can be the lot of a local lightweight – Tong also rode Ambitious Dragon at his first three starts before that horse went on to capture two horse of the year crowns – and now times have changed even more, with the arrival of a group of overseas jockeys capable of riding horses down in the weight scale, including the record-breaking Joao Moreira.
Maybe Tong has jumped before he was pushed, and he would have almost certainly had to fight for his licence once again had he not decided to retire after nearly 14 seasons and 119 wins – or what he hopes will be 120 – after Sunday.
Still, Tong has planned for the future, having already completed his classroom studies to become an assistant trainer, and is now set to work his way though the system, starting under Cruz as a work rider.
"I'll start out riding work like everyone else, then to work to be a head lad and maybe one day an "AT"," he said.
But first, one more win.