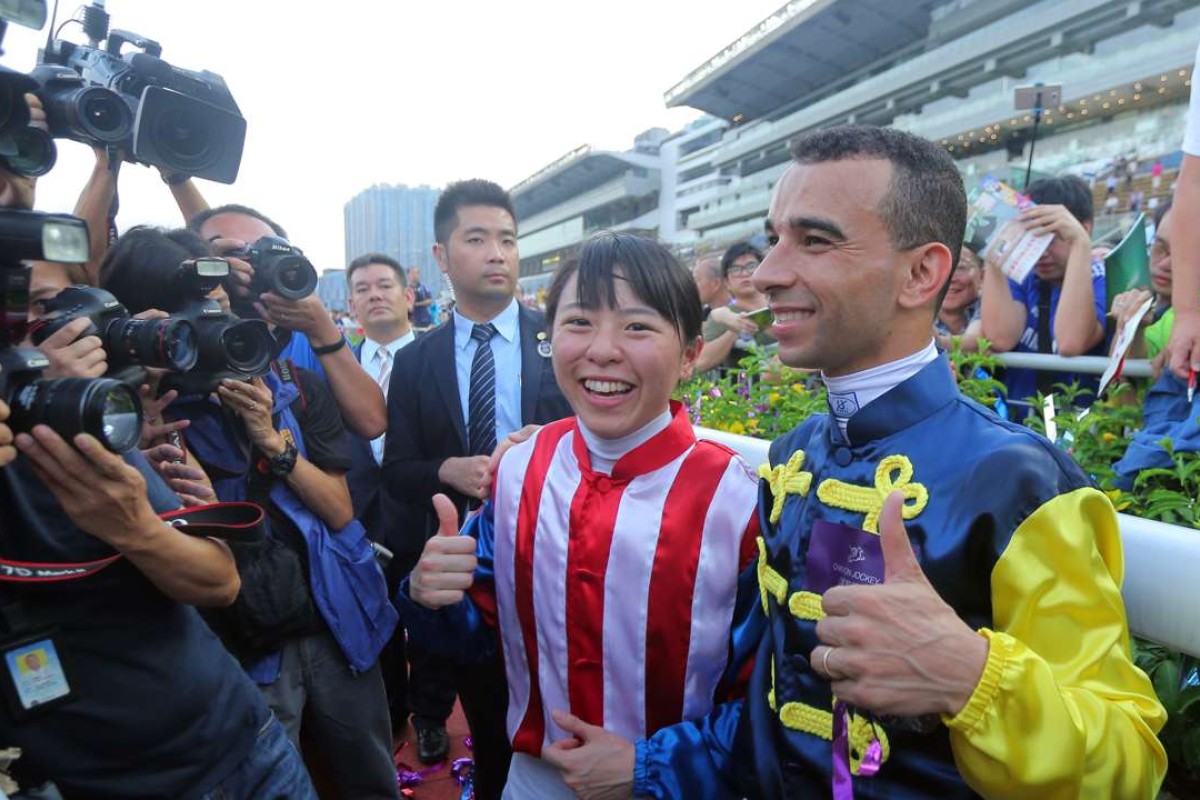 Champion jockey Joao Moreira crowned his brilliant season with five winners, a surprise defeat and one record that he probably did not want, but having his mother with him to celebrate a second Hong Kong title elevated his day and his season to another level even as he dodged the champagne wars with champion trainer John Size.
Moreira's unwanted record was the HK$245,000 fine he caught for careless riding, his surprise defeat by champion apprentice Kei Chiong Ka-kei for the season's Most Popular Jockey by public vote.
The Brazilian led early, but was swamped by Chiong, who put it all down to social media.
"I do feel like I am popular, but maybe for this vote, it came down to people pressing like on Facebook especially the girls getting behind me," said Chiong, who has been a breath of fresh air and even provided a nice angle for her Tony Cruz Award win, sealing it with a victory on Multimax, trained by Cruz.
Of the champions hailed post-racing, Size was slowest to open his champagne after an eighth trainers' title, but made up for it with the breadth and scope of the spray that followed and no-one, from the board of stewards to successful owners to officials, was spared.
2015-16 Season Finale: Kei Chiong, Joao Moreira and John Size dominate the final day of the Hong Kong racing season
"I think we have a protest from some owners' wives, who want new dresses," smiled chief executive Winfried Engelebrecht-Bresges as he looked back over a season, which had promised a certain level of gloom and failed to deliver.
"To be down only HK$1.6 billion to HK$106.1 billion we regard as a good result in a season that began with real questions about the economy.
"From April onwards, things have been very positive. We've had more than 2 million people attend racing this year, the final day crowd was 45,000 and up again for the fourth year running, and a fantastic result overall on commingling. It was up for the season by 31 per cent, and today's figure of HK$74 million was a new record.
"The atmosphere today was fantastic and I think when you hear the roar that accompanies the start of the last race, it's really tremendous and it never gets old.
"And let me say the Tony Cruz Award has been a wonderful concept – when you see the reaction to Kei being the Most Popular Jockey, it is so important to have local talent, local heroes."
For Chinese fans, Moreira's new record had to finish on 168 to get the best out of it in Cantonese, as 168 (yat lok baat) also translates as continuing down the road to prosperity, while 169 – yat lok gao – is a swearing expression, where the final sound means an integral part of the male anatomy. OK, ask your Chinese friends, but it isn't good.
So Moreira's season fell agonisingly short of the 170 wins that looked certain, but won almost bang on HK$180 million in stakes, thrashed his old record and still called it a perfect season: "Every jockey would dream to have the year I have had."
But his highlight was having his mother, Helena, on the podium as he accepted the champion jockey award and she didn't miss out on the champagne either: "It's so long since she has drunk alcohol, maybe I have to get her some tablets! My mother is quite old, she has never been out of Brazil and it is very far away.
"I had a fight with my brothers and sisters to bring her here. She has been in Hong Kong for seven weeks, but I only planned to bring her to the races for one day, the last day, and it was really special."