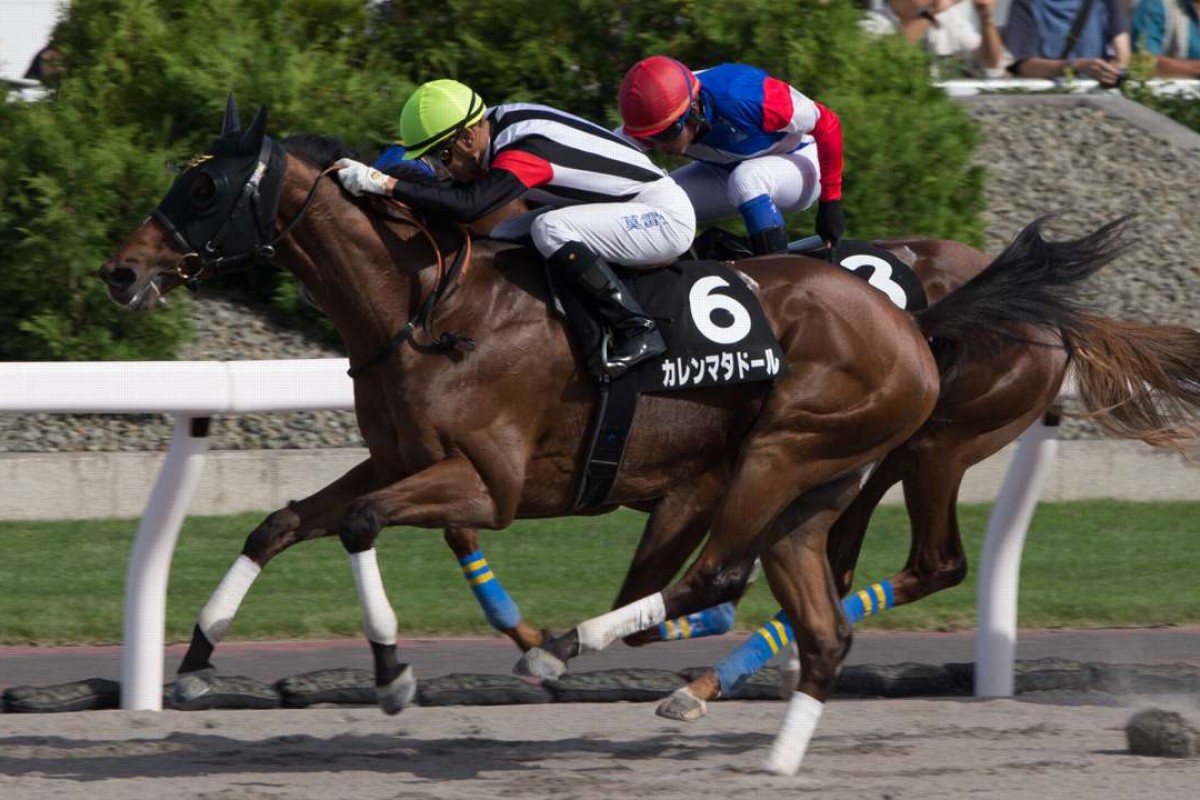 Joao Moreira has bad news for his rivals in Hong Kong after an extraordinary six-win haul at Sapporo Racecourse: he is only just approaching full fitness and is determined to improve again when the new season starts on Saturday.
Six days out from the domestic season opener at Sha Tin, Moreira turned Japanese racing on its head with an amazing performance that included six wins from his first six rides - a winning sequence of seven stretching back to Saturday's final race believed to be a record.
It mattered little that some of his over-matched rides on Saturday and a late scratching on Sunday scuttled his chances of two straight World All-Star Jockeys series, the 32-year-old ended a six-meeting summer stint with his stocks at an all-time high in the racing-mad nation.
Eight wins across the weekend gave Moreira 17 overall from six meetings and he even looks likely to win the champion jockey title for the Sapporo summer series.
Still, the lightweight rider said the major goal of his off-season trip was to be in fighting shape for September 3 at Sha Tin.
WATCH: Season Finale: Kei Chiong, Joan Moreira and John Size dominate the final day of the Hong Kong racing season
"Of course it is fantastic to ride so many winners, it's been an amazing experience," Moreira said. "But part of the reason I came here was to make sure I start the season at home as fit as I can be, and I think I have done that.
"I'm not quite at 100 per cent fitness, I'm nearly there though. The first two weekends I wasn't anywhere near fit, but this weekend I am feeling better and I am ready and looking forward to Saturday.
"I hope I get the same support this season as I have been," added Moreira, who has ridden a record-breaking 145 and 168 wins respectively in the last two seasons.
"That might sound crazy, given how many races I have won, but I never take anything for granted - the moment you do, someone else will be there ready to take your place."
Sunday's wins on Akki, Light Bringer, Maka Le'a and Grand Barows gave Moreira a four-timer by race six, before the aptly named Satono Messiah made it five-from-five for the rider and had some in the big crowd reacting like they were witnessing the second coming.
The reaction of the fans in Sapporo was euphoric, with hundreds squeezing next to paddock railings to vie for autographs gladly granted by an ever-grateful Moreira.
Moreira's sixth win wasn't without drama, with Curren Matador nearly throwing the race away in the closing stages and forcing the rider to fight for the result in the stewards' room after a protest.
With the protest dismissed, Moreira's sequence of seven wins from seven rides across two days equalled Japanese legend Yutaka Take's effort in 2005.
Moreira was lucky to evade suspension for the incident and said that avoiding careless riding charges was another area he would focus on when he chases a third straight Hong Kong Jockeys' Championship.
"Obviously, I want to stay in the track as much as possible and I don't want to get fined, and when I do get charged it is quite a lot of money," said Moreira, who was fined a whopping HK$245,000 for careless riding at the 2015-16-season finale.
Moreira seemed to have seven wins for the day in his sights when Shuji strode clear in the straight in the Group Three Keeneland Cup, the leader only just caught late by promising filly Blanc Bonheur.
A race earlier Moreira's chances of defending his World All-Star Jockeys title were dashed when his mount, Magic Shuttle, was a late scratching, leaving Mirco Demuro to take the title for the first time - the Japanese-based Italian dedicating the win to earthquake victims in his homeland.
"I have never won a series like this before. I was on a winning team at the Shergar Cup but this is the first time for me to win as an individual, so I am very happy," said Demuro.
Demuro was equal-leader overnight before a well-judged ride on Kurino Hatchen gave him outright lead over Take and a fifth-placed finish in the last leg was enough to deliver a win.