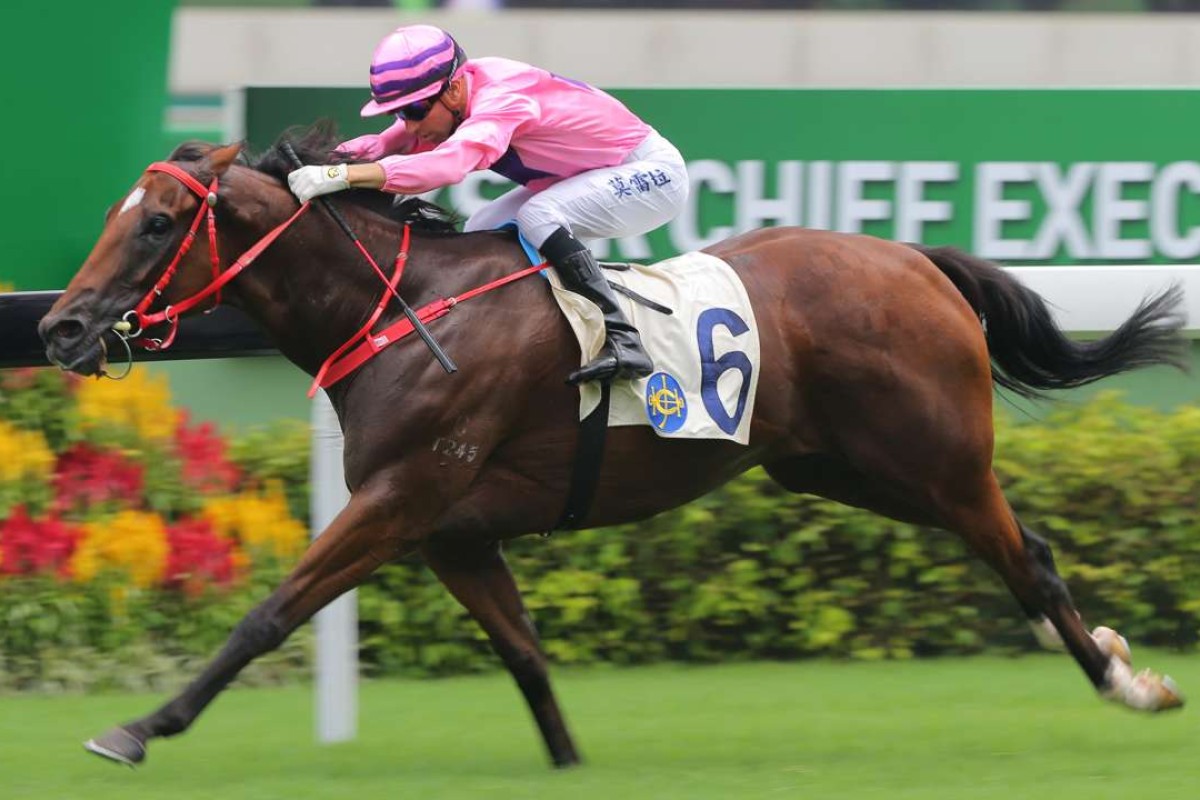 There are times when the post-race story comes from so far out of left field that the race itself starts to take a back seat and trainer Danny Shum Chap-shing produced just such a moment after Lucky Year won an interference-riddled Chief Executive's Cup yesterday.
Lucky Year got a perfect box seat ride from Joao Moreira and justified his favouritism to beat Key Witness and a bruised and battered Blizzard, who suffered the ultimate indignity of being knocked out of the race by his stablemate Amber Sky.
Let's put that aside then – nobody was ready for what came next as Shum announced that he would like to take Lucky Year to Japan for the Group One Sprinters Stakes on October 2.
Put aside that he might struggle to be invited as his rating simply isn't high enough yet and put aside that, due to his insufficient rating, connections will have to pay all the costs of the trip.
Off and running: 2016-17 racing season starts with a bang at Sha Tin racecourse
What is hard to put aside is that the entries closed for the Sprinters Stakes on August 16, and there is no provision for supplementary entries. And that the man who he wants on the horse is questioning whether Lucky Year is ready.
"He is fit and in form and if he is going to be competitive, it is when he is fit and in form," said Shum.
"If there are late entries, I would be interested in going there but I don't think I would go unless Joao can ride the horse."
But Moreira seemed less than positive about throwing Lucky Year into Group One company so soon.
"You can't criticize how he did today – everything went right but he won the race," Moreira said. "And it was the first race of the season so like every other horse that ran today, Lucky Year will improve. I don't think he has hit his peak yet and, if he isn't overraced, I do think there are some more cup wins in store for him. We will see how far he can go but he certainly isn't ready for a Group One."
So, if the Sprinters Stakes is, as it seems, a mirage, then Group Three targets around the same time at Sha Tin could send Lucky Year up or down in distance – the Celebration Cup over 1,400m and National Day Cup over 1,000m are both on October 1.
"It's possible he could stretch out to 1,400m for a race like that – I don't think 1,000m is his game though," said Moreira. "He could meet a better class of horse in that race with some of the bigger names coming back, but he will have the fitness on his side."
Behind the winner, most attention was on Blizzard, prominently placed going into the first turn but spat out the back as his stablemate Amber Sky and apprentice Dylan My Hin-tung took a surprisingly steady route to cross to the lead from an outside gate.
Mo collected a few inside him as he crossed, setting off a chain reaction, with Blizzard the worst sufferer and the Ricky Yiu Poon-fai-trained five-year-old completely lost his position and did well to finish third in the end.
"I just went and looked at him, he seems OK after the race," said Yiu, who will likely head to the Celebration Cup with Blizzard now.
Mo wasn't quite as well as his victim, the claimer having the distinction of picking up a three-day careless riding ban on his first day back in his home town after an extensive training spell in New Zealand.