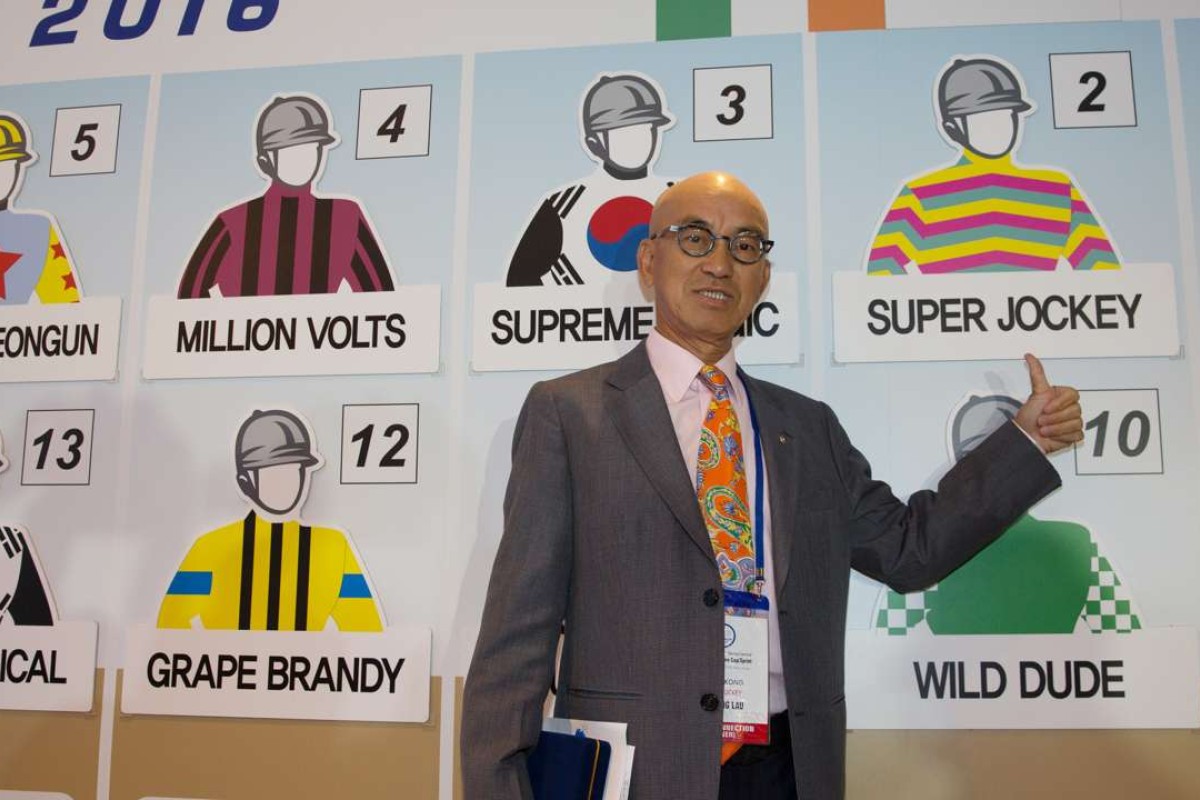 Super Jockey came up with a seemingly ideal barrier for Sunday's Korea Sprint at the draw held on Thursday morning but the inside gate has now placed jockey Karis Teetan in the hot seat as a clean getaway becomes crucial for the Tony Millard-trained sprinter.
Gaining a forward position is of paramount importance on the soft and loose sand at Seoul, as runners in the kickback can struggle to gain ground, especially over the sharp 1,200m course.
Despite barrier two looking good on paper, there is a fear from connections that if Super Jockey were to be slow away, Teetan could end up in a tricky spot inside of and behind runners in the big 16-horse field.
"He needs to come out quick, he can't get covered by other horses from the outside," Super Jockey's co-owner Tony Lau Yiu-tong said after scoring the gate by selecting a medallion from a table. "Overall, the draw is good, but we don't know much about the other horses and anything can happen."
Teetan watched the barrier draw live online from Sha Tin and afterwards was adamant it was a positive to have drawn two, with the Mauritian confident he would avoid being bombarded with kickback or getting boxed-in, having ridden Super Jockey six times previously in races and in an impressive recent trial.
"I'm more than happy with that draw, that's going to play a big part," Teetan said. "He is pretty good out of the gates, and although he can get a little bit hot, he is a mature horse now and I think he is going to be OK."
Teetan rode at Seoul racecourse while he was an apprentice in the Asian Young Guns Challenge and although that day was marred by wet conditions, the imperative to be close to the speed is still the same as it was then.
"We can't be too far back off them, that's for sure, and we want a handy spot. Maybe if we can get a spot outside the leader and have something to take us into the straight, and stay out of that kickback, then that would be the best scenario," said Teetan, who rode a double on Wednesday night at Happy Valley, including an upset on 93-1 shot Super Form for Lau's son Ivan Lau Yi-fai.
Super Jockey won't be alone in the hunt for forward positions on Sunday, with a clutch of regular pacesetters out in force, at least five of them from Korea, all with the added advantage of having run on the tricky surface.
It seems as though Teetan will get his wish to have a bunny in front, with local speedster Perdido Pomeroy drawn in one, but there could be immense pressure from outside barriers.
Gabo Myeongun's trainer Kim Nam-jung declared that his horse "will try and lead" after coming up with gate five, while 2016 Korean Oaks winner Ottug Ottugi does her best work in front and jumps from seven, Choegang Schiller (six) made all in this race last year and untapped three-year-old First Magical (13) has led in each of his three career wins, albeit against lesser opposition.
Korea Racing Authority form expert and television analyst Alastair Middleton said the home team would be drawing on local knowledge, but admitted it was no secret where the best place was to be in the run.
"You can afford to come from behind sometimes, but I don't know that you can afford to against this class of horse," he said. "Often it is leader biased ... usually you want to be on the speed. You don't want to have things to do. Horses don't often get boxed in, horses often spread out on the turn trying to get out of the kickback, so you can get through. But it's not easy to make ground, so the locals will want to be on the speed, especially in the sprint."