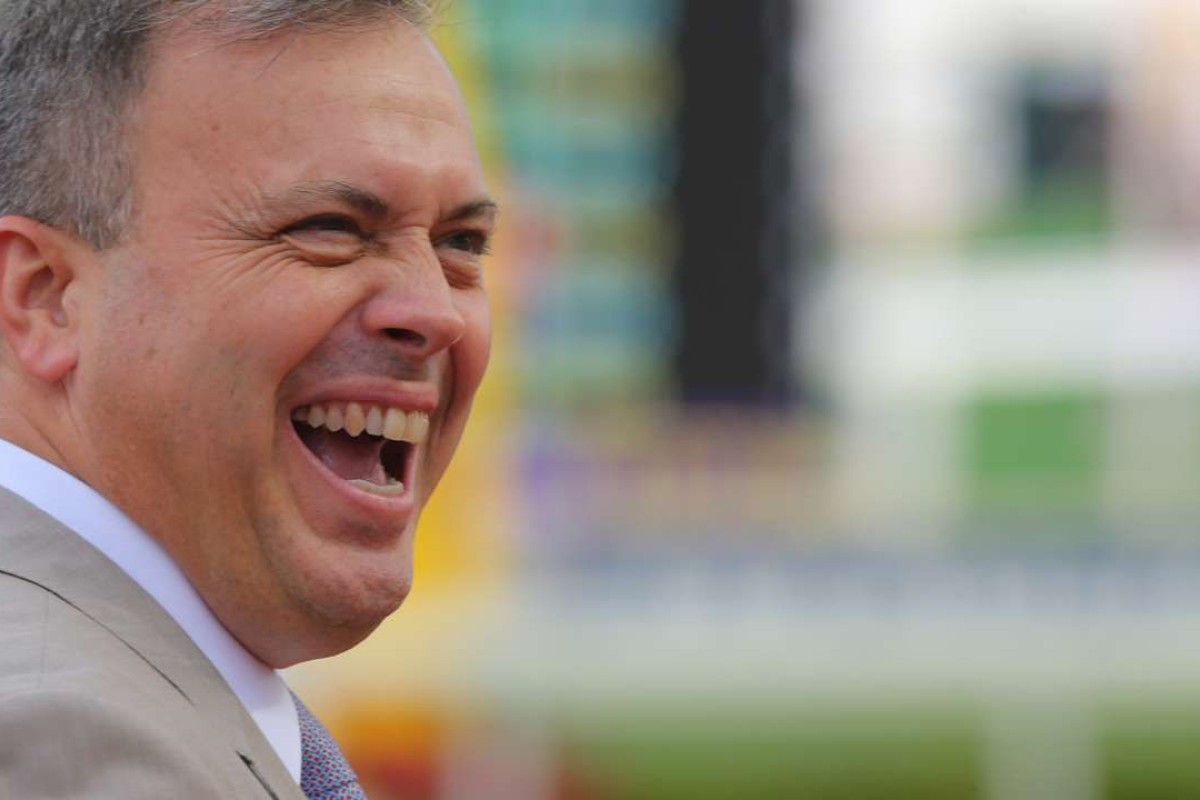 Often when a trainer has two horses fighting out the finish of a race, he'll say later that he didn't know where to look but Caspar Fownes didn't have that problem in the Kwangtung Handicap Cup yesterday – he knew where to look, he just looked the wrong way.
Fownes-trained Twin Delight (Derek Leung Ka-chun) won the race at 267-1, making him the longest-priced winner for 15 years and the second highest-priced winner on record, foiling international-bound Joyful Trinity and stablemate I'm In Charge in a three-way war.
I'm In Charge, heavily backed to win the race, looked ready to claim the front and the race as he angled through underneath Twin Delight at the 200m mark but never quite got past him, and John Moore-trained Joyful Trinity (Joao Moreira) arrived late to split the pair.
"I was watching I'm In Charge coming through and I'm saying 'go on, go on' and then suddenly I realised Twin Delight wasn't going away so I'm like 'well, OK, somebody go on'," said Fownes, who shared the post-race shock that left Sha Tin deathly quiet and the crowd in racebook-checking mode to make sure they had the right horse.
And it wasn't one of those classic post-event interviews where the trainer reveals that a win was not unexpected – this one was well and truly unexpected.
"Realistically – I gave him no chance," Fownes said. "He's worked well, but he's a horse that always works well, and the fact is his form is all good at Happy Valley and he's never done much here at Sha Tin. It's a huge surprise but it's always great to win and Derek gave him a great ride."
A significant moment in fact for Leung, whose entire portfolio of rides for the Fownes yard consists of 18 rides with a couple of minor placings before yesterday's Class One trophy win gave him a first success.
"I have never had many rides for the stable because Vincent Ho [Chak-yiu] was Mr Fownes' apprentice at about the same time I was an apprentice, so he was always riding for him," Leung said. "But he is one of the best trainers so I'm happy to win for him and hopefully this will mean some more rides for the stable."
Leung said he wasn't weighed down by expectation or instructions pre-race, just said that Fownes wanted the horse's early speed to be employed.
"The draw wasn't good but he said the horse has early speed, let him work forward and be happy," Leung explained. "The pace was not too fast and he enjoyed it and maybe the thing that helped the horse improve was his blinkers coming off today. I've watched him at Happy Valley and the horse always tries very hard but without the blinkers he relaxed better in the middle of the race today and kept going."
Fownes certainly wasn't talking about any big goals ahead for Twin Delight but Moore wasn't losing his faith in Joyful Trinity despite the defeat, believing the track wasn't suiting the run-on backmarkers on the day and he felt the horse was short of fitness, too.
"He ran well considering the track pattern, he was above himself too and Joao said he thought the horse peaked on his run before the line," Moore said.
"The plan hasn't changed – the owner would like to get Joyful Trinity's rating up so that he could run in the Hong Kong Mile. So that's what I'll be trying to do and try to get him there peaking on that day. So not disappointed, no."