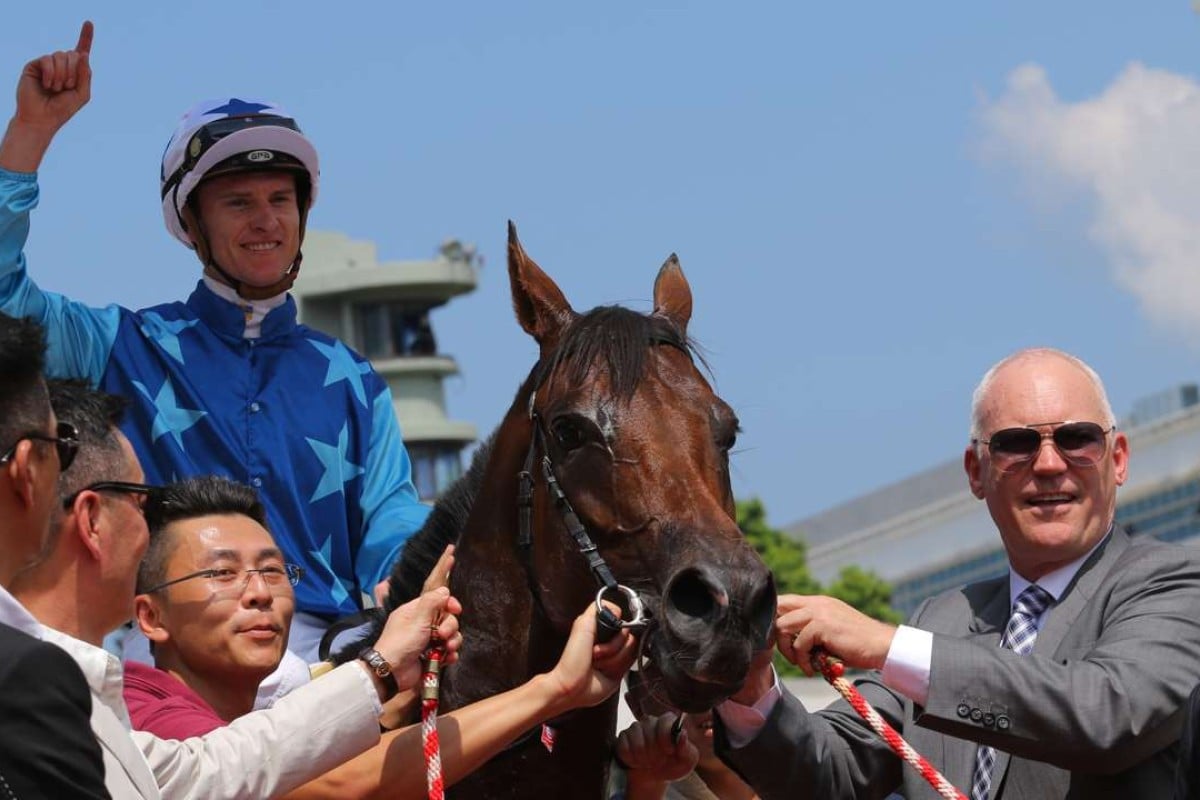 Trainer David Hall was already dealing with BMW Hong Kong Derby questions minutes after Jing Jing Win put aside a near-mishap in the barriers with an exceptional debut win that went someway to recouping the gelding's big purchase price.
There were already huge expectations around the unraced son of Starcraft - a price tag of HK$8.5 million at Hong Kong International Sale will do that for a horse, and then there were the two exceptional trials that had Jing Jing Win looking to most like a ratings certainty against over-matched Class Four rivals.
As far as hype is concerned, a four-length win, with plenty seemingly in hand as 1.5 favourite, only poured petrol on the fire and fanned the flames - and it left Hall to answer questions about whether Jing Jing Win will run in a 2,000m race that is still six months - and at least two or three more wins - away.
"At the moment we need to learn about him in his next couple of runs and learn about him distance-wise," Hall said after the 1,200m win that returned a tick under HK$500,000 in prizemoney to mainland Chinese owner Liu Liu Yu-wen. "We've seen a lot of Derby horses that are not 2000-metre horses but still run it in their four-year-old year, so you can never rule anything out. But at this stage I think he could be a bit brilliant when he really learns. Starcraft's can stretch a little bit – how far we don't know – and he's out of an Anabaa mare, and he's got a lot of that Anabaa quality in him, so he might be a sprinter-miler more than anything else, at this stage."
Jockey Zac Purton had a different take, maintaining the horse will be fine if stretched over further.
"It feels to me like a miler to 2,000m type - and everyone always likes to go further than the ideal with their horses, but we will just work it out as he progresses," he said.
Purton may have had an easy time during the race, simply allowing Jing Jing Win to stride up outside the lead, before slipping some rein in the straight and cruising away, but before the race the winner caused Hall - and punters - some nervous moments.
Jing Jing Win, who was bouncing around on his toes before the race, was taken out of the starting stalls after "sitting down" - a problem that had surfaced during the horse's two lead-up trials.
"He didn't hurt himself as he wasn't thrashing about, he just sat down on his hocks, he basically sat on his bum," Purton said. "He still jumps well and he did today, it was the first time he has been off the bit and he did get a little bit lost, but got away with a race with no depth. He does everything right except for his problem in the gates - very straight forward to do anything else with, so maybe he will grow out of it."