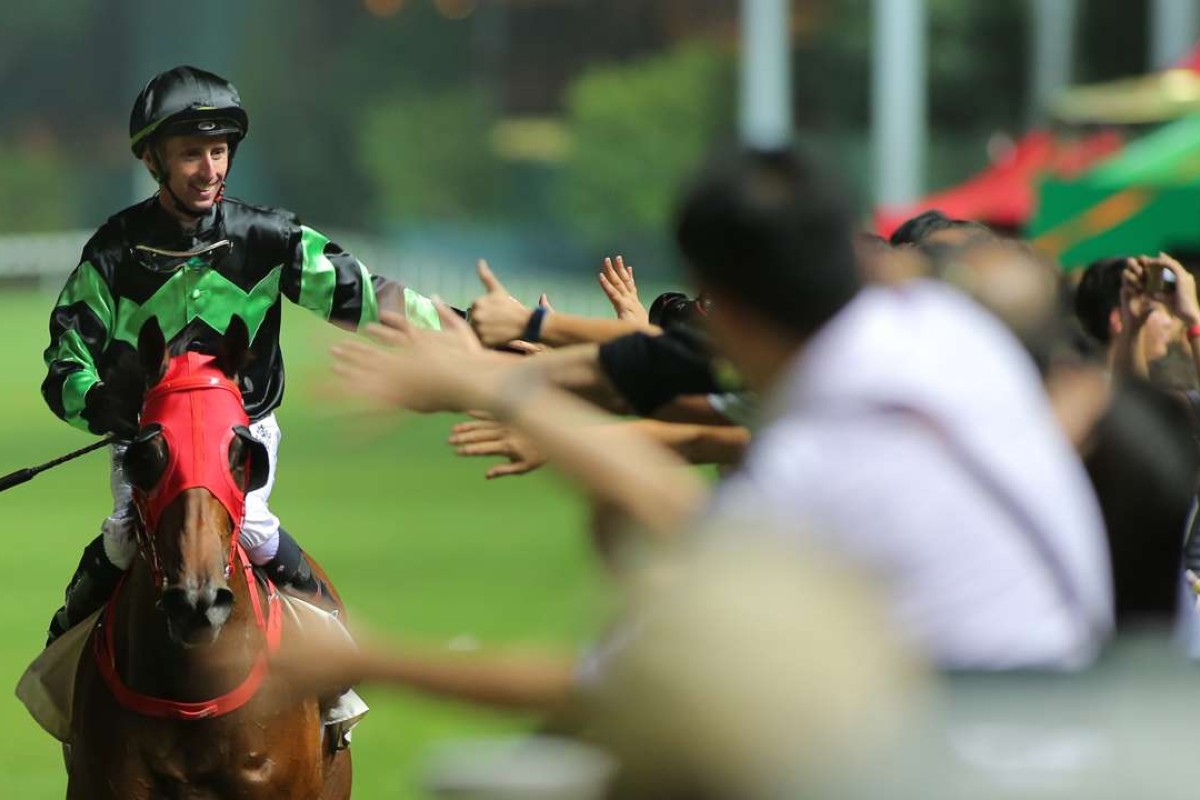 Nash Rawiller has carried his late-season momentum through to the new term in style and the Australian jockey charged into second place on the table at Happy Valley with his first winning treble in Hong Kong, then turned it into his first four-timer.
Rawiller is riding with verve and dash, tagging his main danger throughout to upset the odds-on favourite with Massive Millennium, sending Wonderful Journey and Caga Force forward from wide gates to put them in perfect positions despite their draws then weaving through the field to wrap up the night on Inventor to take half the card.
"Nash is just on fire – I think he has come back very fit and very confident for the start of the new
season," said Danny Shum Chap-shing after Rawiller took the last two races for him on Caga Force and
Inventor.
A heavyweight rider, Rawiller has not found it easy going in the last couple of years establishing himself among the best jockeys here with so many who can ride lighter, but there was a turning in that road earlier this year and he has not looked back.
"I've had really good support from my family and I'm really glad I stuck it out. Things were really coming together towards the end of last season and I was riding plenty of chances for a lot of different stables and getting the results," Rawiller said.
"I came back quite early this time to really put the work in and, to be honest, most of the winners I've had so far have been the horses that I got on the first few mornings back at trackwork."
Massive Millennium got trainer David Ferraris on the board for the new season and the South African said Rawiller would be doing more riding for his yard the way he's going.
"Full credit to Nash, he's done a lot of work with this horse getting him right and we both came here pretty confident tonight then he gave the horse a perfect ride," Ferraris said.
"Our plan was to get on the back of the favourite, Victory Marvel, and follow him through the race and hope we could get over him late and that's exactly what happened.
"It's great to see Nash getting this success – it isn't easy for these guys who are a bit heavier and he works very hard to compete and to see it paying off is terrific."
Rawiller's four wins overshadowed trainer Ricky Yiu Poon-fai, who got off the mark for the season with a winning treble, saddling up Bo Duke (Matthew Chadwick), Flying Tourbillon (Keith Yeung Ming-lun) and joining the 'Nash Party' with Wonderful Journey.
"He's come back a better horse after the summer break," Yiu said of Wonderful Journey.
"He just wasn't ready to perform last season, wasn't there mentally and had a couple of issues, so I packed him up early.
"Even though he was four years old, he needed more time, but he's better as a five-year-old, more mature. I think what helped me tonight was that my horses had some fitness edge – they'd all had a race before tonight."
And Chad Schofield also got himself off the mark at his second meeting back, after missing the first three days with a "leftover" suspension from July.
"I needed it – people soon forget you're here," he said after steering home Choice Exchequer as part of
Dennis Yip Chor-hong's double.