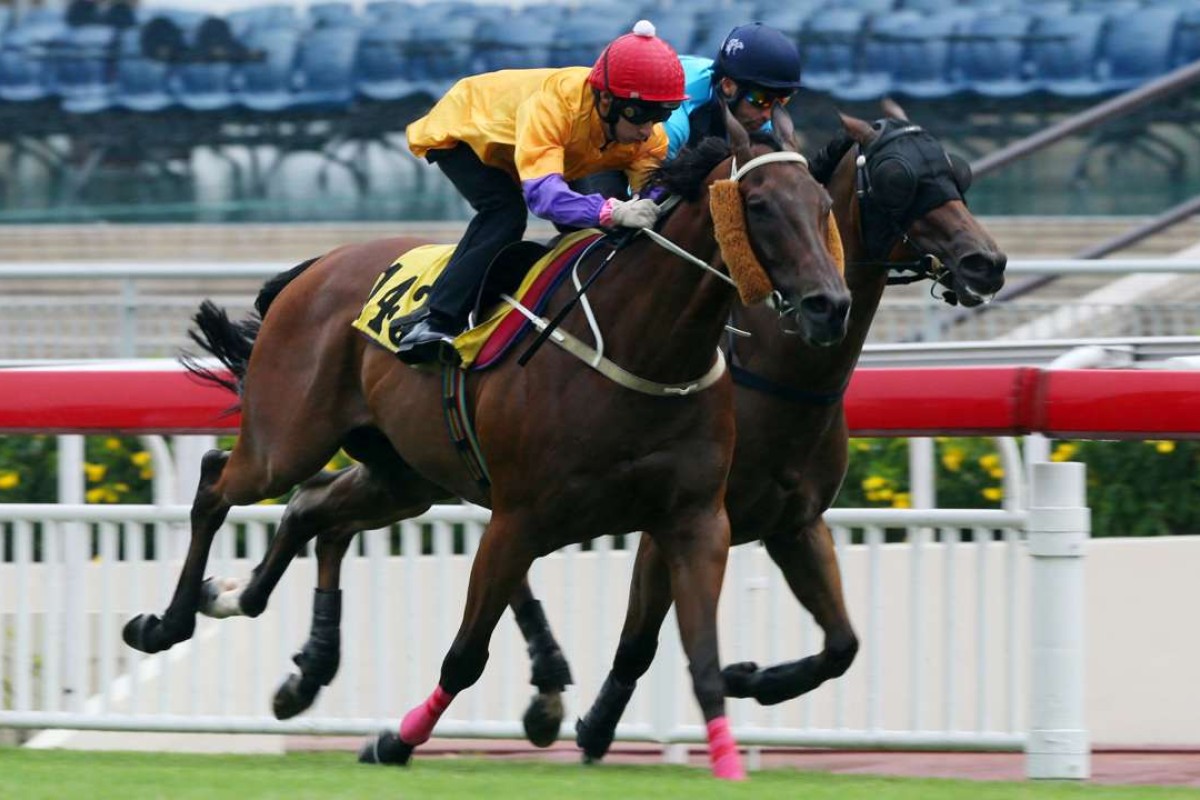 An often degenerative throat condition hasn't stopped Peniaphobia so far and trainer Tony Cruz doesn't expect to this season either, with the trainer stating his speed machine is flying ahead of a campaign aimed at back-to-back wins in the Group One Longines Hong Kong Sprint.
Last year Peniaphobia was diagnosed with mild laryngeal hemiplegia, paralysis in muscles around the larynx, that results in horses being termed roarers and thus named for the noise made when the airway becomes restricted.
Despite this, Peniaphobia was still able to compile an outstanding record last term – not only scoring an all-the-way win in the 2015 Hong Kong Sprint, but placing twice at Group One level and, just when some critics were doubting the superstar, notching a season-capping win in the Group Three Sha Tin Vase.
"I think he has actually come back as good as ever – maybe even stronger than before," Cruz said ahead of the five-year-old's return in the Group Three National Day Cup at Sha Tin on Saturday.
"He has a touch of paralysis, you can hear it a little bit when he gallops, but it hasn't stopped him and the condition has just stayed the same."
Cruz's assigned Jockey Club vet Paul Robinson monitors the condition closely and confirmed there had been no change in the condition after a routine pre-race endoscopic examination of the gelding.
"Basically the horse has got some left side paralysis and in layman's terms he is a roarer," Robinson said.
"In some horses, these progress quite rapidly, and they become a full blown roarer, but in his case, we haven't seen degeneration."
Watch: Peniaphobia win the Sha Tin Vase
In most cases "roarers" are graded, from one to four – but in Peniaphobia's case Robinson said "it's not even bad enough that you would give it a grade."
Perhaps a bigger obstacle for Peniaphobia will be hauling top weight of 133-pounds against his six rivals in a race, formerly known as the Sha Tin Sprint trophy, that in recent years has favoured those at the lower end of the weight scale.
Even though Peniaphobia trialled impressively against last year's winner and main threat Not Listenin'tome less than two weeks ago, jockey Matthew Chadwick suggested race fitness may also be a query, saying the sprinter was "probably 80 per cent fit".
"That's what you would expect though, and you would expect he would go on and progress from this race. He has a long season ahead of him and the main target is the Hong Kong Sprint in December," Chadwick said.
For Chadwick, retaining the ride on Peniaphobia after being aboard for the last start win was a confidence-building show of support from connections – with many expecting star Joao Moreira to be reinstated after the horse he planned to ride in the race, Rad, was retired.
Moreira, who will now ride bottom weight Golden Harvest, won the Hong Kong Sprint on Peniaphobia but then opted to ride Thewizardofoz in favour of Cruz's horse in the Chairman's Sprint Prize.
"I don't care what goes into the decision to keep me on, I am just happy to have an opportunity," Chadwick said.
"It's nice to be on a ride on a quality horse like this – to get the call-up, then keep it. I won on him last season, and if the big riders think they can jump on and off – whether it's a Class Five or a Group race, then I think the guy who is been on should keep the ride if he wins.
Watch: Peniaphobia win the 2015 Longines Hong Kong Sprint
"It has got harder for us local guys over the last few years – and we can't afford to burn relationships, we are not as privileged to be in a situation where we can jump on and jump off."
Chadwick rides Beauty Flame in the Group Three Celebration Cup, one of four Cruz-trained runners in the 1,400m race.
"That's probably his best distance, and even though he drew a tricky gate out in ten, he is fresh and should run well," he said.
Watch: Jockey Matthew Chadwick looks ahead to the National Day Cup