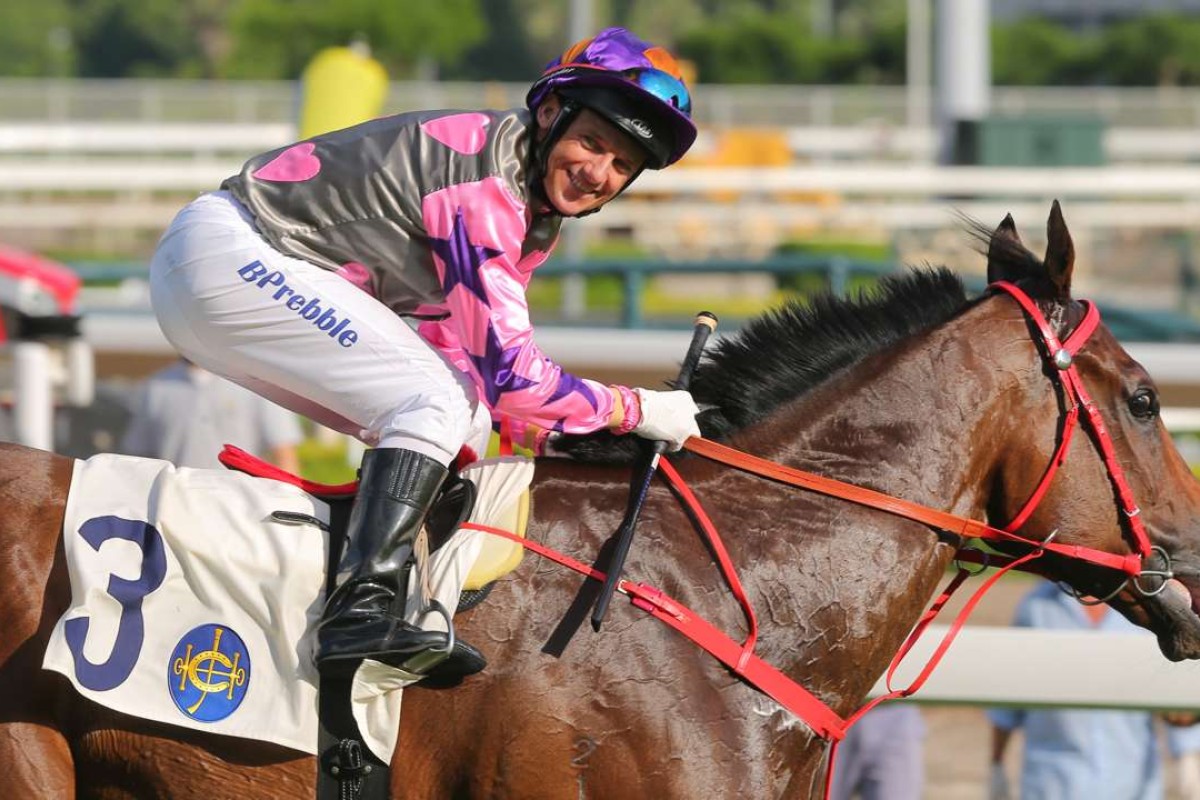 Even in the moment that Amazing Kids established himself amongst the top local sprinters in the National Day Cup, he was overshadowed by stewards throwing the book at jockey Matthew Chadwick for riding that rival trainer John Moore described as "borderline foul".
Amazing Kids (Brett Prebble) handled his first attempt down the straight 1,000m with aplomb to overhaul short course specialist Amber Sky on the wire and take home the cheque but the argy bargy behind them between Peniaphobia (Chadwick) and Not Listenin'tome (Neil Callan) ultimately took centre stage.
WATCH: Amazing Kids winning the 2016 National Day Cup
Not Listenin'tome had drawn the outside rail with Peniaphobia next to him and it was clearly Chadwick's intention to dictate Callan's line and look to snooker him behind Amber Sky, who had crossed to lead on the outside rail, but things got very tight and Not Listenin'tome me was badly checked.
"I've been in racing my whole life and, from my professional point of view, what Matthew did was borderline foul riding," said Moore after Not Listenin'tome was knocked out of the Group Three sprint at the 700m mark.
"I don't know how the stewards will see it but I thought it was intentional – he continued to take my horse's running and put him up against the rail. Forget Not Listenin'tome ever went around."
How the stewards saw it was not quite as strongly-worded as Moore's response but acting chief steward Steve Railton said the panel's five meeting suspension for Chadwick could have been more severe.
"We did consider a stronger charge but in the end decided that it was careless riding, not something more serious, but at the high end of the scale," Railton said.
Callan said the incident put last year's winner of the race out of the picture immediately and he finished fifth of the seven runners.
"It's one thing to have me tight but that was another thing altogether," Callan said. "In a 1,000m race, there's no way your horse can get going again after that."
Stewards had planned to ban Chadwick for four meetings and fine him in lieu of a fifth day but, unusually, the jockey himself asked for a five-day ban to be handed down and stewards acceded.
The penalty takes in October 23, when Penaiphobia will run next in the Group Two Premier Bowl, 1,200m, so a new rider will have to be found for the reigning Hong Kong Sprint champion.
Meanwhile, the John Size-trained Amazing Kids managed to throw off any doubts that he belongs amongst the best sprinters, shouldering 126 pounds and finishing stoutly to win after the trainer admitted he went into the event with some unknowns.
"He's never run down the straight so how would we know? He trialled well there when he first arrived but a race against good sprinters is not the same," said Size. "He had to do something different today and couldn't have done it better, but I'm not surprised it suited him. He can get a bit keen through a race and the 1,000m didn't give him the chance to do that. Anyway, he had to run because he hadn't raced for quite a while and had done so well I wanted him to go to the races, but it's also a bonus. If it turns out that he doesn't measure up in the big ones, he's already won a nice race."
WATCH: 2016 Celebration Cup highlights
Trainer Ricky Yiu Poon-fai was thrilled with the second placing for Amber Sky (Keith Yeung Ming-lun), the former Dubai Al Quoz Sprint winner who has struggled for form more recently.
"The jockey did nothing wrong, he rode it well, exactly like I told him to," Yiu said.
"The horse is seven years old and he's against an up-and-coming five-year-old. His best days are gone, but he still has something there."