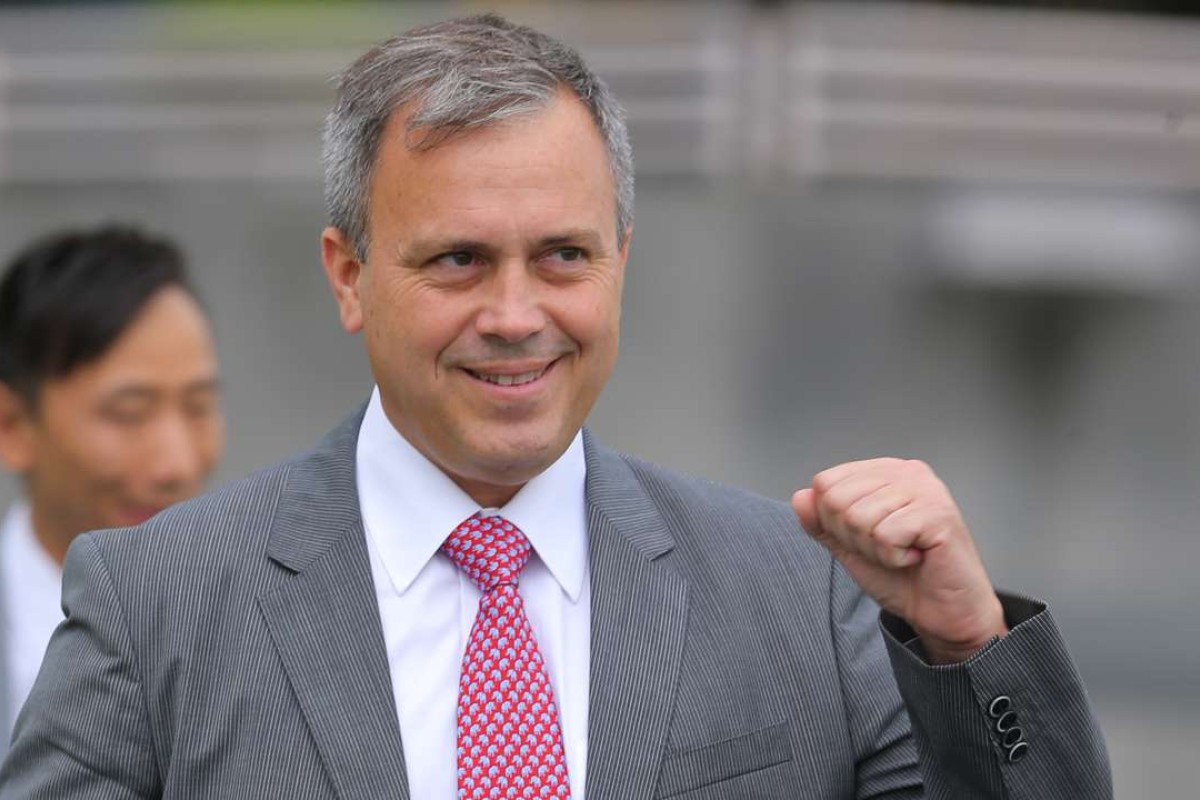 Caspar Fownes endured a terrible last term by his standards, but he has his mojo back and after a double at Sha Tin put him top of the trainers' championship, the three-time title-holder was talking tough and seems intent on winning number four.
Since Fownes started in 2003, he has been a perennial trainers' championship contender along with Tony Cruz, John Size and John Moore, but in 2015-16 he slipped out of the so-called "big four" with just 40 wins, no Group One victories and a seventh-place finish.
It was arguably Fownes' worst season ever, but the 49-year-old has started this campaign seemingly intent on erasing that from memory.
After wins with Invisible and Vanilla gave him 11 for the season, he was straight to the point.
"I'm a top trainer, I always have been, I will continue to be one and I need to be where I deserve to be – and that's up near the top of the table," Fownes said. "I want to come back and win a few more titles yet."
Fownes says he learnt a lot during his lean season and even though the trainer has earned a reputation of doing the best with what he has got, perhaps sticking with horses of limited ability when Cruz, Size or Moore might not, he said that mindset was changing.
"If you end up keeping too much crap, it will come back and hit you in the face," he said of hanging on to lower-rated horses.
"I have come to terms with it being a business and I have to do a little bit of the John Size method; he gets rid of horses that can still win sometimes.
"I've stuck with horses out of loyalty and friendship and all of that - but in the end you need to realise that owners just want to have winners as well. I'm a loyal person but they drop you very quickly if things aren't going your way.
"If you don't train a winner for a while, it's like "What's happened? Has he forgotten how to train?"
"But that's Hong Kong for you – it's the out of sight, out of mind scenario. But when you are punching away and knocking in winners they love you."
Fownes is certainly doing that over the last few weeks – after midweek treble at his beloved Happy Valley he has five winners from 15 runners from the last two meetings, and seven from the last four racedays.
"Work hard and do your best – that's what is instilled in me," Fownes said. "And hopefully get some good rides, like the one I got today from Joao (Moreira) on Invisible."
When Fownes entered the pre-race parade ring the clown prince of Hong Kong racing was at his best, joking with connections that Moreira would be "three or four back on the fence from gate 14".
"I said "Joao, come on mate, you're the Magic Man"."
Fownes may have been joking but Moreira managed to bounce the equal top weight out and do exactly that, producing a freakish ride to score a short head win over Rugby Diamond.
"I think it was a mix of luck and me riding it well, but also some faith in Caspar and the horse, he was feeling good," Moreira said. "I felt like, if this thing doesn't win today in Class Five he will never win a race."
Still, even though it was only a Class Five win, both Moreira and Fownes believe Invisible can win again up in grade, particularly over further than Saturday's 1,200m.
"It wasn't because of me he won," Moreira said. "He is definitely going to be better over further and that narrow margin of victory is going to help him as well, as he won't go up too much in the ratings."