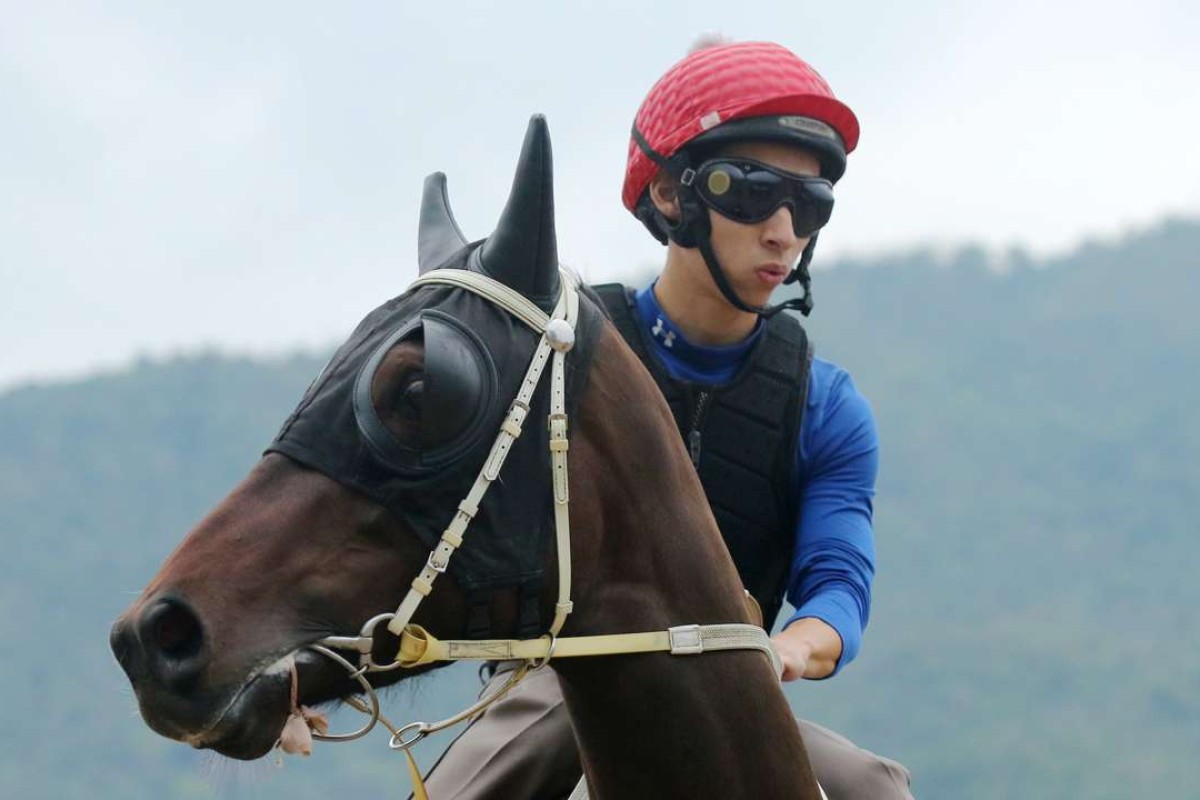 It's not quite a case of "if it ain't broke don't fix it", but trainer Tony Cruz stressed there won't be a drastic change of tactics when unbeaten Pakistan Star returns for his highly anticipated third career start on Sunday at Sha Tin.
Pakistan Star has overcome slow startswith spectacular finishing bursts, but Cruz and jockey Matthew Chadwick have worked hard to ensure the young horse steps away more cleanly from the barriers.
Cruz maintains even if Pakistan Star does step with the field this time, Chadwick will be instructed to allow the big-striding son of Shamardal time to relax at the tail of the field and then release the horse's trademark booming finish at the top of the straight.
"We want him to jump with the field, but we don't want to go overboard with changes," Cruz said. "If he is slow, let him be, this is how he races; he starts slow but then comes home at 100 miles per hour.
"He should jump with them, but he won't be anywhere near the speed. He has drawn 10, he hasn't got the early speed anyway, so the instructions will be 'sit last and come home fast', just like before."
Pakistan Star has reached an unprecedented level of popularity already and jumped more ratings points than Cruz's former star Silent Witness did after his first two starts.
Now on a rating of 87, Pakistan Star will carry 125 pounds against older and more experienced horses in the Class Two Woodpecker Handicap, the last race of the day on Sunday, as Cruz keeps the gelding at 1,400m.
Cruz has complained about what he sees as harsh treatment by the handicapper, but despite the task ahead of Pakistan Star, Chadwick seems supremely confident the new star can handle the step up in grade.
"There is a lot of expectation, but I have faith in the horse's ability," said Chadwick, who agreed that tinkering with tactics wasn't necessary.
"We won't change the winning formula, and because I have that faith in him, I will ride him the same way as I have before.
"We have done a lot of work with him in the gates but I don't think it will make much difference to the way he jumps. I think he is still going to come out in a similar way.
From pauper to prince: the man behind Hong Kong racing sensation Pakistan Star
"It shouldn't matter the way he jumps anyway; if you look at it on paper, the way he has been winning and his racing style, he has been rattling off sectionals that only great horses can match.
"If he can tack on to the field at the last 500-400m he is a chance, because he has one of the best finishes in Hong Kong at the moment. It's a sprint that only the champions have."
Pakistan Star's trackwork and demeanour seem to have an extra sharpness since the horse last stepped out, but Chadwick said race day could be a different story.
"He really has his own character," Chadwick said. "So even though he seems much more aware of what he is doing now, whether or not he brings it to the races will be interesting.
"But one thing for sure is that he is fitter, we have got him as fit as we can have him be at this stage."