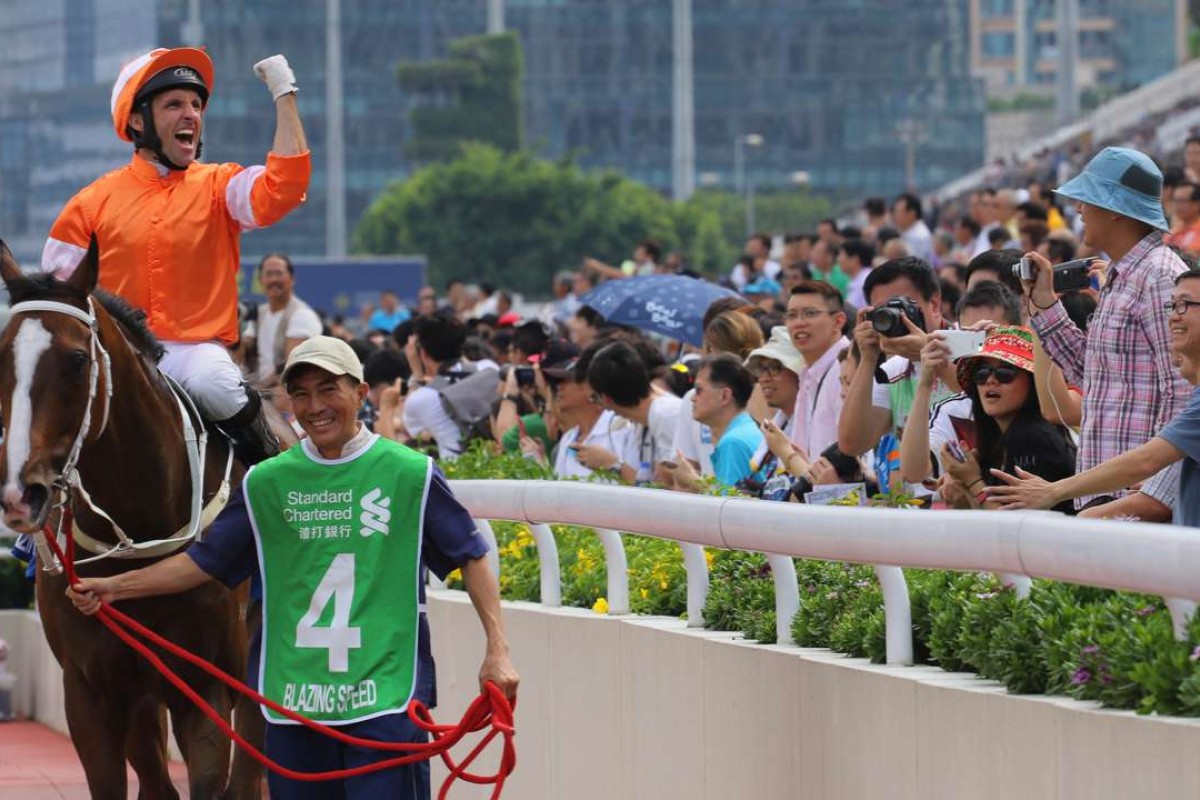 When Neil Callan gets pumped up and starts talking about his beloved Blazing Speed, a horse he feels is perpetually underrated, it's almost as if he starts channelling a fellow fiery Irishman, trash-talking UFC star Conor McGregor.
Maybe there are a few less profanities flying around than when McGregor really gets going at a pre-fight press conference, but Callan is no less passionate when he starts extolling the virtues of the Tony Cruz-trained veteran.
"I don't know why nobody ever rates Blazing Speed and I don't really care why," Callan said of the seven-year-old, who lines up in Sunday's Group Two Jockey Club Cup against old foes Designs On Rome and Military Attack. "I think Blazing Speed is every bit as good as those other top horses and he comes out and performs every year, but every year he is an underdog. They don't put him in the top category, I've got no problem with that, let Designs On Rome and others be the top dogs, but I know what I've got with Blazing Speed and I know that he gives me 150 per cent every time, and that's all I ask. I know he gives me everything; win, lose or draw."
Callan has a point — while Designs On Rome and Military Attack have won horse of the year honours previously, Blazing Speed hasn't earned the same plaudits, but has won the same amount of open age Group Ones as both of his more highly-decorated rivals; four.
Not only has Blazing Speed shown great longevity, collecting at least one Group One in each of the last three seasons, but versatility as well, with the tough gelding having won Group Ones at 1,600m, 2,000m and 2,400m.
That type of versatility has eluded Designs On Rome, with Blazing Speed twice beating John Moore's horse over 2,400m in the Group One Champions & Chater Cup, both times for Callan when an outsider in betting.
"When Designs On Rome had his great season (2013-14), he went into the Champions & Chater like he couldn't be beaten, and I told his jockey at the time Tommy Berry before that race that I was going to beat him, and I did – that's how much confidence I had in my horse," Callan said.
"It wasn't because I thought Designs On Rome wouldn't stay, it was because I think that my horse is as good, on his day, as Designs On Rome – and he beat him in the 2015 QEII as well, and that was over Designs On Rome's pet distance of 2,000m. Even in last year's Hong Kong Cup, when the two Japanese horses dominated (A Shin Hikari and Nouvo Record), Blazing Speed was the only horse even close to them in the finish."
Still, this race is 2,000m and Designs On Rome is set to start favourite again on Sunday after an exciting Group Two win over Blazing Speed as they both march on to international day – and the big race, the HK$25 million Group One Hong Kong Cup, that has so far eluded Callan's favourite horse.
Even though the major target is just three weeks away and trainers will be hoping not to "empty" their charges on Sunday with taxing efforts, Callan said there is no other way to ride than the way he says he always does, "to win".
"I can't hope it's an easy race, if you are out there to win, you are out there to win – you just have to go with the flow and take the race as it comes," Callan said. "On thing in his favour with a view to international day is that it looks a pretty straightforward tactically, with a small field, and we have a barrier five is perfect, from there he just rolls and drops in."