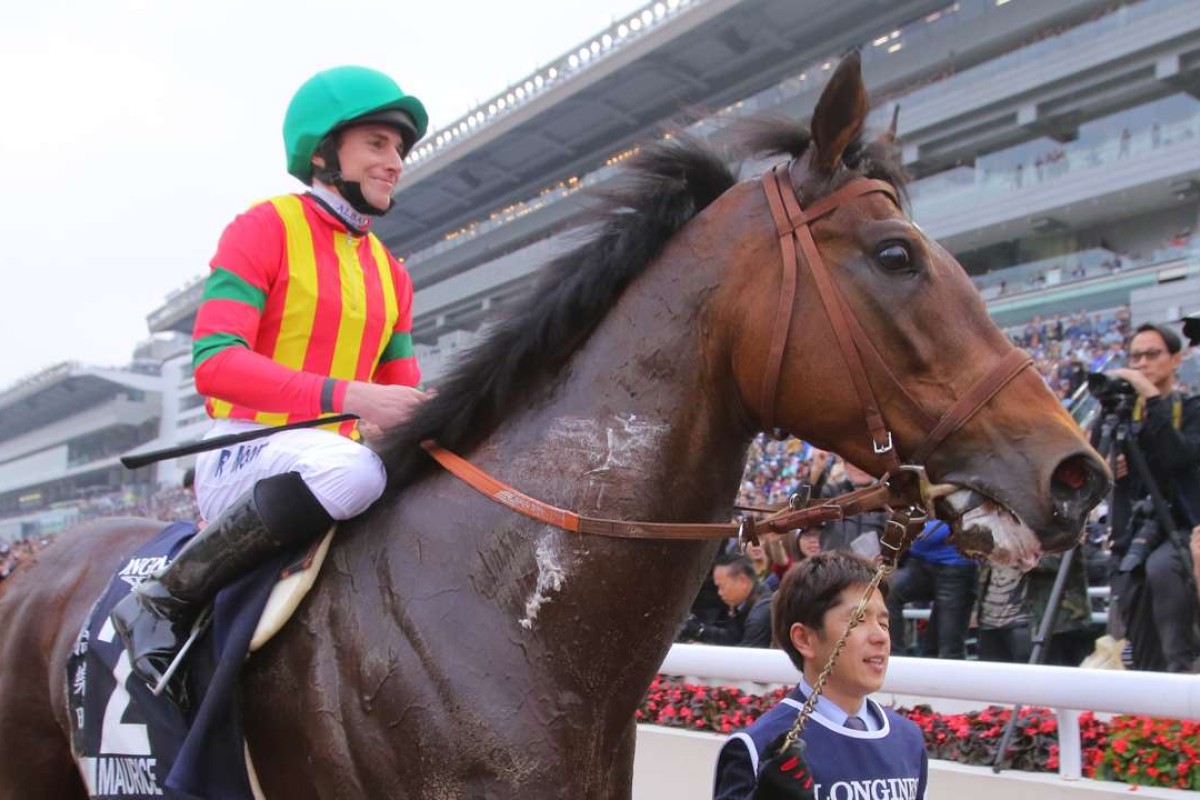 Hong Kong horses, that was ordinary, you've got less than three weeks to get your stuff sorted, and you better be ready because the Japanese are on their way and they don't muck around.
For a meeting meant to serve as a showpiece of the best horseflesh Hong Kong has to offer, Sunday's three Group Two races wouldn't have had instilled much fear into foreign raiders ahead of international day on December 11.
An overseas clean sweep could even be on the cards for the first time in 15 years – and it was the Japanese that made a mess of the locals the last time it happened, too, when Stay Gold, Eishin Preston and Agnes Digital clinched three of the international day features and Australian sprinter Falvelon won the other.
This time it is Japan's horse of the year and 2015 Hong Kong Mile winner Maurice headlining a formidable group of at least 10 horses from the Land of the Rising Sun.
As many as five Japanese horses could be in the Hong Kong Cup field when it is released on Wednesday and that looks the category where the locals are most vulnerable as a group of ageing warriors take what could be their final stand.
The issue is as much the strength of the Japanese contingent but also the relative weakness of the local horses, at a distance already hit by an injury to horse of the year Werther.
Designs On Rome, Military Attack and Blazing Speed have long formed the vanguard when it comes to the international 2,000m battles, but they were left looking more like Dad's Army after the Group Two Jockey Club Cup.
The class is there – more than HK$170 million in prizemoney between the big three tells you that – the willingness is there as well, but perhaps the legs won't do what the competitive spirit wants anymore. After all, the three horses have taken more than 100 starts between them to win that money.
Military Attack was a game third, but the eight-year-old pulled up lame, his immediate future in doubt.
Not to be completely dismissive of winner Secret Weapon, but the presence of Flame Hero – a 79-1 shot not even entered for international day – did nothing to dispel the overall feel that the category is looking decidedly understrength.
Dennis Yip unleashes his Secret Weapon, flashing home to win Jockey Club Cup at Sha Tin
Blazing Speed was a flat fifth and Eastern Express was left looking like it was all happening a bit too soon for him in sixth.
Designs On Rome was last and as much as there might have been excuses, they were mainly that the race was run at solid sectionals, which may be a rarity at Sha Tin, but it's not going to be a dawdle in the Cup with last year's winner A Shin Hikari tearing along for Yutaka Take.
The Group One Mile Championships at Kyoto didn't tell us anything new about Japanese milers, nor the "roulette wheel-nature" of JRA race steward decision-making. Mikki Isle rolled out like a bowling bowl, took more than a quarter of the field with him and still somehow kept the race, but they should be competitive.
Hong Kong may have won nine of the last 10 Miles, and even with last year's winner Cup-bound, the bunch finish in Beauty Only's Jockey Club Mile, didn't do much to build confidence.
Hey, there is Able Friend, but he will need to be at his best against this year's Yasuda Kinen winner Logotype, plus Mikki Isle victims Neorealism and Satono Aladdin.
Sprinting is also a traditional strength for Hong Kong – but when an enigma like Not Listenin'tome lobs at 42-1 there have to be at least some question marks. Enter Big Arthur, Red Falx and possibly Snow Dragon — all Group One winners. And before you say, "oh they only beat up on their own horses", well, they said that about Lord Kanaloa too, before he turned Godzilla on Sha Tin and destroyed everything in sight, twice.
Don't worry, we have some good news – Japan don't seem that strong, numbers-wise, in the Hong Kong Vase.
The bad news, they are all scared off by Coolmore's Highland Reel, a last start Breeders' Cup Turf winner set to start odds-on as he chases back-to-back wins in a race the locals have won once in the last 17 years.
Two years ago Hong Kong-trained horses won three of the four features – with Aerovelocity, Able Friend and Designs On Rome – but perhaps it is telling that the same injury prone trio could again be rated best chances in their respective races.
There was talk in 2014 that the local dominance could scare off prospective visitors, but it's safe to say it's back to being an underdog for the home side in 2016.