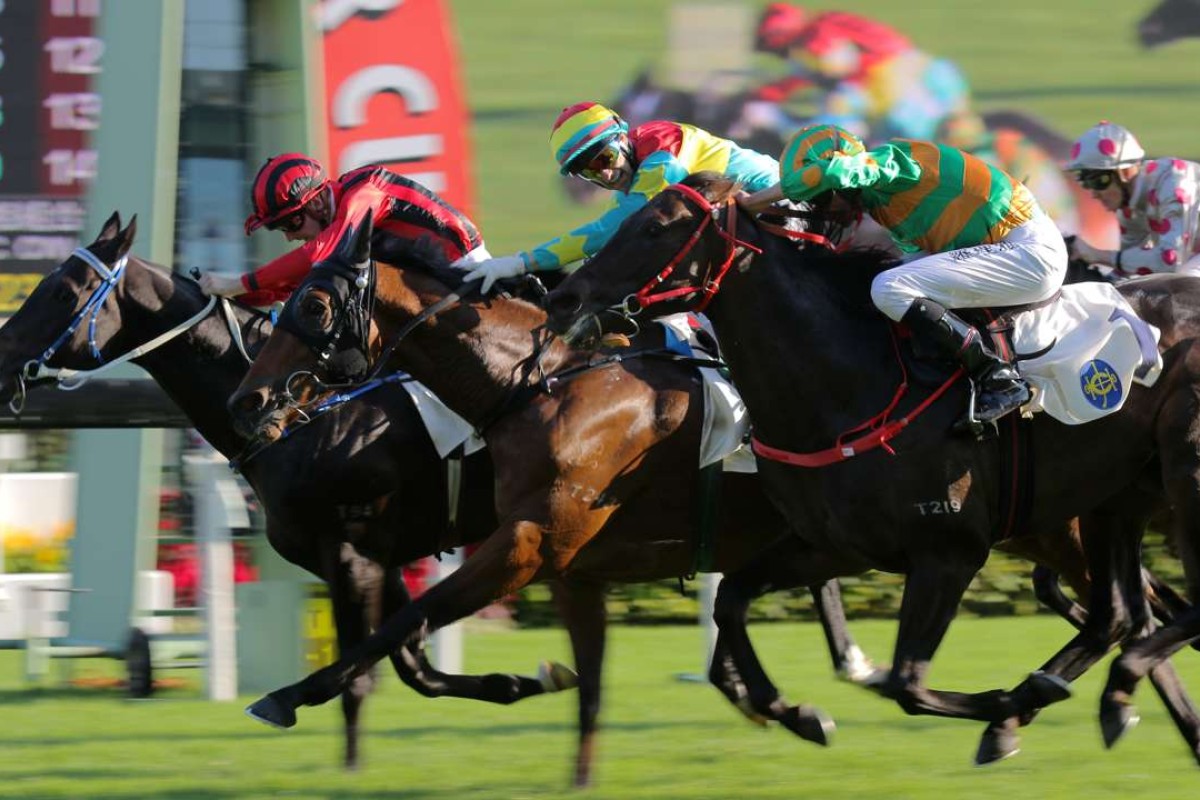 Onlookers might have thought that Brett Prebble was having a "Greg Hall moment" just past the line after a hard-fought Chevalier Cup on Sunday but the Australian jockey was under no illusions about who had won.
Prebble sent favourite Solar Hei Hei clear early in the straight and was then challenged in a torrid neck-and-neck duel by Circuit Land (Nash Rawiller) on his outside for almost 200 metres before doing enough to hold him off at the post, but the Caspar Fownes-trained Gonna Run (Sam Clipperton) meanwhile had slipped through to steal the win on his inside.
Prebble, known for his exuberant celebrations past the line, flung his left arm towards the grandstands and screamed out, giving racegoers the impression he thought he had won and repeating the mistake of Australian riding great Greg Hall when he celebrated after the 1997 Melbourne Cup only to find the photo went against him.
"No it wasn't like that – I knew what was going on," Prebble laughed later. "I knew I'd been beaten.
"Caspar was down on the fence and doing that high-pitched whistle he does when he wins and I know that whistle really well. I've heard it plenty of times, so I pointed at him and called out.
"I probably don't want to repeat what I called out, but that's what was happening.
"It was a bit of fun. You can get a bit long-faced sometimes running second, but we did our best. You can't always win."
Clipperton lifted the Chevalier Cup trophy for the biggest win of his brief Hong Kong career, as well as his first for Fownes, and said being a little held up might have helped him.
"I saw Brett and Nash make their runs down the centre and my horse had enjoyed a great run and had plenty to give and I was wishing I could go with them," he said.
"But I had to wait and weave a passage and to be honest, when Gonna Run really started lunging at them, I thought the bird might have flown. But he kept trying and the last bit he was very strong.
"I'm thrilled to get a win for Caspar. He was the first trainer I met when I arrived and we always have a good laugh at the track in the morning."
Gonna Run had been racing well from bad draws for some time but the luxury of a low gate on Sunday was all the difference, Fownes said.
"Instead of being last, like he has been from double figure draws, he was able to sit in midfield on the fence without spending anything to be there," he said. "That was the difference."
As a three-year-old, Gonna Run was fifth in the Prix du Jockey Club – the French Derby – over 2,100m and Fownes said he had mostly been forced to run the horse over a mile.
"He's had one or two over further but I haven't really been able to get him up there in distance," he said.
"He does have some issues, a little bit jointy but he has had chronic back issues, so he has done all right to win four races now considering all that.
"He has run well at the Valley so maybe now we'll look at a race like the January Cup there over 1,800m, although I do have a few aimed towards it already. Anyway, it's great for Mr Siu to win a nice race and good for Sam."
Prebble said he had not been unhappy to make his run a little early on the David Hall-trained Solar Hei Hei and made no excuses for the head margin defeat.
"With no weight, I was happy to get going because I didn't know where Nash was and I wanted to get a march on him with the weight difference," he said. "I was just unlucky the winner got through – normally you don't, normally you get stuck there.
"My bloke is just such a soldier though, he held off Circuit Land, he couldn't hold off the late one too – but I reckon he probably thinks he won so I won't tell him otherwise."