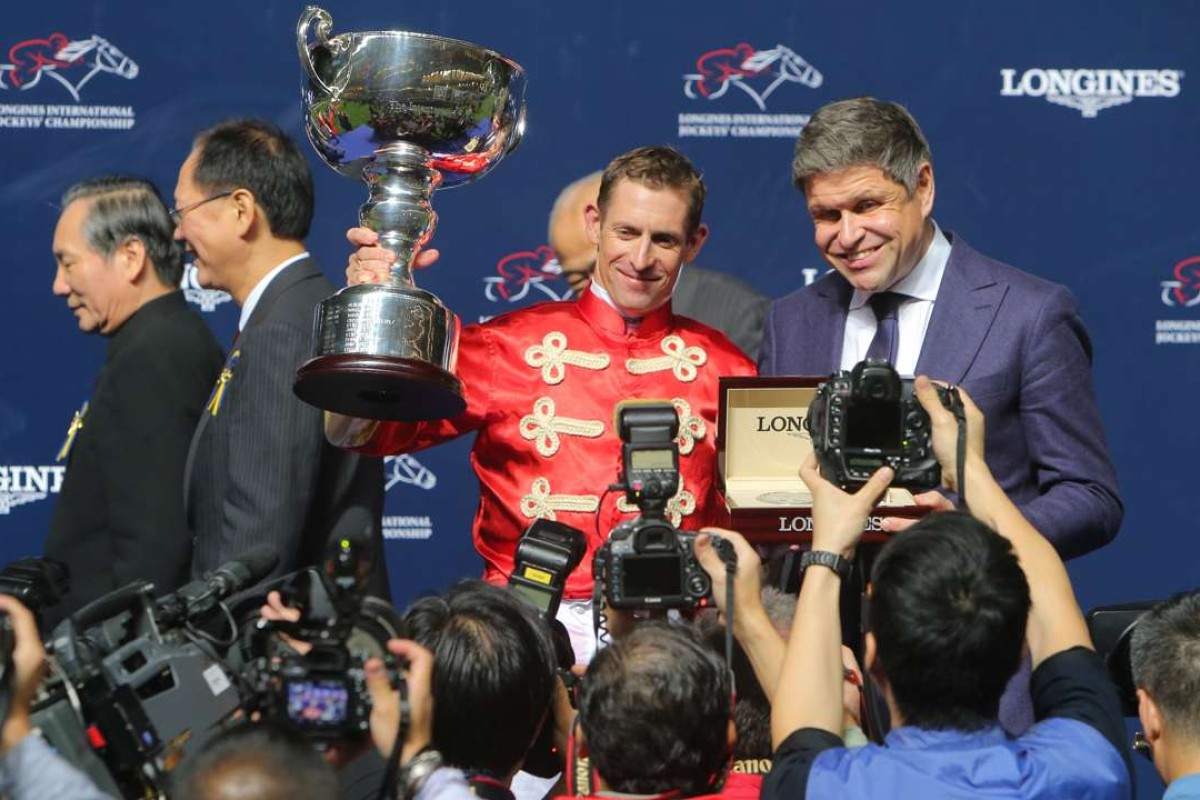 Australia's Hugh Bowman crowned a spectacular 2016 with the Longines International Jockeys' Championship at Happy Valley on Wednesday night as little more than the width of a cigarette paper was all that separated Britain's Ryan Moore from a third title.
It was a brilliant denouement to the four-race contest between Moore, who will be crowned the 2016 Longines World's Best Jockey on Friday night, and Bowman, whose own year has scarcely fallen far short of Moore's.
"It's exciting – it's great to get one over Ryan because he's pretty hard to beat at any time," said Bowman. "But these competitions are great to come to and compete in what is a little bit more relaxed atmosphere than Cox Plates and Melbourne Cups and the like.
"On these nights it's all about competing against some great riders and if you can come out on top, so much the better. I've been to a couple of these before but never drew the rides and this is probably the first time I've come to Happy Valley thinking I could win the thing. It has capped off a great 2016."
Bowman grabbed his chance with both hands when he cleared out to win the opening leg on Premiere for John Size, who played perhaps his biggest role in the IJC by providing two of the four wins.
The second leg went to script when Moore box-seated on Giant Turtle for Tony Millard and never really looked like losing on the favourite, his best ride of the night.
"He gave that a great ride – I've had some luck in these IJC races with Ryan before," said Millard.
Oddsmakers at the Jockey Club quickly reacted by calling the competition a three-cornered contest, with long odds at that stage about any rider but Bowman, Moore or US-based Florent Geroux, who had second-place points behind Premiere and his best rides still to come, taking the title.
But, with the excitement peaking, Bowman looked ready to pop the balloon and put the series to bed early when he raced to what looked an unassailable lead on David Ferraris-trained Kiram at the 250m of the third leg of the series.
The race appeared over and 24 points for two victories looked a winning score halfway up the straight until Italian rider Mirco Demuro produced a magic peculiarly his own, lifting Peter Ho-trained Mutual Joy from an impossible position at the 600m to snatch victory on the line and keep the game open.
"He should have won it right there – Hugh just had to come off the heels of one at the top of the straight and it held up his momentum," said Ferraris. "Otherwise he'd have been off and gone and the winner wouldn't have caught him."
In an almost impossible final leg, 2015 series winner Gavin Lerena finished without a mount when the vets took Nitro Express out at the start then Japan's Keita Tosaki provided an anti-climax of sorts when he took the spoils on Size-trained outsider Big Bang Bong, with both Bowman and Moore unplaced and without points.
The series had been decided by a combination of two minor photo finishes – the first where Moore dead-heated for third in that third leg and had to share the four points for the minor place, and then the camera shot in the eighth race to decide whether he had run third or fourth – and it was fourth. Even third at stage wasn't enough but a clear third when he dead-heated and the right bob of the head for Beauty Prince and Moore would have stolen his third IJC victory.