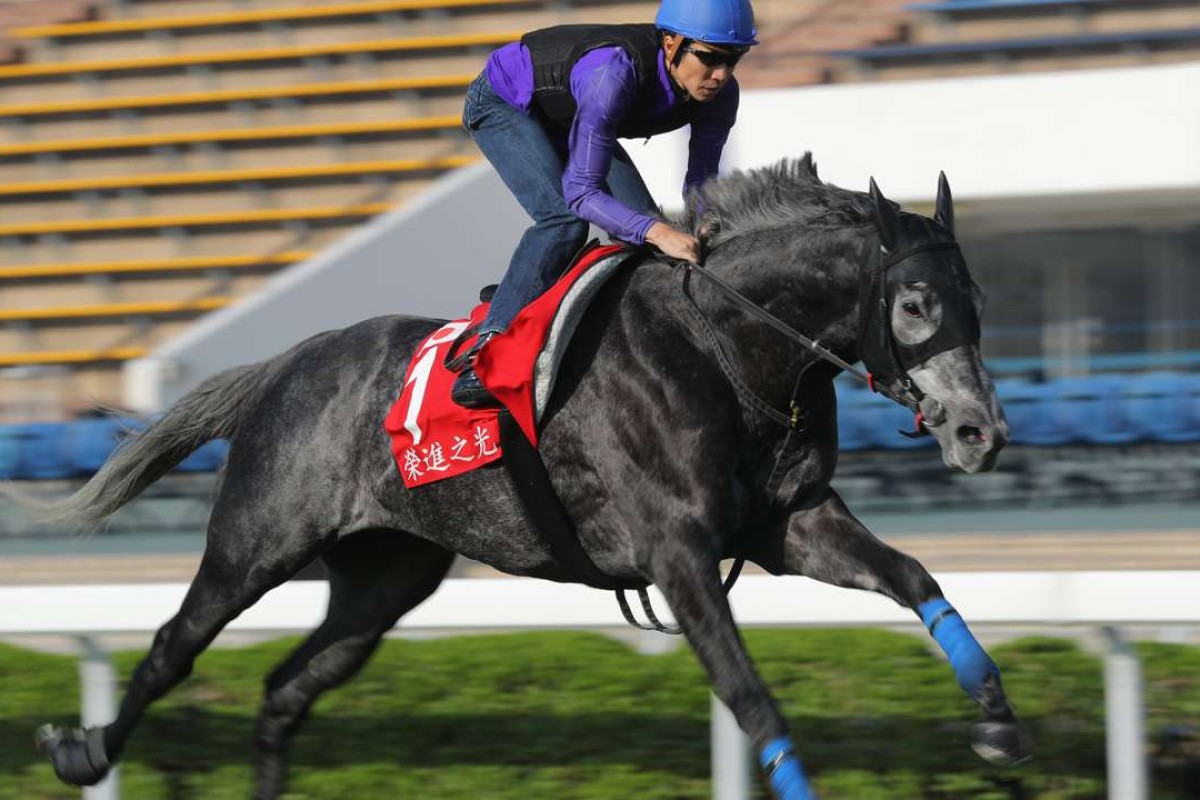 Reigning Japan Horse of the Year Maurice may seek to dethrone him but Hong Kong Cup titleholder A Shin Hikari gave notice on Thursday that he won't be abdicating his Sha Tin crown without a fight.
In a trackwork session that fairly bristled with quality, A Shin Hikari put his rivals on a grave warning that the passing of 12 months has done little to dim his brilliance.
Under a bright blue autumn sky, the grey son of the immortal Deep Impact turned in a gallop for the ages, breaking 48 seconds for 800m despite the first 200m being little more than a working gallop.
The turbo kicked in from the 600m and the after burners exploded in the home stretch, with the stallion looking every inch a champion as he sizzled down the final 200m in an incredible 10.81 seconds.
The full stats for the gallop were: 800m in 49.35, the last 600m in 33.9, the final 400m in 21.68. Remembering that this is a middle-distance galloper, not a Group One sprinter, his times were just incredible.
A Shin Hikari led throughout to win last year's Hong Kong Cup – the richest race in the SAR – and gave his rivals no possible excuse. He went to the front and then improved his position, pouring on the power from a long way out in a way precious few thoroughbreds anywhere can. His final time of 2:00.6 set a new Cup benchmark – yes, even quicker than the mighty Falbrav back in 2003.
Here's the rub: A Shin Hikari was able to replicate that performance in France in May, running his European rivals ragged in the Prix d'Ispahan (Group One) at Chantilly. The French called the margin 10 lengths, we say it's seven, but everyone agrees it was a top-level drubbing.
So last year's Cup is no longer an isolated fluke. It's now proved to be a repeatable performance and when he achieves that level, no mere mortal horse is going to beat him.
The Rising Sun flag in the Sha Tin grandstand had a glorious morning, as the Japanese equine army gave a sneak preview of what's in store for the opposition come Sunday across the four Group One races.
Lovely Day, another Deep Impact colt and boasting a Group One victory over A Shin Hikari at home, looked a quality animal in easing down 400m in 22.6, the final split in 11.12 seconds.
Sprinter Red Falx, winner of his last three starts including the Group One Sprinters Stakes, had an air of authority as he cruised down 400m in 24 seconds without ever coming off the bridle.
His arch rival Big Arthur had something to say about that, giving clockers a dose of brain freeze by scorching up his 400m dash in 21.7 seconds, and shaving 10 seconds for the final section. That's about as fast as horses go.
For an authentic comparison, try this: three years ago, the mighty Lord Kanaloa did the same thing (albeit under riding) and clocked 21.4, 10.3, before stepping out on Sunday to win the Hong Kong Sprint by five lengths.
Able Friend needs plenty of luck after drawing the outside barrier in the Longines Hong Kong Mile
Satono Aladdin, a contender for the Longines Hong Kong Mile, was another to take the eye. He ran 1,200m in 1:19.5, clocking 22.6 for his final 400m and the ultimate split in 11.1.
But wait, there's more! The daddy of them all, Maurice, moved around Sha Tin like a prowling lion, seemingly safe in the knowledge that he doesn't have to prove anything to anyone. He kept all that energy internalised again, as he has done in past visits, with 1,000m of pacework, the last 600m in 37.75 and the final split in 11.56.
And then came Japan's latest global traveller, Nuovo Record, the subject of our essay earlier this week. She cleaned up with a sprint that was quite astonishing, especially when viewed through the prism that she's preparing for a race over 2,400 metres.
Nuovo Record brushed up 400m in 21.7, extending out to 10.47 for the final half, and looked simply marvellous – the very definition of an equine athlete.
And that's before we talk about Staphanos, a repeat visitor in the Cup and a consistent player at the top level.
It was meant be an international menu; but the flavours of the day were almost exclusively Japanese.