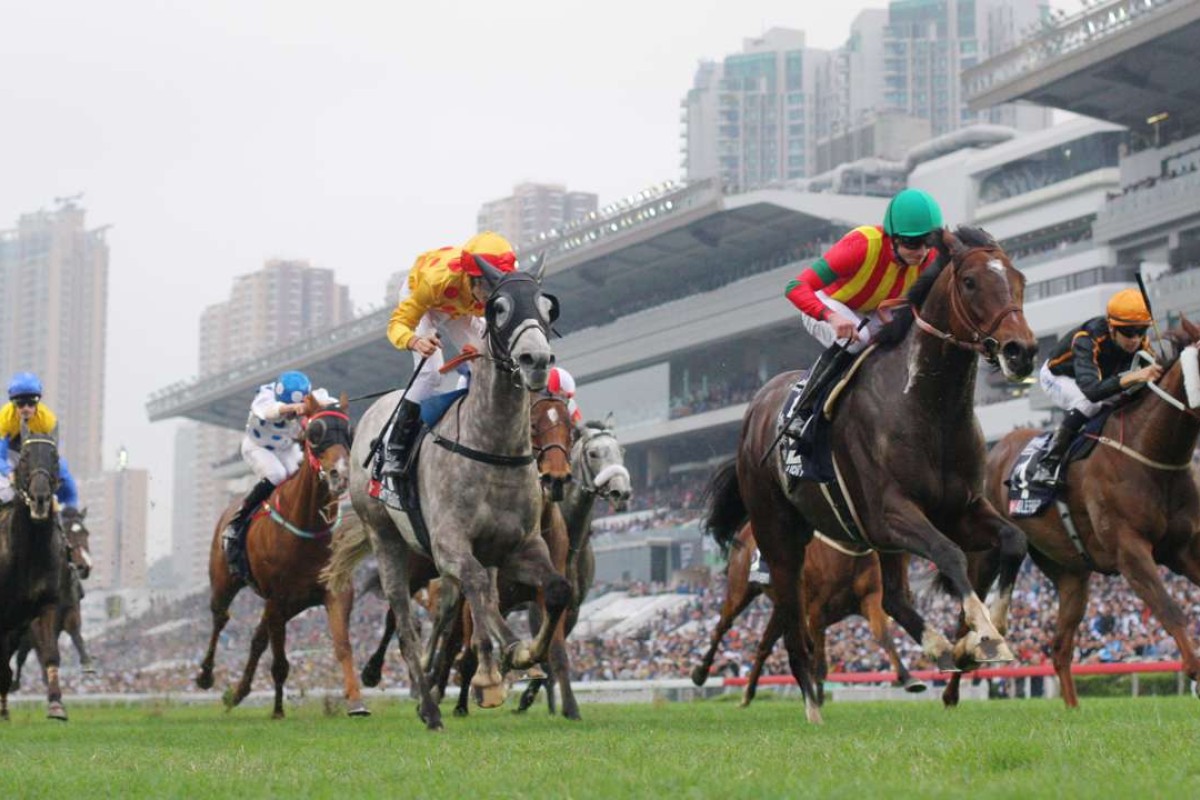 18.20
That wraps things up from Sha Tin – another memorable Longines Hong Kong International Races.
Undoubtedly, Maurice was the star of the show, backing up from his win in last year's Mile to capture the Cup in breathtaking fashion.
It was a huge day for Hong Kong-based jockey Zac Purton as well, taking home two Group Ones with Beauty Only (Mile) and Aerovelocity (Sprint).
Watch: Zac Purton and Aerovelocity win their second Longines Hong Kong Sprint
Watch: Tony Cruz claims his record eighth Longines HKIR title after Beauty Only wins the Mile
The shock of the day came in the Vase as odds-on favourite Highland Reel was run down in the shadows of the post by Japan's Satono Crown.
Watch: Joao Moreira gets a full set of Longines HKIR titles after winning the Vase on Satono Crown
The win meant jockey Joao Moreira became just the second to complete the HKIR set alongside Gerald Mosse.
The event continues to grow and is rightly regarded as one of, if not the best, meeting in the world and the record crowd of 100,710 can attest to that.
Here's a snapshot of the action from the closing ceremony. See you next time.
18.05
Wow – what a terrific Hong Kong debut from Queensland Derby winner Eagle Way.
Pakistan Star went back to last and unleashed a big finish, but he couldn't bridge the gap as John Moore's Hong Kong Derby hope prevailed.
Hugh Bowman gave Eagle Way a perfect ride, saving ground and then producing him at the business end of the race. That performance bodes very well for the upcoming four-year-old series.
Santa Fe Sun ran well for second, while Apollo's Choice finished third.
It's fair to say the boom on Pakistan Star is starting to fade, and he shouldn't start that short for a while. He's racing well, he just leaves himself with too much to do.
17.50
As the last race approaches this is the question on most people's lips:
Everyone is hoping to see this:
He's an odds-on favourite, with his main dangers looking to be Western Express and Apollo's Choice.
Can't wait to see what he's going to do – and neither can the crowd with just about everyone staying to watch this race.
17.35
Here's what the jockeys of today's Group One winners had to say.
Ryan Moore on Maurice:
"There was a good pace to the race, and going down the backstretch I thought things were going well, it was just a question of finding a way through. When I asked him, he picked up, and really he got to the front almost too soon. He was a special horse at a mile, and at ten furlongs he's even better. He has improved every time I have ridden him."
"He is a pleasure to ride 99 per cent of the time. Just before the gates opened he made it a little bit more difficult. Fortunately there was good pace in the race and halfway down the back I thought it was sitting up nicely for him and it was just a matter of finding the room. As soon as he got room and I put him into gear he just let down exceptionally well. He finished off easily and he got to the leader early and then he was just easing up really. He has improved every time I've ridden him."
Zac Purton on Beauty Only:
"He was really good. I think we're just starting to see the best of him. He's always been so honest but now that he's fully matured and acclimatised we're really seeing what he can do.
"He is much improved this season and he was very strong today. Hughie (Bowman) pushed off the fence about the 700 which made me have to go a bit earlier than I wanted to but the horse has got a big set of lungs and kept running. We set sail after the leaders and he responded really well. I believe he can stretch out to 2,000 (metres) so there was no doubting him being strong at the end of the mile.
"The firm ground suited, the harder the better for him and so did the good speed. We know he does his best now if we let him balance up early."
Zac Purton on Aerovelocity:
"It's a good feeling because we were of the opinion that we're starting to lose him. And we know he's a warrior and he gives everything he's got and although he didn't perform at his best today, his heart is so big that he's able to give us that effort. Paul had fine-tuned him and dropped the extra little pounds that he was carrying and got him as best as he could for today so he's done a great job. We had a lovely run in the race and he came out and he was just able to amble up. It was hard fought in the end, but he is all heart."
Joao Moreira on Satono Crown:
"I thought I had a big chance before the race, and it worked out. I tracked Silverwave early and got a clear run through. I had a lot of horse under me at the head of the stretch, and was always confident that I could get to the leader." Told that he now had a full house of the four HKIR races on his CV, he said: "That's great, that's a dream."
17.25
Joao Moreira picks up his third winner of the day as Mr Stunning leads from barrier to box in the Lord Kanaloa Handicap.
John Size's talented type was a certainty beaten last start and the Magic Man took luck out of the equation by going straight to the front.
Favourite backers are happy, he only returned $16 for a $10 investment, but plenty would have had all-ups with Maurice.
Merion made up a lot of ground late to finish second, ahead of Clever Beaver and Turf Sprint.
We've only got one race to go now and the cult hero Pakistan Star is an odds-on favourite.
17.15
This is the race – the Longines Hong Kong Cup. Maurice is a specimen.
17.10
From the looks of things, people have certainly been enjoying the day...
16.55
Let's recap the Group One winners today.
Longines Hong Kong Vase - Satono Crown (Noriyuki Hori/Joao Moreira)
Longines Hong Kong Sprint - Aerovelocity (Paul O'Sullivan/Zac Purton)
Longines Hong Kong Mile - Beauty Only (Tony Cruz/Zac Purton)
Longines Hong Kong Cup - Maurice (Noriyuki Hori/Ryan Moore)
Two winners for Japan, two for Hong Kong.
Doubles for Hori and Purton.
Moriera becomes just the second jockey to complete the set of HKIR races.
What a day.
Runners in the mounting yard for the ninth race, Mr Stunning is the dominant favourite and I think he should be winning.
Clever Beaver and Line Seeker the only other runners with single-figure odds.
16.45
Japanese superstar Maurice provided the perfect farewell as he crushed his rivals in the Longines Hong Kong Cup.
Last year's Mile winner took the step up to 2,000m contest and proved far too good.
Trained by Noriyuki Hori, Maurice stepped slowly, forcing Ryan Moore to go back to second last and ride patiently.
Compatriot A Shin Hikari took up the running as usual, rattling off some quick sectionals down the back and holding a five-length lead turning for home before compounding halfway down the straight.
By this stage Moore and Maurice were moving, hunting through the field and storming over the top for a dominant win.
Dennis Yip's Secret Weapon ran well for second, giving jockey Zac Purton two wins and a second from the four Group Ones, while Staphanos was third, just ahead of Lovely Day.
But all honours were with Maurice, who put in the performance of the day and signs off his career in style as he heads to stud.
16.20
Things seem to have settled down in the mounting yard as the build up to the main event kicks in. It's time for Longines Hong Kong Cup.
Last year's Mile champ Maurice is all the rage and he's into an odds-on quote with the Hong Kong tote.
This is going to be the final run of his career before going off to stud – and it looks like he can bow out in style.
A Shin Hikari is (rightfully) drifting after his performance before, while Secret Weapon and Designs On Rome represent the best local chances.
In the meantime, here's a replay of Beauty Only's Hong Kong Mile win.
16.10
A bit of drama before the Longines Hong Kong Cup with last year's winner A Shin Hikari getting loose in the mounting yard.
He's got a reputation for being mad, but hopefully everything is OK. He's the second favourite behind compatriot Maurice.
16.00
Longines HKIR day is quickly turning into Zac Purton day as he collects his second major with Tony Cruz's Beauty Only prevailing in the Mile.
Purton went back from his wide gate, alongside the old champ Able Friend, and they made their runs together but Beauty Only proved too strong.
John Moore's Helene Paragon ran on well for second, with stablemate Joyful Trinty in third and Contentment completing another Hong Kong quartet.
Able Friend just peaked on his run, the lack of race fitness showing through as he finished just behind the leading group.
But what a day for Purton – two Group Ones already and he rides Secret Weapon in the Cup next.
15.40
It hasn't been ideal for local sports fans to have the HKIR clashing with the golf, but it's worked for someone with last year's Hong Kong Open winner and Olympic champion Justin Rose making it to both.
Runners are in the mounting yard for the Longines Hong Kong Mile and all eyes are on Able Friend.
Helene Paragon and Beauty Only are the other ones in the market, with Japanese runners Logotype and Neorealism looking terrific value.
15.30
Want to know what happened to your horse in the Longines Hong Kong Vase? Here are the thoughts of some of the beaten jockeys.
We're just 20 minutes away from the Longines Hong Kong Mile – the "Beast from the East", Able Friend, is favourite.
15.25
The Magic Man Joao Moreira delivers again as Blizzard takes out the Flying Dancer Handicap.
Some punters (including this one) are very grateful for that result.
Blizzard came from last and let down with a strong run down the centre of the track to get the victory, but it was a narrow one.
The favourite Mr Bogart was second, Dashing Fellow third and Simply Invincible fourth, but you could have thrown an handkerchief over them all.
15.15
We've got a short break from the Group Ones now with a really competitive Class One over 1,400m.
Mr Bogart and Blizzard at the top of the market, with Racing Supernova and Key Witness next in line.
Born In China is a late scratching at the gates, withdrawn on veterinary advice.
Good race.
Speaking of good races, here's a replay of the Longines Hong Kong Sprint.
Zac Purton's wife Nicole and her father, former champion jockey Jimmy Cassidy, celebrate the win.
15.10
Huge crowd here at Sha Tin for Longines Hong Kong International Races – these are the latest confirmed figures.
While we're at it, here's a bit of colour from the crowd.
14.55
It's a quartet for Hong Kong in the Sprint as the old boy, 2014 champion Aerovelocity holds off favourite Lucky Bubbles with 2015 winner Peniaphobia in third and Amazing Kids in fourth.
Terrific result for jockey Zac Purton and trainer Paul O'Sullivan to get this veteran back to his best on the big day.
The expected hot pace didn't quite eventuate with Peniaphobia and Super Jockey finding the front, but not at blistering sectionals.
Purton gave Aerovelocity the gun run, just behind the leaders and produced him when it mattered.
Brett Prebble probably got a bit further back than he would have liked on Lucky Bubbles, who launched a bold bid down the centre of the straight but just ran out of room.
None of the internationals were ever really in the frame.
14.35
Wow. Still coming to grips with that result in the Vase – absolutely stunning.
Here's the replay.
But there's no rest for the wicked and we're straight into the mounting yard as the fastest horses in the world gear up for the Longines Hong Kong Sprint.
Top Hong Kong speedster Lucky Bubbles is favourite and he clearly looks the one to beat, drawing perfectly in barrier five.
His biggest rival is Japan's Big Arthur, while Amazing Kids and past winners Aerovelocity and Peniaphobia are also in the market.
Don't forget the Australians are here too with Rebel Dane and Takedown – Gary Moore is well-known for his celebrations, but he might spontaneously combust if the latter wins.
This should be a cracker.
14.15
Stunning scenes as long odds-on favourite Highland Reel gets beaten in the Longines Hong Kong Vase.
Aidan O'Brien's globetrotter was chasing back-to-back wins in the 2,400m contest but he was nailed in the shadows of the post by Japanese stayer Satono Crown, who got a peach of a ride from Joao Moreira.
Ryan Moore took Highland Reel straight to the front and, while copping some mid-race pressure from Big Orange, gave a big kick at the top of the straight and looked to have the race in his hands.
But the Magic Man had been biding his time, conserving Satono Crown's energy in the second half of the field. He got the split at the right time and chased after Highland Reel, who was feeling the pinch late. The two gapped their rivals with French galloper One Foot In Heaven getting third from Nuovo Record.
The result means Moreira is just the second jockey to win all four of the Longines HKIR races, joining Gerald Mosse in the exclusive club.
It's a big result for trainer Noriyuki Hori, as well as those who back Satono Crown – a $10 investment giving you $204.50.
What a start to the features – and could be the start of a very big day for the Japanese.
13.55
It's the first of the Group Ones next and the anticipation is building.
Highland Reel is the raging favourite and out to make it back-to-back victories in the HK$16.5 million feature.
Worth noting we've got New Zealand jockey Rosie Myers competing in the Hong Kong Vase (riding Benzini) but she's not the first female to ride at the Longines HKIR.
That honour goes to fellow Kiwi Kim Clapperton, who rode at the 1995 meeting.
And a reminder for those interested in having a bet, here are the tips from the SCMP racing team.
13.40
And it's a double for Tony Cruz. Winner's Way looks a very smart type – maybe on a path to the Hong Kong Derby.
Race panned out as expected with the two leading chances battling it out over the concluding stages and Winner's Way gets the nod in a bob of the heads.
Hold on – we've got an objection. Second v first. Alleges interference in the final stages.
It's been withdrawn, so the original result stands.
Meanwhile, the Hong Kong Vase is up next and here's a look at the short-priced favourite Highland Reel.
13.25
We've just had the opening ceremony with all the jockeys competing today presented to the crowd.
Not far away from the third race and the market says it's a contest in two.
Beat The Clock (John Size/Joao Moreira) is the favourite, while Winner's Way (Tony Cruz/Matthew Chadwick) is the second elect.
Good luck if you're having a bet.
After this, we've got the first of the Group Ones with the Hong Kong Vase.
13.10
Champion trainer Tony Cruz gets the chocolates in the second with General Sherman, ridden by French jockey Maxime Guyon.
Big effort from the top-weight Ishvara, who finished second, while Ho Ho Feel and Easy Hedge were next in line.
Worth noting that it doesn't seem to be a big problem if you're covering some extra ground, so that's something to keep an eye on throughout the day.
Speaking of things to look at – check out this lunch.
12.50
Cracking day here at Sha Tin. The sun has broken through and conditions are perfect.
Runners in yard for the second and Willie Way for Paul O'Sullivan and Zac Purton is favourite.
Easy Hedge, Amazing Agility and General Sherman are the others in the market.
12.35
And the first favourite bites the dust!
Jing Jing Win jumped at $1.30 but gets rolled. No fault of the rider, Zac Purton had him in a good spot, but he didn't let down as he had previously and only battled away for third.
The win goes to the Francis Lui-trained Water Diviner and Craig Williams – the gelding now undefeated in two starts since coming from Australia.
Very smart type.
Endearing (Silvestre de Sousa) got up for second.
Favourite backers will be hoping this isn't a theme for the day – there's going to be a lot of shorties.
12.15
Runners are parading for the first race and we've got a short-priced favourite in Jing Jing Win.
David Hall's four-year-old is a star on the rise, undefeated in two starts, and should be winning this with Zac Purton in the saddle.
The main danger is House Of Fun, who will be ridden by Joao Moreira and is trained by John Moore.
For those interested in having a bet today, here's what the SCMP racing team is tipping.
12.00
The eyes of the racing world are focused on Sha Tin today for the HK$83 million Longines Hong Kong International Races.
A crowd of more than 80,000 is expected at the track, but wherever you watch from, it's set to be a terrific day of high-quality racing and we'll bring you all the action here.
Japanese superstar Maurice is the horse to beat in the 2,000m Hong Kong Cup – he won the Mile last year and he's hoping to go out on a high with this his last race before heading to stud.
From a local perspective, all eyes will be on the 'Beast from the East', Able Friend in the Mile. The 2014 champ has only had one run since finishing second in the last year's race and needs to overcome barrier 14, but he'll be carrying plenty of public support.
The Sprint looks a race perfectly setup for local sprint star Lucky Bubbles, while there's a strong international flavour with runners from Japan, Australia and Europe.
Unfortunately, news came through this morning that US speedster Pure Sensation hasn't recovered from injury and has been withdrawn from the race.
The first of the four Group Ones on offer is the Vase and Highland Reel is clearly the one beat.
If you want to catch up on any of the news and race previews for the meeting, make sure you check out – http://www.scmp.com/sport/racing
The first race gets underway at 12.25, but people didn't waste any time finding their spots.