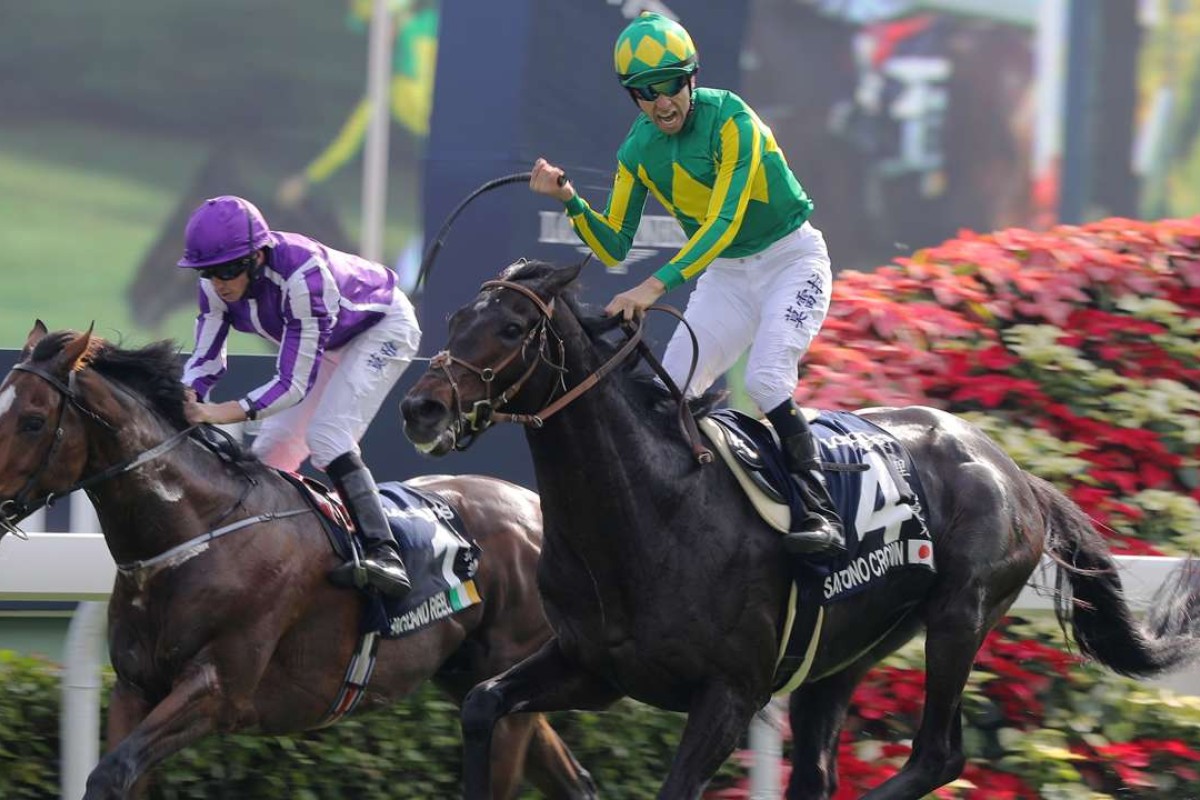 It's just a measure of the way that Joao Moreira does things that collecting wins in all four international races had taken him only seven rides when Satono Crown overhauled Highland Reel to spring a surprise in the Longines Hong Kong Vase.
Moreira doesn't just ride winners – he constantly racks up records at an extraordinary rate and a Mile and Cup in 2014, a Sprint in 2015 and now a Vase win over Coolmore warhorse Highland Reel gave the Magic Man his full house in an astonishing hurry.
To put that in perspective, only Gerald Mosse had previously won all of them and his first Hong Kong Cup landed in 1991 and his Vase on Daryakana, to complete the set, in 2009, although he will remain the only winner of five Hong Kong internationals as he has a win in the now-defunct Bowl as well.
Watch: Joao Moreira gets a full set of Longines HKIR titles after winning the Vase on Satono Crown
And while most expected Coolmore's world traveller Highland Reel to add a second Vase to a memorable year in the air, Moreira's close connection to Japanese racing where he has done a couple of summer stints in recent years, had earned him a mount from top trainer Noriyuki Hori that gave him plenty of confidence.
"To win the four is a dream come true," Moreira said. "But I really thought I could win it. I told some friends that Satono Crown was a good chance based on him running third in the Japanese Derby.
"The feeling he gave me in his work the other day was great and I knew a had a lot of horse underneath me today."
Not only underneath him but also in front of him.
While Highland Reel was getting heavy pressure in the lead from Big Orange, Moreira was coasting along midfield on the rail, then made a move to get into the race from the 700 metres that landed him on the back of Big Orange and three lengths off the front, but not for long.
"I got behind Big Orange who was taking me back through the field instead of bringing me forward," Moreira said.
"So I switched back to the inside, got on the back of Silverwave and was able to come into the race again.
"If I had the right run through coming to the home turn, my horse would have won by further but I was always confident I was going to catch Highland Reel. I was a blessed boy today. I think he would have won with any other jockey on top of him."
When Satono Crown had come to Sha Tin as one of four highly rated Japanese runners in the QE II Cup in April, off a Group Two win in Kyoto, the view was that he would prove the best of that group of horses six months down the track.
Like the other Japanese, he failed that day on a messy mudheap track where traction was hard to find, but he lost his way in a couple of subsequent runs as well and was at lengthy odds yesterday as a result.
But the Vase win confirmed the view the best was yet to come for Satono Crown, especially as he should have walked in.
"I think he has matured since the QE II Cup, but the big difference has not been physical but his mental maturity," said Hori.
The top two pulled almost seven lengths clear of their rivals in a race that saw its share of interference and Big Orange's rider, Damian Lane, copped a suspension for an early incident.