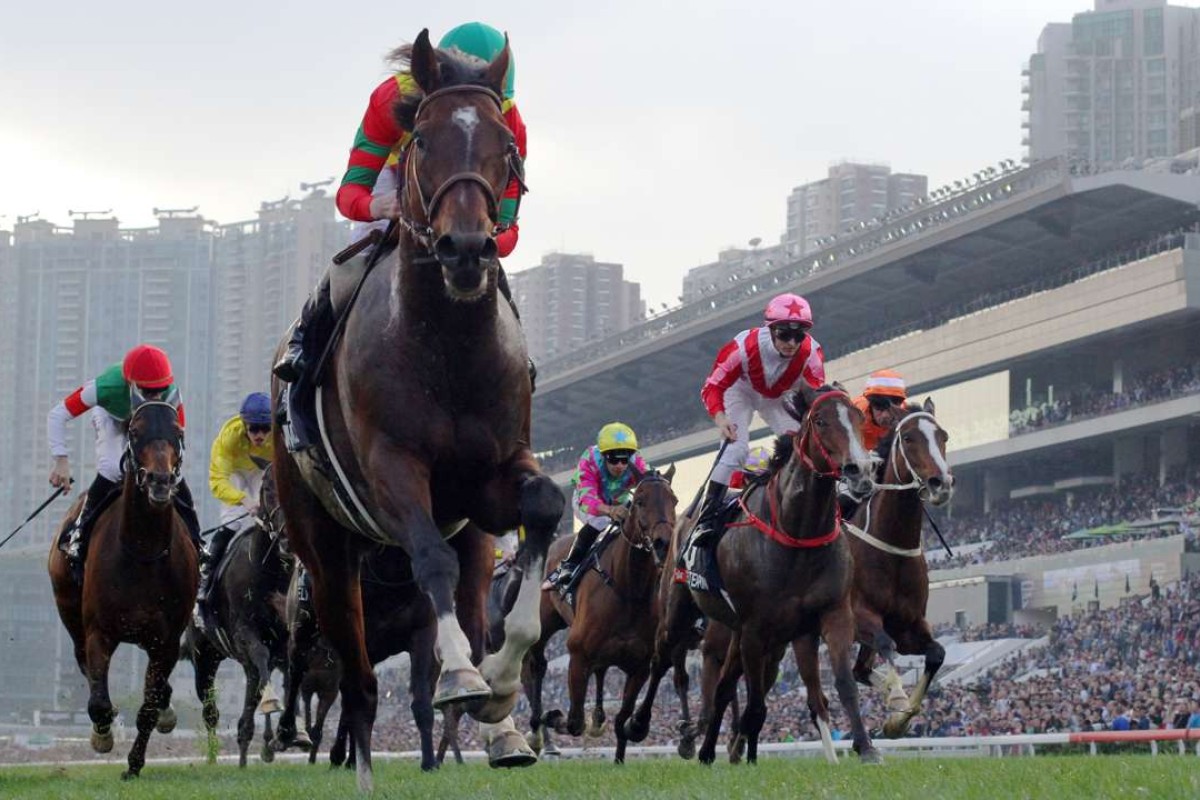 It took the blink of an eye for racegoers to fear that Japanese champion Maurice had missed his chance to win the HK$25 million Longines Hong Kong Cup and not much longer for him to dive through an opening and put those worries to bed.
Hot favourites had been crashing and burning all afternoon and by the time Maurice (Ryan Moore) rolled around, we were staring at the fourth odds-on chance for the day after three had been rumbled and two years and seven Hong Kong internationals since a favourite won one of them.
The gates crash open and a palpable cloud of oh no, not again, formed around Maurice when the Noriyuki Hori-trained horse missed the start and was suddenly with the cap catchers at the rear.
Watch: Stunning performance from Maurice in the 2016 Longines Hong Kong Cup
Up front, his compatriot A Shin Hikari – well warmed up after getting away in the parade ring – just shuffled through the first 400m in a sectional that could have been done with a sun dial, before Helene Super Star worked around the field to his outside and then all hell broke loose.
No sooner than Helene Super Star got up next to A Shin Hikari than he simply took off and the next few 400m chapters were carved out with some real urgency.
Punters might not have been relaxed about Maurice sitting 10 lengths away but his jockey was.
"As I was on the way out, the trainer asked me 'are you OK?' and I said I'm always OK when I ride Maurice," Moore said. "He's a pleasure to ride 99 per cent of the time but he was mucking about in the gates just before they opened and made his job a little bit more difficult. Still, fortunately there was good pace in the race and, halfway down the back, I thought it's setting up nicely for him and it's just a matter of finding room. As soon as he found room and I put him into gear, he let down exceptionally well and got the leader early and then just eased up on them."
From near last to commandeering the front with a flourish took not much longer than missing the jump at the other end of the story and Maurice's acceleration left nothing else a chance, slicing through and running away in one of the great Hong Kong Group One international wins.
Zac Purton had won two of the day's majors but followed home in second on the first Hong Kong finisher, the Dennis Yip Chor-hong-trained Secret Weapon, a respectful three lengths in arrears. The Japanese had arrived in numbers and dominated the spoils as Staphanos chalked up another honourable performance and found third ahead of yet another of his countrymen, Lovely Day.
But the A Shin Hikari phenomenon we saw in 2015, when he set fast fractions and kept dealing them out until the opposition called for mercy, simply evaporated and he wasn't the same horse finishing 10th, his swansong before exiting stage left for a breeding career and that was believed to be the future awaiting Maurice as well.
It was a sixth Group One from his last eight starts and a third at Sha Tin from as many appearances, joining compatriot Eishin Preston and French icon Jim And Tonic as the only foreign horses to win three majors on Hong Kong soil. Maurice's victory also gave Hori two Group Ones for the day and that was a record all on its own for any visiting trainer.