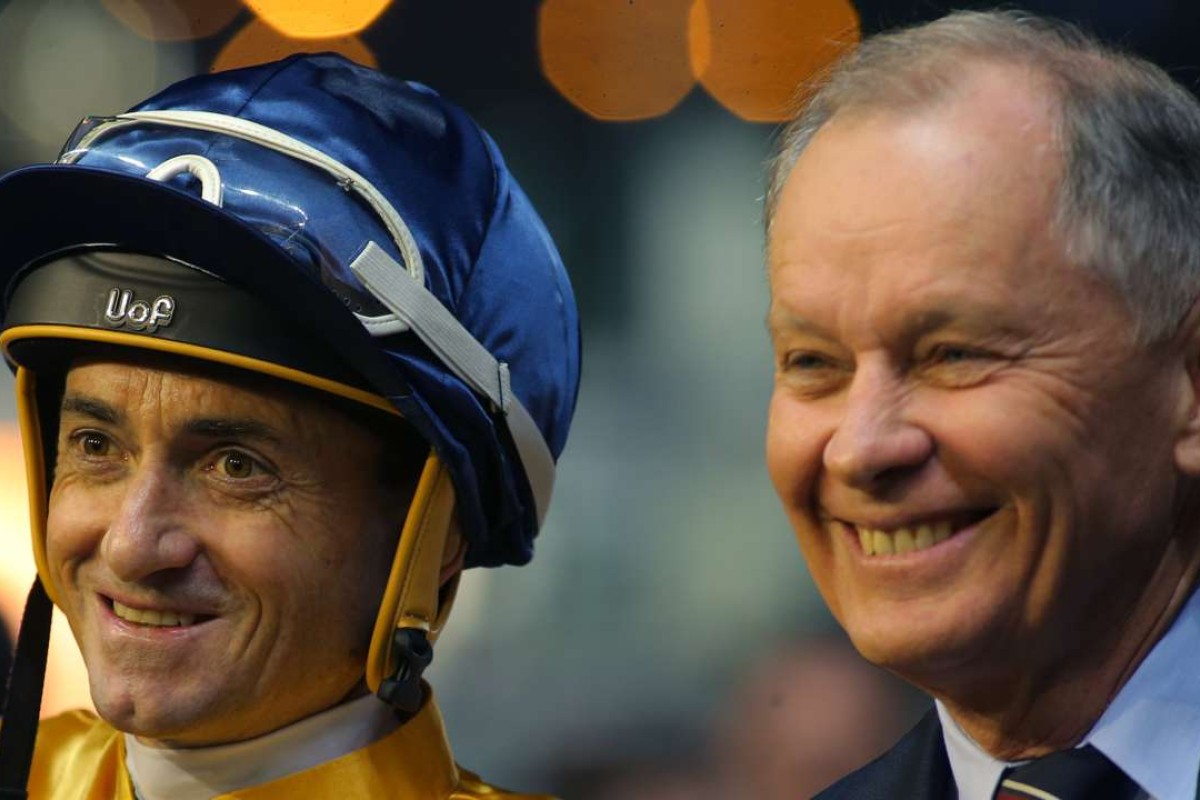 They might only have been a couple of lower grade races on a low-key Wednesday night, but Douglas Whyte's double for John Moore at Happy Valley turned the clock back and the trainer already has a celebration planned.
"I reckon Douglas and I will be sitting out under the stars with a glass of champagne and a Cohiba [cigar] on Monday night in Phuket to celebrate," Moore said after his only two runners for the night, Isaac and Sea Jade, carried Whyte to victory.
"Dougie and I are neighbours there and two from two is worth a celebration. We go back a long way, Douglas has ridden a lot of winners for me over the years and it's great to have him back.
"When Sam Clipperton and Zac Purton, who have been riding these horses, were suspended, I rang Douglas and said you can ride them both and he gave them copybook rides."
Whyte was sent out with a Plan A and Plan B for three-year-old Sea Jade in case he was too closely attended by some of the other speed horses in the race, but Plan A was the only one needed and Sea Jade led throughout for another soft win.
"Douglas put Isaac into the box seat when he won the earlier race and I said to do the same if there was too much pressure to lead, but fortunately there was nothing pressuring Sea Jade and he looks very comfortable in front like that," Moore said.
"He's really found a niche here at the Valley. He's got the pace, the short straight suits and he's learning all the time too.
"But I won't be concerned about taking him back to Sha Tin as he toughens up with experience and as he runs out of races – this win will have him close to Class Two and his opportunities will start to thin out."
There was some irony to Sea Jade's win – he is owned by the Hong Kong Golf Club Syndicate, and Hong Kong golf has had some friction with the Jockey Club over the clash of dates between the international races and the golf open. Jockey Club officials however declined to comment on the win.
Joao Moreira landed a treble with Garlic Yeah – Dennis Yip Chor-hong's 600th winner – Marvel Hero and Happy Spirit, while Craig Williams celebrated his first victory at Happy Valley for 11 years as he produced a double on Cloud Nine for Tony Millard and Travel Ambassador for Chris So Wai-yin.
Although Williams has been a regular winner at Sha Tin on flying visits, he had only ridden at Happy Valley five times since 2005 and that was on International Jockeys' Championship night 2012.
"I've always loved my time riding in Hong Kong and it feels like I've never been away. I'm really enjoying being back here for a stint, even just a short one, and not having to climb back on a plane tonight to go back to Melbourne," Williams said.
So gave special thanks for Travel Ambassador's owner, who has waited 15 starts for the horse to break through for his first win.
"This horse has indicated with his last couple of races and his trial since the last run that he is ready to do something," So said. "I told the owner after the trial I thought he was nearly there. He's an Irish horse and they can take time to come right. The owner has had to be patient and sometimes the hardest part of training is finding owners who understand the need for patience. With Mr Wong [Chun-tat] I've been lucky."