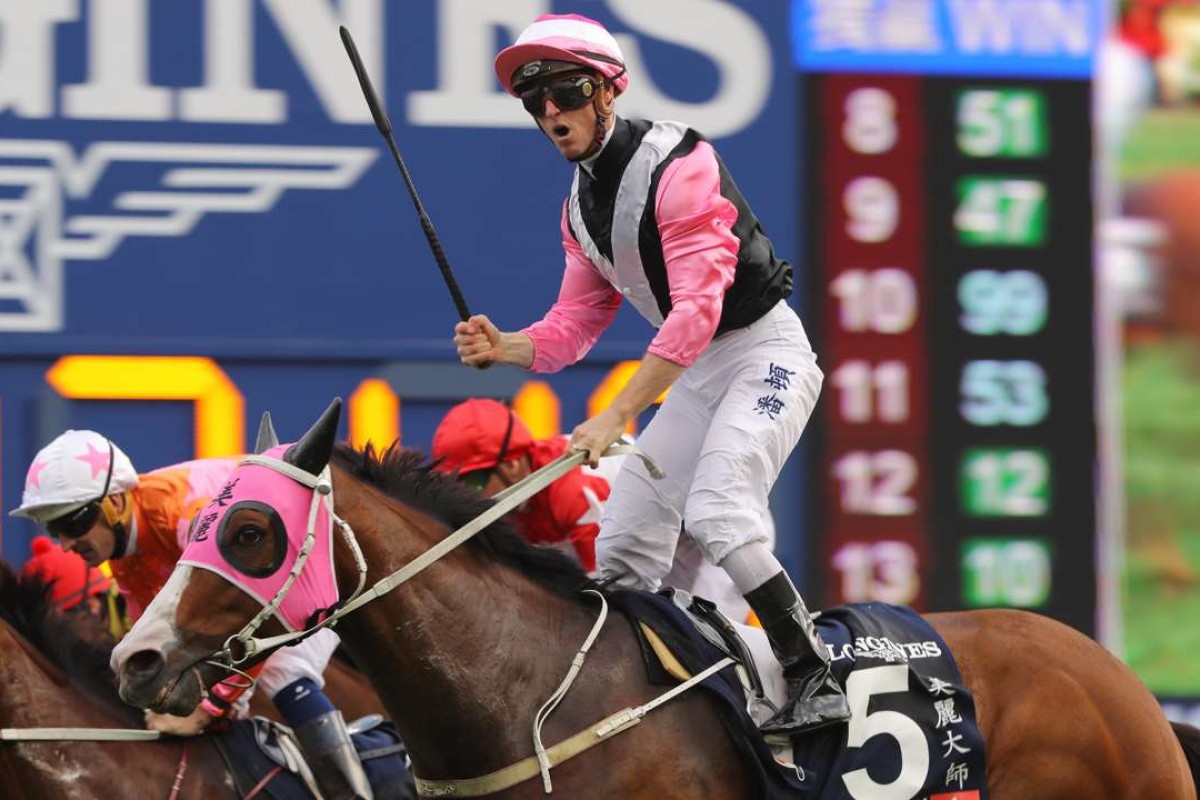 When racing people proclaim such-and-such to be the "world's best jockey", or give out an award or ranking (like there is some definable, quantifiable measure of that) there only seems to be three types of fan.
It seems you have to side with Ryan, Hugh or Joao, but what about Zac? And why the need to put a "world's best" tag on something that isn't comparable to most other individual sports, anyway?
Two days after Ryan Moore was crowned Longines World's Best Jockey at a glittering ceremony in Hong Kong, Zac Purton stole the show on the track as he won two of the four international day Group Ones on Aerovelocity and Beauty Only.
The Australian is a master tactician at the top of his game, especially on home turf and surely should be ranked alongside the aforementioned trio – three jockeys that have earned "first-name-only" status to race fans.
The big day gave him an early lead – very early we should add, as in four races out of 100 – in the 2017 World's Best Jockey Award, but after the meeting Purton admitted he and his Asian-based cohorts had "no chance" of winning the first prize.
There's no issue with the award, really, in principle at least, just the name of the award and the way the winner is calculated – point-scoring systems just don't work.
First of all, it's impossible to categorically rank anybody is the world's best jockey. When these jockey ranking systems are pushed, the point is often raised that golf and tennis have player rankings, and racing should have too, for the sake of publicity and recognition.
The trouble is that these rankings forget a pretty important factor – it downplays the horses underneath these riders, not to mention the enormous role politics play in the sport.
There are a number of flaws when comparing tennis or golf to racing, it's just not like-for-like or even like-for-kind-of-like. The only way it would be comparable is if the number one players in the world in tennis and golf got access to equipment far superior to that of most of their competitors. Maybe racing is more like motorsports, especially a highly political circus like Formula One, a sport in which many prodigious talents never even get to compete.
The best riders eventually gravitate to the most powerful stables, align themselves with the biggest trainers and compete in the richest or most prestigious jurisdictions – it doesn't mean they are the best once they get there. There is far more to being a jockey than riding and plenty of talents have lost rides because of off-track behaviour, poor communication skills or a plain old bad attitude.
Maybe high-ranking players in golf and tennis do have a slight technological advantage over their rivals, but nothing like the disparity the lower-ranking jockey faces when it comes to climbing the ranks.
Riding a 100-1 shot against favourite ridden by Ryan Moore, Hugh Bowman or Joao Moreira is probably akin to playing Roger Federer using the wooden-framed racket stuffed in the bottom of your spare room's dusty cupboard.
Honouring jockeys and recognising their great, vastly underestimated skill and bravery is a noble cause – but please, Longines, change the name. Just don't call it "world's best", especially when the award has such a European bias and reeks of the type of boring elitism that, honestly, drags the sport down and limits it long term growth.
The World's Best Jockey Award is taken from placings in the world's top 100 ranked races – 10 of which are in Hong Kong this upcoming year, and four those are already gone. There is a clear northern hemisphere slant that leaves out the greatest growth area of the sport, Asia.
Of course, Purton has been quite successful on hit-and-run missions to his homeland, Australia – where there are too many Group races and point-scoring opportunities as well. Moreira can go there too, but they can't go every weekend.
So setting aside the award for now, but what about the actual conversation "who is the world's best jockey?" Most seem to side with Moore, and that's fair enough on exposed form, given his success in the most jurisdictions, having conquered Europe but also shone on short-term stints in Hong Kong and Japan, as will as win two of Australia's biggest races, the Melbourne Cup and Cox Plate.
Bowman too has excelled in Asia and on big race missions abroad, while Moreira's name seems to cause the most polarised points of view – with some adamant the Brazilian is the best of all time, and other's claiming he is simply suited by the Hong Kong system, and that he is yet to truly prove himself anywhere else.
The "Joao doesn't get it done in Australia" argument lacks perspective, and of course many simply ignore the fact Moreira racked up astonishing numbers in Brazil and Singapore as well, dominating in a way that no other rider has before.
On the folly of rankings – numbers might not lie, but they can be misleading, and as good as Moreira is, he isn't twice the jockey of Purton just because he rode more than double the amount of winners last season.
Putting a number on these things is flawed, and before anyone jumps in with the "don't compare champions" line, please, there's nothing a like never-ending argument about who is better. Weighing up strengths and weaknesses, backing your judgement ­– this is what racing is all about, opinions.
Maybe a vote would be a better way to decide the World's Best Jockey Award – old-fashioned democracy. Although if it was left to the press to decide, Moore may not ever win again given his often petulant attitude when it comes to media obligations, which was sadly on show again at times during international week.
A vote from peers, a group of top riders from around the world, might be the best way to declare somebody "best" each year, if the sport insists on it, or a panel of former jockeys, trainers and handicappers.
Yet heaven forbid we get the punters involved, you know, the people that actually make this a viable industry – why is it that the single most important stakeholders in racing seem to be the ones left out most of the time? They have the keenest eyes, put their money where the mouths are when they "vote" in every single race with cold hard cash.
Forget the "top 100 races" and layers of politics that go along with it. Here's a question that can help settle things, who do you want in the saddle when it is your last dollar on? That might be the best measure of greatness.