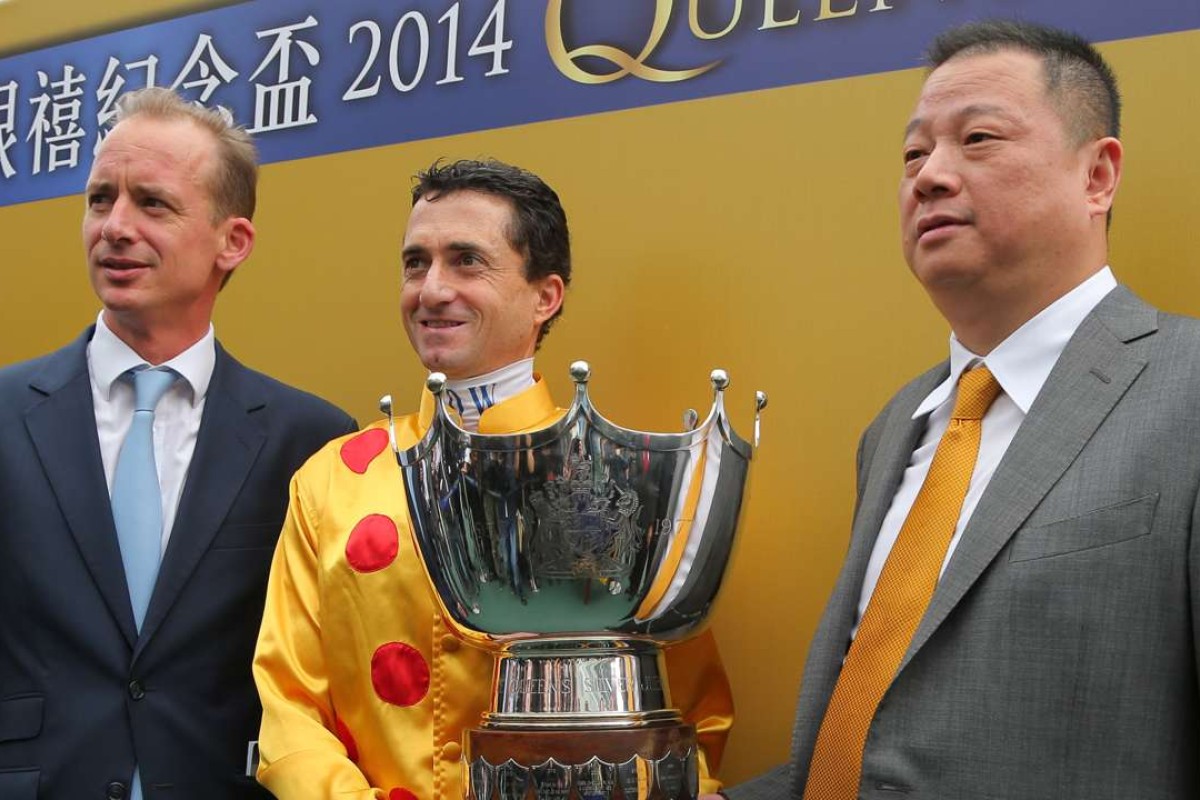 Tony Cruz's typically to-the-point quote regarding stable transfers, after billionaire Pan Sutong pulled four horses from Richard Gibson's yard, describes perfectly the "what have you done for me lately?" culture of Hong Kong racing.
"Owners around here change stables like we change our shirts and underwear – every day," Cruz said, with the trainer about to take delivery of all four of Gibson's horses owned by Pan, including Group One winner Giant Treasure.
Gibson couldn't have done much more to impress the owner – his effort to turn Akeed Mofeed into a dual-Group One winner by securing the 2013 Hong Kong Derby and Hong Kong Cup for the stallion-prospect was lauded as a great training effort.
Between them, the first three horses Gibson trained for Pan – Akeed Mofeed, three-time Group One winner Gold-Fun and Giant Treasure – won 17 races and more than HK$90 million in prizemoney.
But, in his sixth season based at Sha Tin, Gibson is struggling with an underperforming team, his overall support waning, and this latest news is a serious, although perhaps not insurmountable, body blow.
The one-time golden boy, who hit the ground running with returns of 35, 32 and 33 wins in his first three seasons, along with the notable big race wins for Pan, is under pressure.
After 16 wins last term, he sits last with two winners so far and now his highest-profile owner has pulled the rug from under him.
Never mind that the first three horses Gibson trained for the electronics mogul all arguably overachieved, it was time for "new training methods", according to a press release from Pan's Goldin Group.
So Cruz knows what he is signing up for.
"Firstly I want to say thanks to Mr Pan Sutong for sending me the four horses, but secondly, I hope I don't disappoint him and I get some good results," Cruz said. "He doesn't seem like an easy owner to train for, once you don't get results he will change stables. Richard had so many good results for him.
"So I don't know why he changed stable and really, I don't want to know, but obviously if you don't get results he will move his horses. I'll give it my best shot."
If it is any consolation to Gibson, at least he is not alone. The history of Hong Kong racing is littered with inexplicable stable transfers, owners simply moving horses between yards on a whim.
Good Ba Ba's owner John Yuen Se-kit, a serial exponent of the random stable transfer, moved the world's top-rated miler at the time based entirely on the advice of his Feng Shui master.
At least Pan's team had the courtesy of letting Gibson know ahead of time – a journalist broke the bad news to Good Ba Ba's soon-to-be ex-trainer Andreas Schutz over the phone, while Kiwi trainer Paul O'Sullivan recalls walking into his office to find a stack of transfer forms on his desk.
"That's how you find out most times, when the transfer form arrives. Very few owners will call you to tell you they are going to move them, only the gentlemen," O'Sullivan said.
Every trainer has experienced the gut-wrenching reality check of having an owner walk and shifting their horse, or in this case, horses – and clearly previous success doesn't seem to buy much loyalty.
Perhaps O'Sullivan is the best role model for Gibson as far as a trainer that has suffered a lean spell, endured the transfers and bounced back.
"Actually I've done it twice, been up near the top and down at the bottom, and come back again – I hope these things don't happen in threes," he said, having challenged for the title in 2006-07 before dropping to last within four seasons with returns of 13, 17 and 15 winners during a difficult three years from 2010 to 2013. "Last year we finished fifth and I can tell you the ride back up is more fun than the drop down."
Pan's four-horse move also includes Consort, a high-priced purchased that started its career with John Moore and is currently on light trackwork duties due to a tendon injury, along with two European imports to be aimed at the four-year-old series, Gold Mount and Gold Land.
The clock is ticking on Gold Mount and Gold Land – they seem behind in their preparations and Jockey Club rules mean the transferees can't be entered until 14 days after joining a new stable, basically ruling out the Group One Hong Kong Classic Mile two weeks from now.
Then there is Giant Treasure. Asked whether or not the 120-rated grey would arrive in time for a shot at a second-straight Group One Stewards' Cup on January 30, Cruz laughed.
"I'm not in a hurry to run him — I'll be making sure he is ready when he goes to the races, we don't want to disappoint the owner."