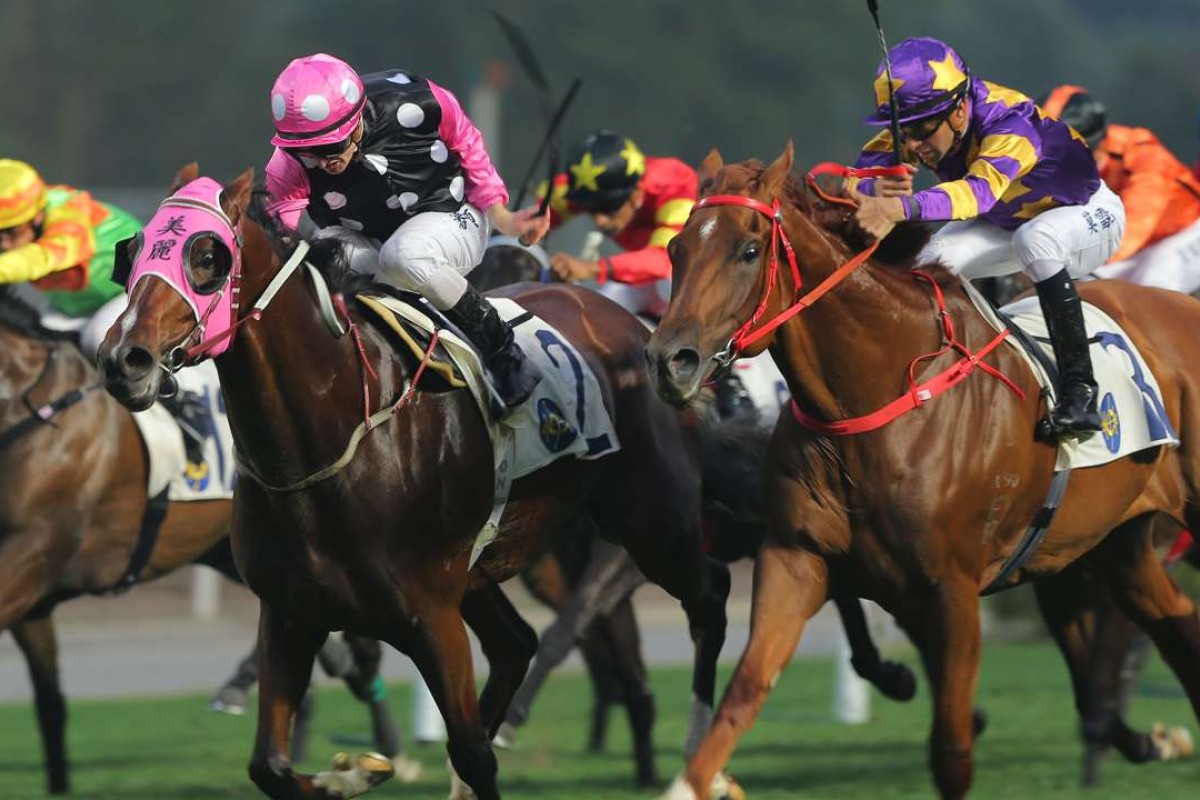 Rapper Dragon has long been the nominal favourite for the Hong Kong Derby but even his trainer John Moore admitted stablemate Beauty Generation may have usurped that position despite only scrambling home on Sunday.
"That run was very important for the Classic Mile," Moore said after Beauty Generation sealed a treble for Zac Purton by only a head after looking to be coasting to victory at the 250m mark.
"Zac said he ambled up to them and was going to win the race by two lengths or more but, when he really went for him, Beauty Generation only went so far and bottomed out.
"Putting him in this was very important for the next run because he is only going to improve in fitness in two weeks' time and his win today just showed his class. He gave a lot of weight to [third-placed] Western Express, who has already had two runs and was fitter than him."
Purton slotted Beauty Generation into a spot just forward of midfield and the gelding lost his left hind shoe in the manoeuvre which left him with some cuts to the bulb of his foot.
"Something's obviously galloped on him and pulled the shoe off but the damage is very minor,"
Moore said. "But this horse has good tactical speed, which he had in Australia too, and he's going to give Rapper Dragon something to think about because of that – he'll be up handy if he draws OK in these four-year-old races, you can put him anywhere in a race, and we know Rapper Dragon gets back, so that will make this guy the one to beat."
Not that Moore's Classic chances stop at Beauty Generation and Rapper Dragon, as he quickly injected into the conversation.
"Then there's Eagle Way too, and a couple of others. I'll enter six for the Classic Mile and hope they get in but I guess probably four will and the other two will miss out," he said.
"If you look at the list of four-year-olds and their ratings, there are some there with ratings to get a run but they haven't even raced here – would their trainers want to put them straight in a race like that?"
Moore's second runner, Queensland Derby second placegetter Rodrico, having his first local outing, was well beaten but the trainer said to forgive the race.
"I thought he would run better than that but he was caught a bit deep and things didn't go right, he can improve," he said.