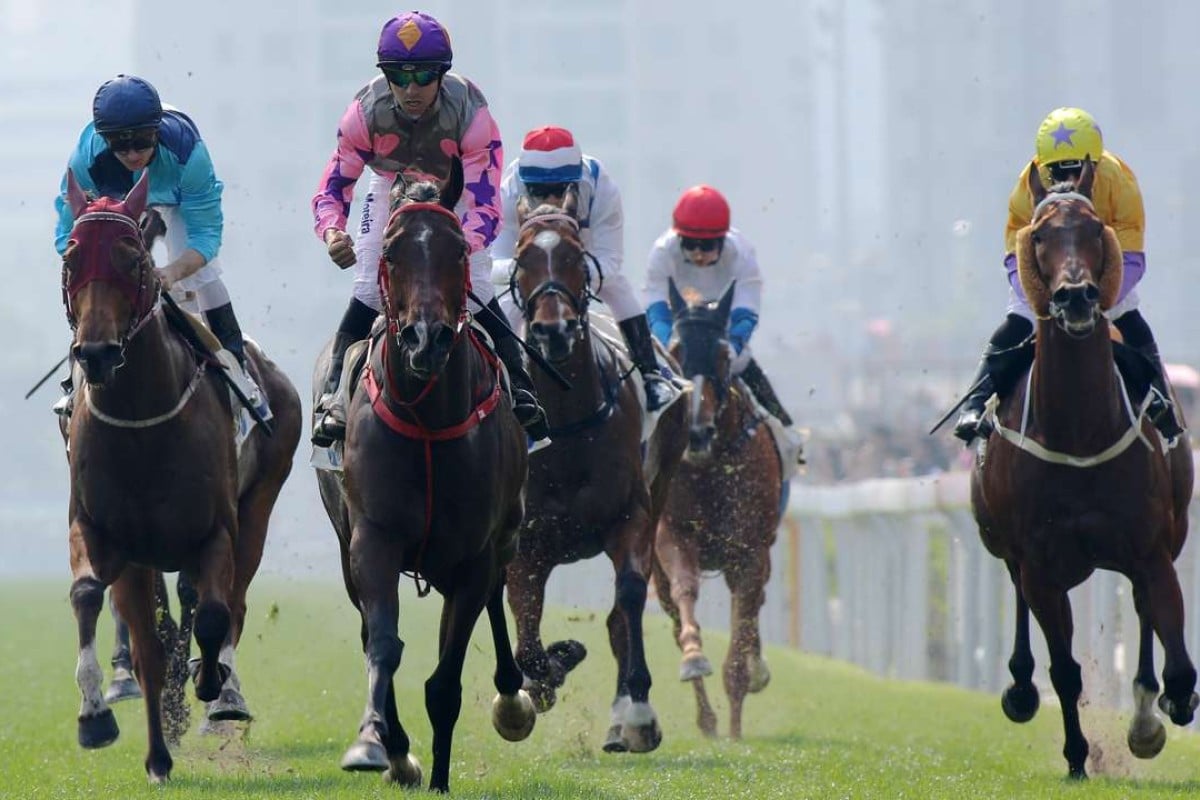 Amazing Kids made light work of his handicap to put the Group Three Bauhinia Sprint Trophy away with authority on Sunday and keep his record unbeaten down the straight but the bigger news was that trainer John Size is looking towards the Al Quoz Sprint in Dubai with the five-year-old.
While Size has regularly taken horses to the Yasuda Kinen in Tokyo for their last run at the back end of the season, a trip to Dubai's World Cup meeting would be the first time in his 15-season Hong Kong career that he has made an overseas foray with any horse mid-campaign.
"He's won two from two down the straight and it obviously suits him racing that way and there aren't that many opportunities at those types of Group One races. At that time in the calendar there actually aren't any races at all here for a short course sprinter at his level, so Dubai has to be looked at," Size said.
"Another thing is that he has the right physique and the right sort of temperament to take him away. Most horses I would never want to put on a plane because you know that for one reason or another they wouldn't handle it well and wouldn't race well as a result, and a bad trip away can ruin a horse.
"But I wouldn't have too many qualms with Amazing Kids – he's been a very good doer this preparation, which helps, and he's pretty quiet and relaxed most of the time. He can play a bit at trackwork but there's no malice in it. I think he'd cope with a trip away so we'll work towards that."
Jockey Joao Moreira expected a solid speed in the Bauhinia Sprint, Amazing Kids managed to settle in front of John Moore-trained Not Listenin'tome, after that horse was slow out and then bumped heavily by stablemate Bad Boy, and Amazing Kids never really looked like losing.
"We expected the speed on, that suits him and he won very well," Moreira said. "I don't know if he is better down the straight or around the turns – his form is pretty good at both – but I would be keen to ride him if he goes to Dubai."
Size believes the difference may not be in Amazing Kids' liking for a straight course but in how races play out on the straight.
"In the 1,200m races around the turn, he gets back and then has to find a way around or through the field so he can find trouble, but in these races he can get into his rhythm and gets clear running," he said. "He's handling 1,000m well and a straight 1,200m gives him that extra time to produce his finish so there's reason to think it might suit him even better."
Not Listenin'tome did a great job to get home for second and Peniaphobia kept on well for third, with the disappointment Moore's other runner, favourite Bad Boy, who was never travelling like a winner from the moment he hit the ground.
"Bad Boy has scoped with substantial blood in his trachea after the race so it's no surprise he raced below expectations," Moore said. "The winner has run a similar time to Bad Boy's last two wins down the straight, so for him to run so badly with the pull in the weights, there had to be a good reason.
"Not Listenin'tome ran well and might have been a lot closer if they had been making their runs together instead of us having to stand the winner a start after the trouble early in the race."
The three placegetters will have a rematch in the Group One Centenary Sprint Cup, 1,200m, on January 30 but Aerovelocity and Lucky Bubbles will be in that one too.