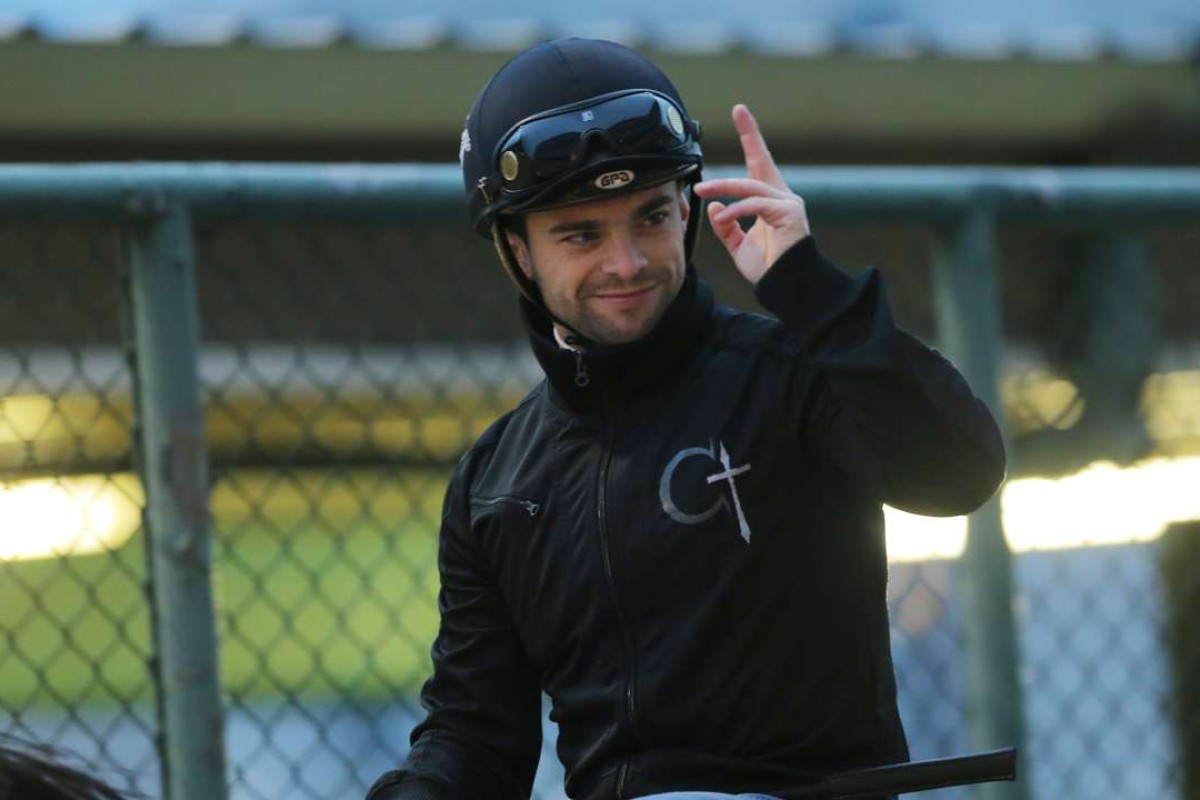 Italian jockey Umberto Rispoli says hard work and a positive attitude have been the keys to a faster-than-expected recovery from leg injuries suffered in a horror early season fall.
When Rispoli bounced into the air from the Happy Valley turf in November, tearing ligaments in his knee and fracturing bones in his ankle, few thought he would return before the end of his current contract, which ends in late March.
But thanks to a rigourous rehabilitation program, Rispoli was back at trackwork on Friday morning and is eyeing a return to racing at Sha Tin on January 22.
"The doctors were shocked that I have recovered so quickly," said Rispoli, who was back at trackwork a little over nine weeks after the fall.
WATCH: Umberto Rispoli's fall
"They said they have never seen somebody return from damaged ligaments so quickly.
"Considering it usually takes three months I feel like I have done a good job, but I haven't rushed, I just worked hard.
"I like a challenge and this was my goal, to be back as soon as possible. I just kept my mind on that target. I have to thank my doctors as well."
Rispoli has worked closely with physiotherapist Justin Faulkner and said guidance from renowned Italian surgeon Claudio Costa had been invaluable.
"I didn't have a set plan, I just worked day-by-day and tried to see improvement – but I was starting to feel like it was time to be back on a horse," he said.
"I rode on the riding machine this week, I was happy, and after a test with the physio the time was right to get back on the track see how it felt.
"It went well, it was a nice feeling to be back on a horse, although there was a small amount of pain, it was normal though."
Rispoli plans to ride in Tuesday's barrier trials at Sha Tin and will consider extending his stint if he is greeted with strong support after his return.
"I need to prove to people that I am ready, people need to be able to see with their own eyes that I am fit and ready to ride in races," he said.
"I will just start with three or four rides, as much as I can handle. I am licensed through to Derby day, March 19, but if things go well I could stay on longer."
Meanwhile, apprentice Jack Wong Ho-nam, who fractured his left ankle in the fall, has been cleared to begin exercise.
The 22-year-old underwent surgery to have a pin inserted in his injured joint but could be back riding trackwork early next month with a view to riding in races two weeks later.