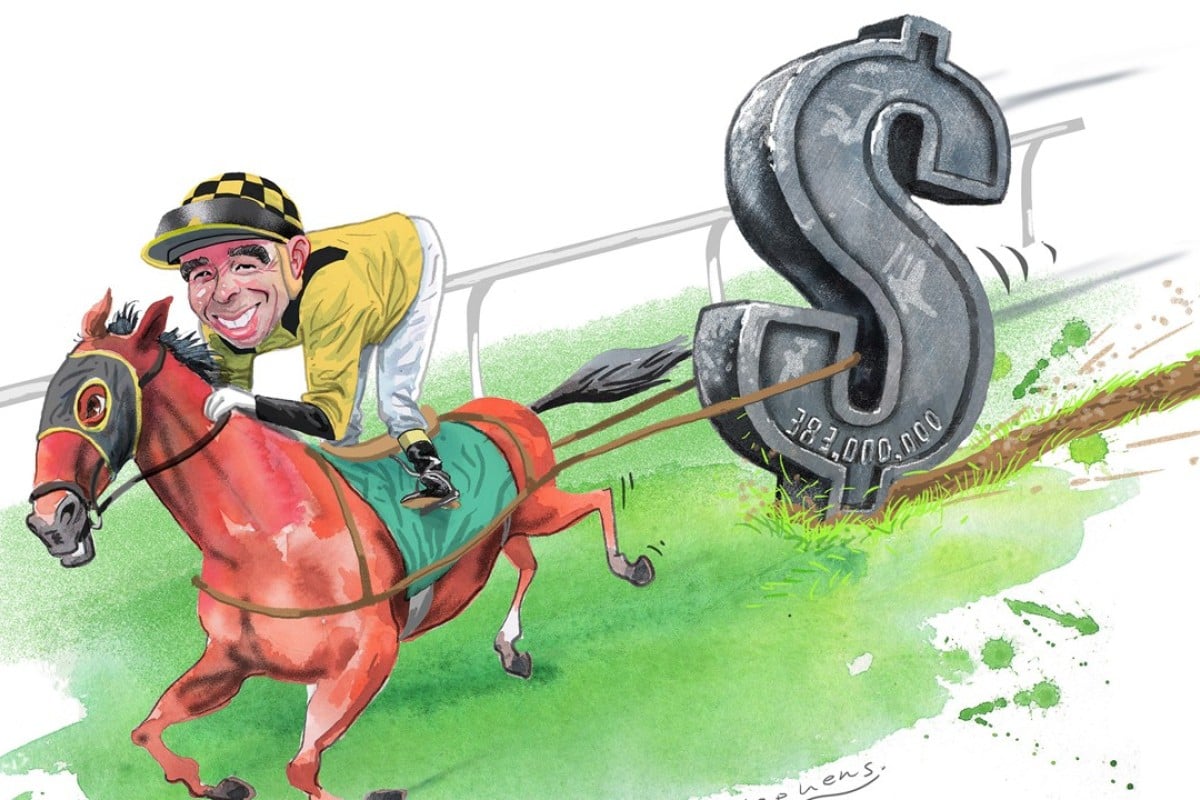 Before every race at Happy Valley, in the bottom left corner of the giant infield screen, you can see the dollar signs ticking over.
Like a living, breathing organism, the markets evolve as the amount of money in the betting pools constantly builds with more and more people investing on a hot tip, some lucky numbers or a favourite stable.
Despite riding in Hong Kong for over four years, three-time champion jockey Joao Moreira insists he only just noticed the figures a couple of weeks ago.
"Honestly, I didn't even know where it was. It was the first time I saw the amount of money they have been betting on each race," he said. "It's a huge amount."
It's no secret, betting in Hong Kong is big business. The total turnover on a weekend meeting at Sha Tin regularly breaks the HK$1.5 billion (US$200 million) barrier, while the midweek card at Happy Valley sees about HK$1.2 billion churning through the tote.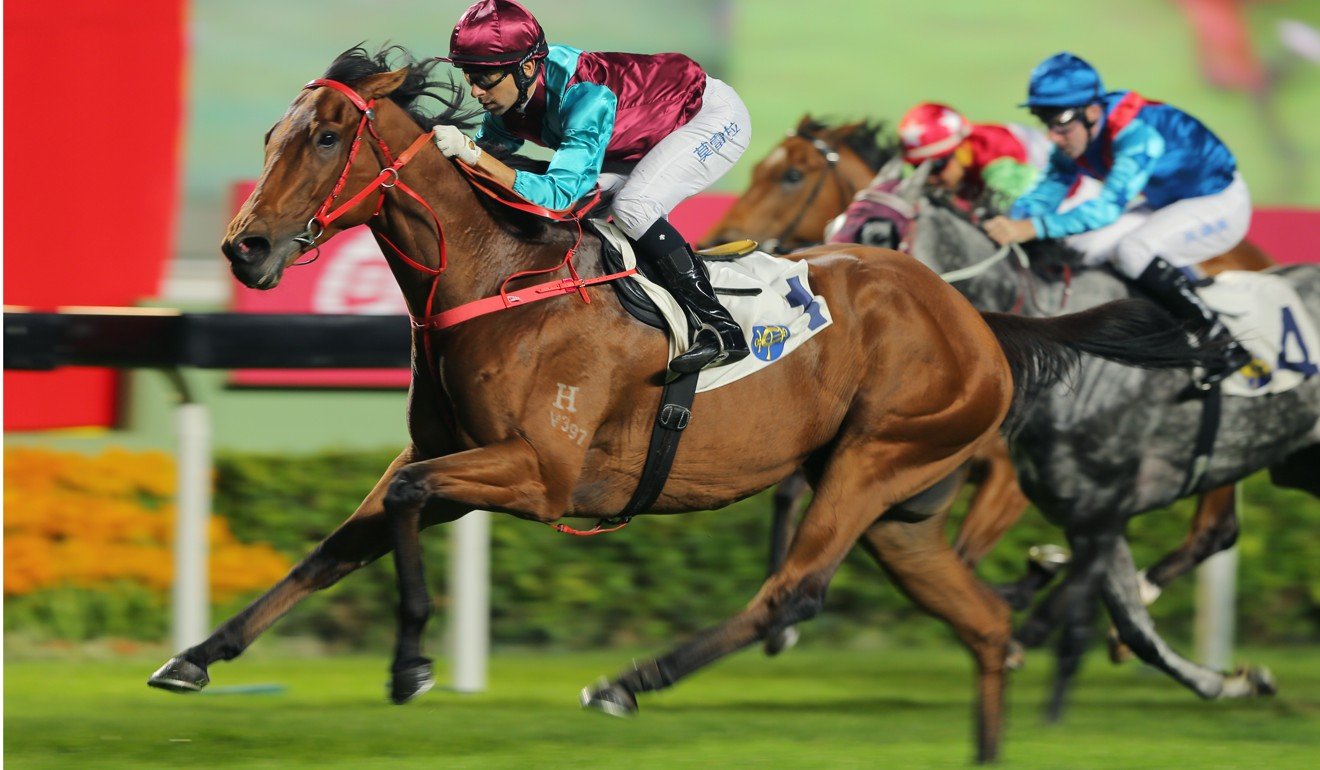 But Moreira doesn't concern himself with those numbers, even though he bears the biggest burden of them.
At the main lead-up meeting to the Hong Kong International Races on November 19, the Magic Man carried 25.01 per cent (HK$140,197,278) of the day's win and place pools on his shoulders. Extrapolate that out to include the exotic bets and the number ticks past HK$383 million.
And even then, that's only a fraction of the real total because it doesn't account for prize money, illegal exchanges like Citibet, international bookmakers, the Jockey Challenge market or any implications the results can have in terms of breeding.
So imagine rolling into work for the day and being responsible for (at least) HK$383 million of other people's money. Most would be nervous wrecks.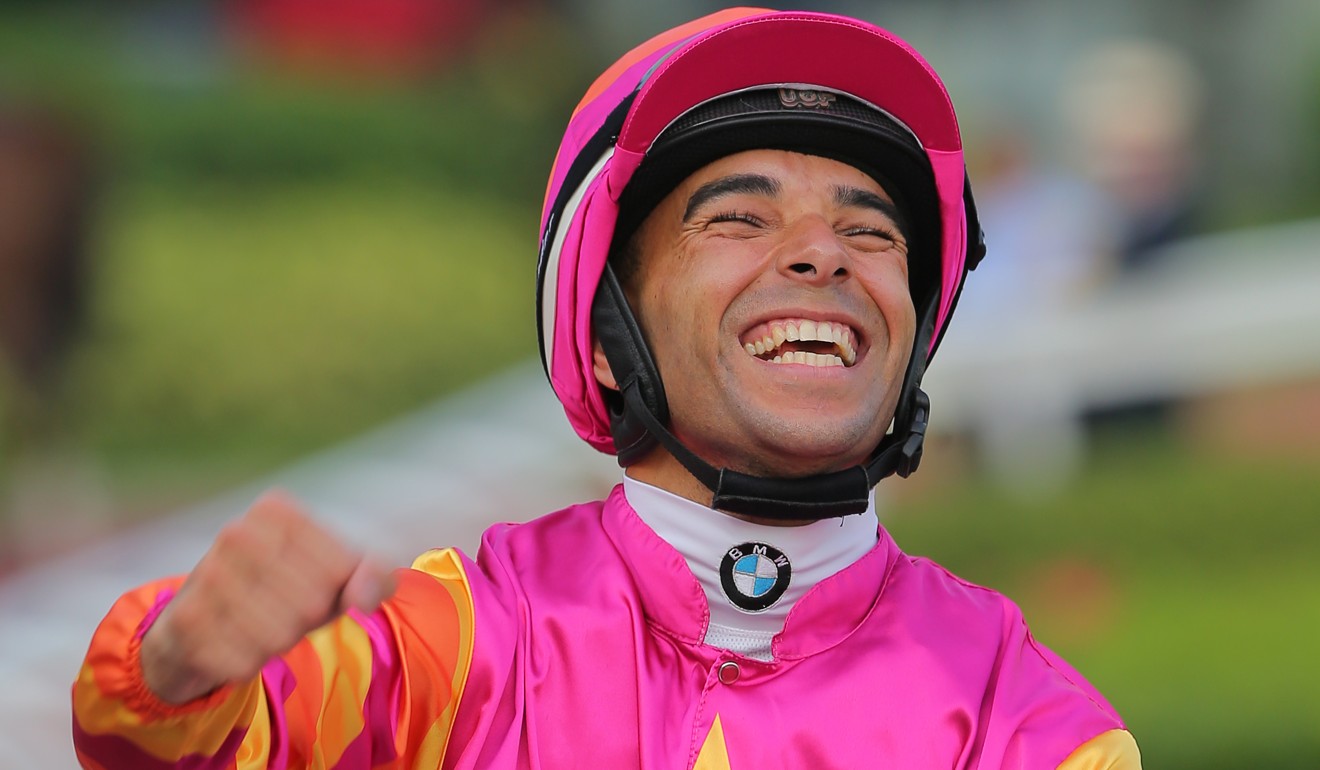 Moreira has a different tack; he would rather remain oblivious and focus on the task at hand.
"It's a huge number – that would change a lot of people's lives," said Moreira, who did win on three of his 10 mounts at the November 19 meeting.
"There is pressure but we don't see the pressure in that way – we don't look at the numbers, the amount of cash that has been put on our horses. I look at how I'm riding and the quality of the horses that I'm able to sit on top of.
"Whoever is betting on the horses is doing it because they want to, not because I'm asking them to do so. If they don't have faith in me, it's up to them not to bet. I just focus on trying to win the races.
"When I see people frustrated I feel sorry for them but there is nothing I can do. I've got more things to worry about than looking at how much people are betting on my horses."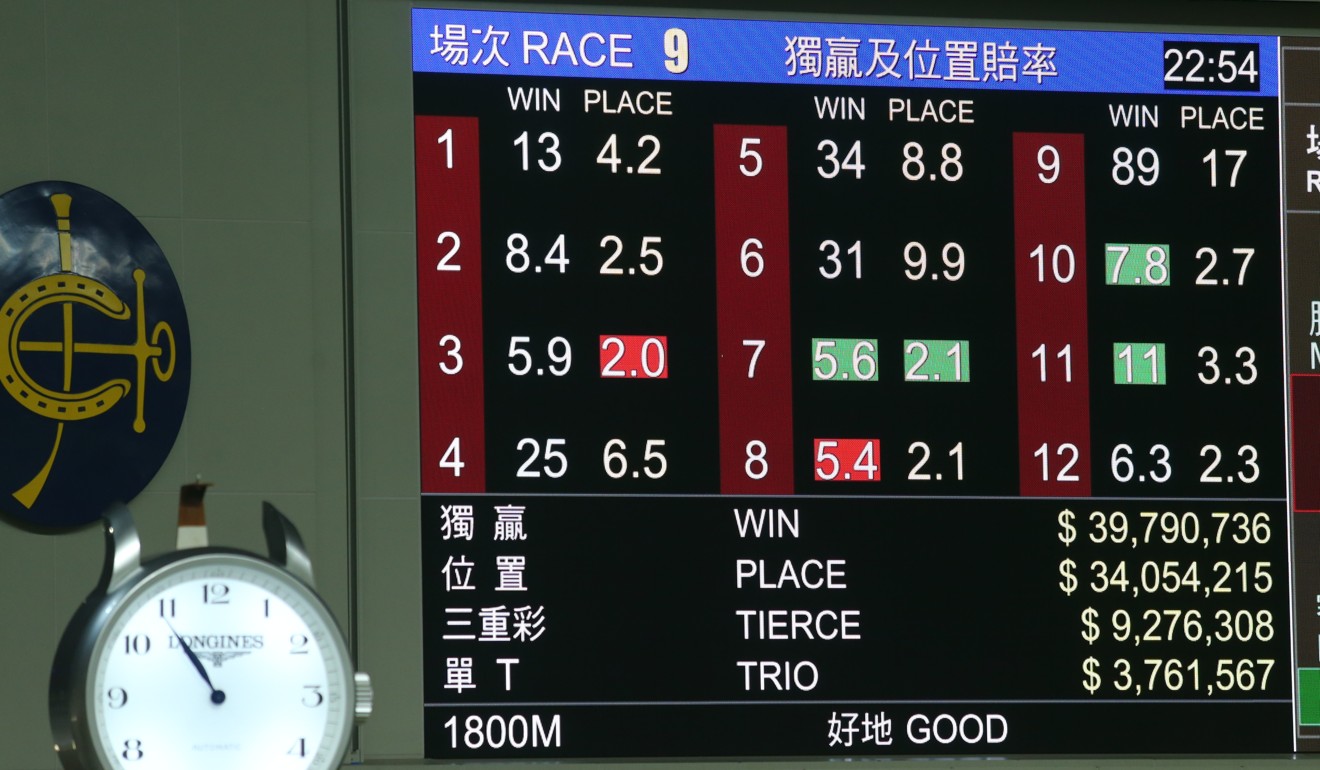 It's easy for armchair experts and keyboard warriors to be critical about the performance of jockeys, but there is a lot of information to process in nanoseconds.
There are the instructions of owners and trainers, the movements of your rivals, your own safety and that of your counterparts, all while trying to control an animal who weighs more than 1,000 pounds and is careening along at 60km/h. And that's before you take into account the man or woman in the street who has thrown down $100 each way.
Zac Purton is the other jockey in Hong Kong who faces the same burden as Moreira. At the same meeting on November 19, punters bet HK$70,874,127 million in the win and place markets (24.18 per cent of the total) on his last five rides. Using that percentage to include the exotics, the number clicks over HK$200 million.
Such is the dominance of the two leading riders, in three of the last four races on that day, they had more than 50 per cent of the win and place market between them.
In the last event alone (Purton on Jing Jing Win and Moreira riding eventual winner Beat The Clock), they accounted for nearly HK$113.6 million of the HK$215 million invested on the race.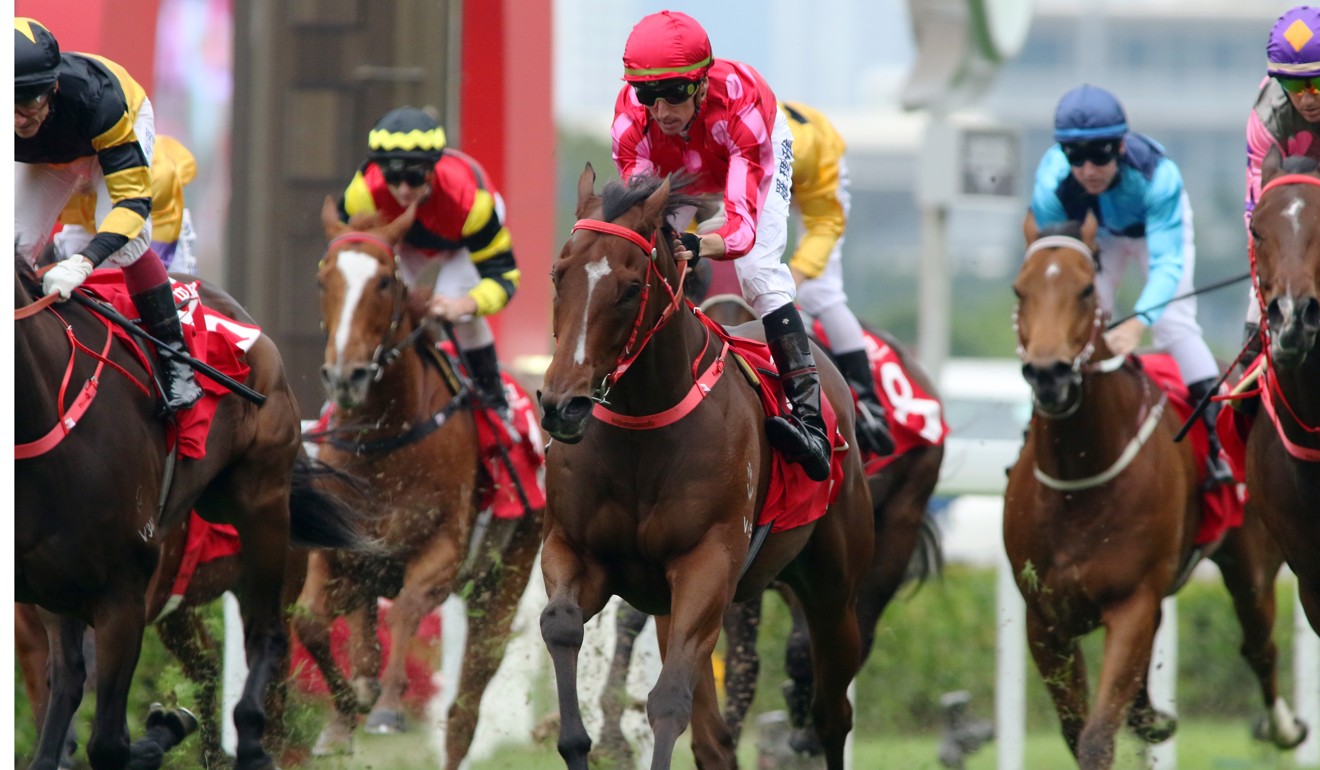 While other jockeys regularly have tens of millions bet on one of their horses in a given race, there's barely a let-up for Moreira and Purton. They are just two of 24 full-time jockeys on the Hong Kong roster, but they won over a third of all the races last season between them (277 of 807) and with that comes enormous expectations.
"I was on a horse the other day that was odds-on and one of the owners was asking me 'are you worried?'. I said I'd rather be riding your horse than one of the others at 20-1," Purton said.
"There's two ways to look at it – some people will worry about everything that can go wrong and worry themselves out of it, whereas other people look forward to it because they can't wait to get out there and win that race.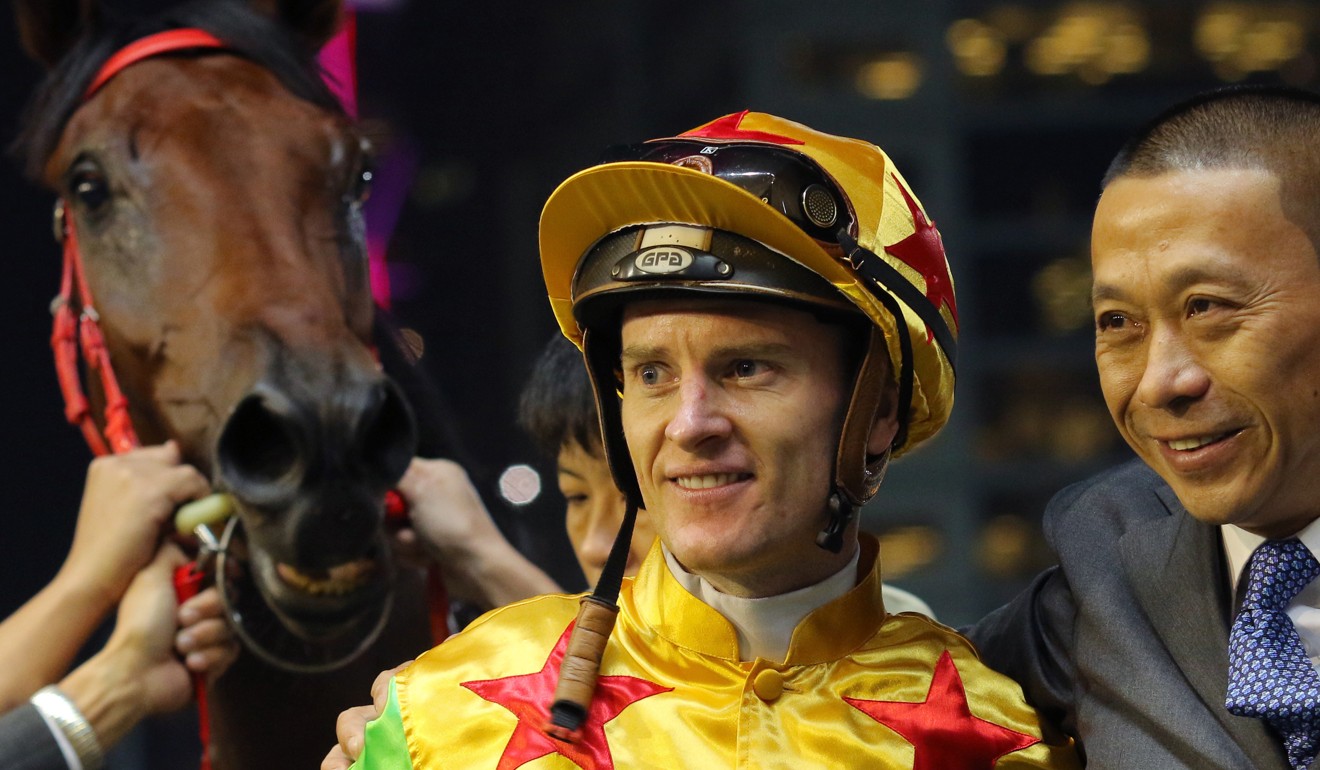 "We've all been riding for a number of years now and it comes with the territory. We're racing at high speed, shoulder-to-shoulder, around tight corners on unpredictable animals so there are a lot of variables, but you've got to always expect the unexpected and be able to deal with whatever is thrown at you as quick as you can.
"I actually enjoy having that responsibility, having that pressure."
The rewards are there if you get it right – 10 per cent of the prize money from a winning ride is a good start – but even for the best, things can go wrong.
Punters have been known to lose the plot and take a bad beat personally, particularly when it comes to a short-priced favourite.
Purton described the Group Two Jockey Club Sprint as a "disaster", when his horse Lucky Bubbles needed the prefix "un-" added to his name after a nightmare run.
There's a saying in baseball that the best hitters still fail 70 per cent of the time and the strike rate is even worse for jockeys, so they need to be able to do their best Taylor Swift impersonation and Shake It Off.
"The punters are quick to tell you if they're losing over the fence, don't worry about that," Purton said.
"You can hear the grumbles and the moans and the local swear words. It comes with the job, it is what it is. No-one likes losing, so I can understand why.
"It's always disappointing if you don't win or something has gone wrong. You give yourself a little bit of an uppercut at times but you've got to regroup pretty quickly because there's another race on very quickly that needs your attention and you've got to get that race right."
In the fishbowl environment that is Hong Kong racing, the key piece of advice from the top two riders on how to handle the pressure is pretty simple – don't think about the money and don't pay attention to the outside noise.
"The numbers for us really don't come into it because we have a job to do and that's to try to give every horse every chance," Purton said.
"Whether they start $1.20 favourite or 20-1 in the market, I don't feel any more pressure. I just have to go out there and execute the game plan and hopefully it works out more times than it doesn't.
"It doesn't matter if it's a Class Five race at Sha Tin on a Sunday on the dirt or a Group One race on international day, the fundamentals are all the same for us."