In-vogue Italian jockey Alberto Sanna isn't content with just gaining a licence extension through to the end of this season and hopes his lightweight status can help him push for a full-time place on the competitive Hong Kong roster.
Sanna arrived via a successful stint in the Middle East that included a jockeys' championship in Bahrain and runner-up finish in Qatar, which, while impressive, is a left-field résumé for a club jockey.
After a short fill-in stint last season, the 32-year-old has returned this term and proved doubters wrong with wholehearted efforts that have garnered 10 wins so far, including some at big prices.
"I want to say thanks to the club, my plan was to gain a place here permanently and this is the first step," he said.
The Jockey Club Licensing Committee announced on Thursday that Sanna's contract would be extended from May 1 to the end of this term, with next season's roster to be announced on June 8.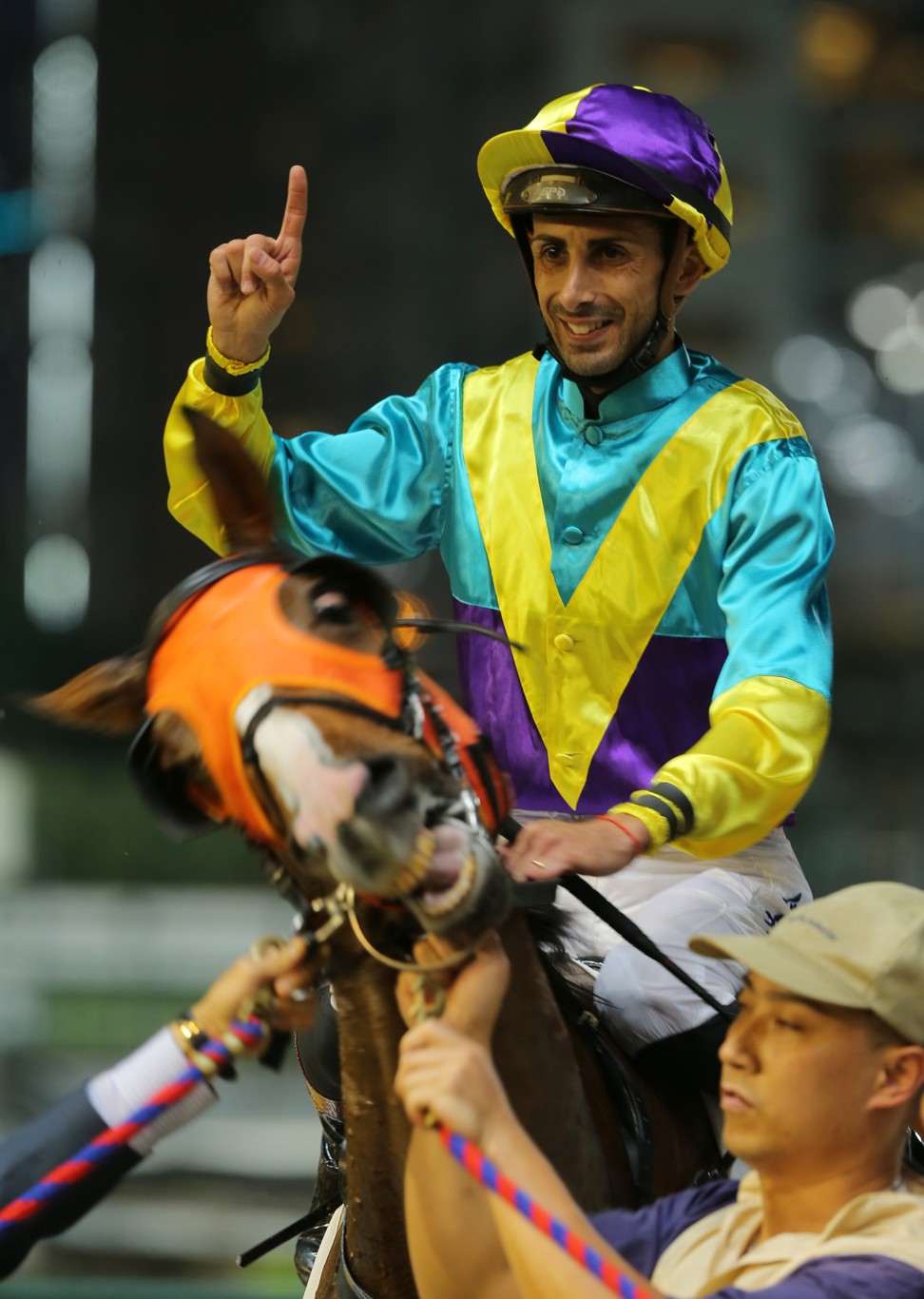 That gives Sanna two months to add to his win tally and part of his push will be a concerted effort to ride 115 pounds.
"I'm working hard to keep my weight light but I want to ride that weight with power, I don't want to be weak," he said. "This could be the key for me to stay here for a full season because there are not many jockeys that can make those bottom weights."
Alberto Sanna has the Midas touch at Happy Valley, snaring a double with Gold Mount and Golden Kid
On Sunday, Sanna has eight rides on the 11-race card including last start winner Smart Charade and in-form sprinter Mr Lumieres, the horse the Sardinia native calls "my favourite horse in Hong Kong".
"He is the only horse I ride every day, I have a great connection with him," Sanna said. "He won his first race very well and it took a very good horse to beat him last time, Bravo Watchman, and he ran well again in Class Two last weekend."
Meanwhile, seven Hong Kong-trained horses were nominated for next month's S$1.5 million Kranji Mile in Singapore.
'I just ride every race like it's my last': Alberto Sanna's mindset makes him a long-shot king
Four overseas entrants will be accepted for the domestic Group One on May 26 that marks the "soft return" of Singapore's invitational international events that went into hiatus in 2015.
Six of the seven horses entered are set to run in Group One Champions Mile on April 29, with Beauty Generation, Beauty Only, Blizzard, Helene Paragon, Horse Of Fortune, Joyful Trinity and Pingwu Spark included in the first round of entries on Thursday.