Top Australian jockey Nash Rawiller has been banned for 15 months after Hong Kong Jockey Club stewards charged him with accepting money or gifts in return for race tips.
The jockey was charged at a Jockey Club hearing at Happy Valley Racecourse on Wednesday morning and was given two 15-month bans that will be served concurrently.
Rawiller was charged with having breached Rule of Racing 59 (2) and (3). He did not enter a plea. 
On the first charge, Rawiller was found to have accepted on two occasions pecuniary or other gifts or other considerations for providing tips on horses he rode.
On the second charge, he was found to have on diverse occasions had an interest in bets on horses, with those bets being facilitated by people known to him.
"After having considered all of the evidence tendered by the inquiry, which included submissions made by Nash Rawiller, the stewards believed the charges as issued should be sustained and Nash Rawiller was found guilty of both charges," the Jockey Club said in a statement.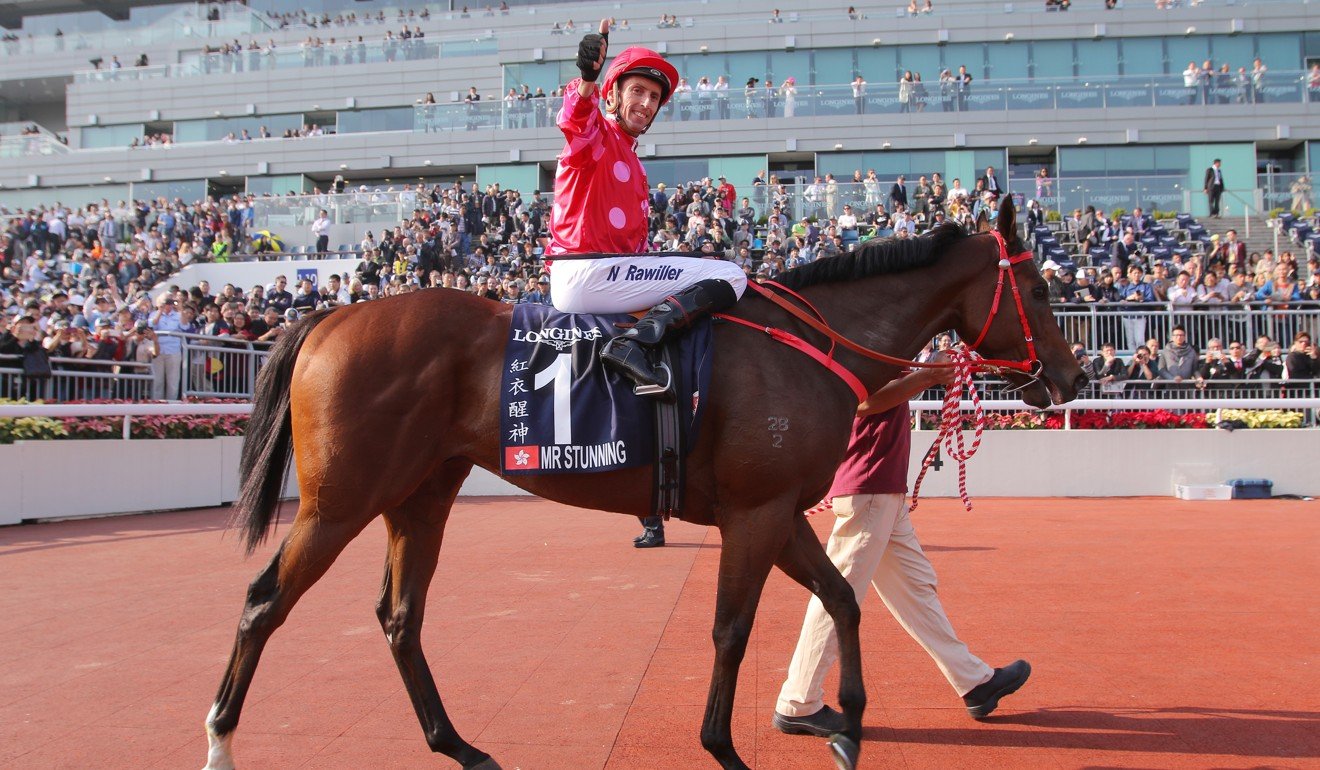 "The stewards took into consideration that it is fundamental to the integrity of racing that jockeys are not permitted to bet or to have an interest in a bet," it said.
"In mitigation, the stewards also took into consideration that Nash Rawiller had at all times cooperated fully with the interview and inquiry and he had been forthright in his evidence."
The stewards said there was no evidence that Rawiller had ridden any horse in Hong Kong with the intention other than to obtain the best possible placing for the horse.
"Further, the evidence before stewards was that Nash Rawiller had only tipped horses ridden by him and never horses he had ridden against," the statement said.
The ban is the longest since Australian jockey Chris Munce was suspended for 30 months and jailed over the "tips for bets" affair in 2008.
State-of-the-art technology and a US$50b betting exchange: how Hong Kong Jockey Club caught Nash Rawiller in 'tips for gifts' web
Jockey Club CEO Winfried-Engelbrecht-Bresges described the news as "disappointing" but would not speculate on whether Rawiller will face criminal action or has already been arrested.
"Jockeys know what their obligations are and every jockey understands what the consequences can be," he said. On the possibility the Rawiller may have been arrested by the ICAC, he added.
"We really don't know and we would not be informed anyway. I cannot speculate, because it is now up to the law enforcement agencies."
Engelbrecht-Bresges said that because Rawiller has until midday on Thursday to appeal the Jockey Club charges, combined with the possibility of criminal charges, meant he was unable to comment on specifics of the case.
Rawiller, 43, is third in the jockeys' championship and has ridden more than 100 winners since coming to Hong Kong at the start of the 2014-15 season after a stellar career in his homeland.
Rawiller has more than 2,000 career winners, over 50 of them at Group One level, including last December's Longines Hong Kong Sprint on Mr Stunning.
The heavyweight jockey was due to ride Mr Stunning in Sunday's Group One Chairman's Sprint Prize at Sha Tin and four horses at Wednesday night's Happy Valley meeting but was stood down with immediate effect.