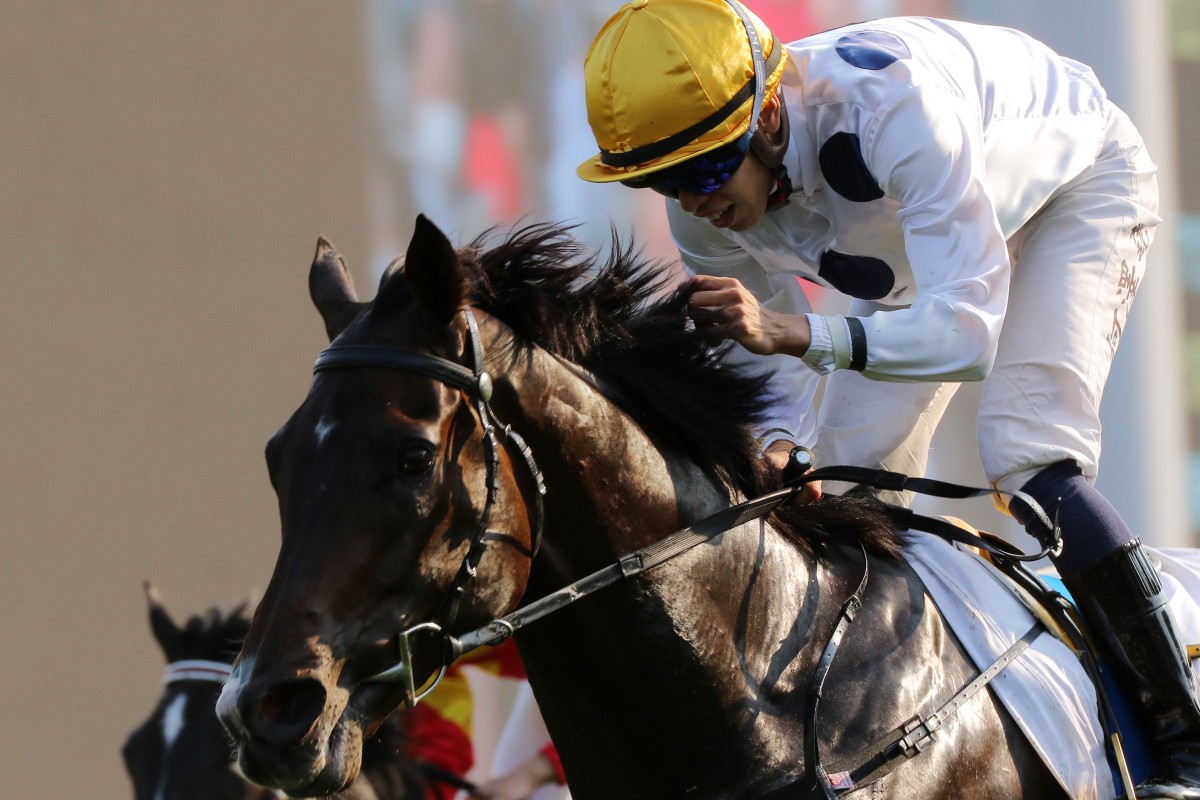 Addressing your thoughts, questions and statements about Hong Kong racing. Have something to say? Send a tweet to @SCMPRacingPost.
It's fantastic to see a local HK jockey on top of the world racing industry and to show that they are as good as any international rider. Well done Vincent Ho Chak-yiu, we are proud of you – @ODoleuze
Former Hong Kong-based jockey Olivier Doleuze summed up the mood perfectly after Ho's triumph in Sunday's BMW Hong Kong Derby.
No home-grown rider had won the race since Tony Cruz in 1995 (Makarpura Star), while no Chinese jockey had saluted since Paul Cheng Chung-mou (Yuno When) in 1986 but Ho changed all that with what he describes as the "horse of a lifetime" in Golden Sixty.
Talking to the Post, Ho takes punters through the day and reveals how he was able to carry the weight of expectation in the HK$20 million feature.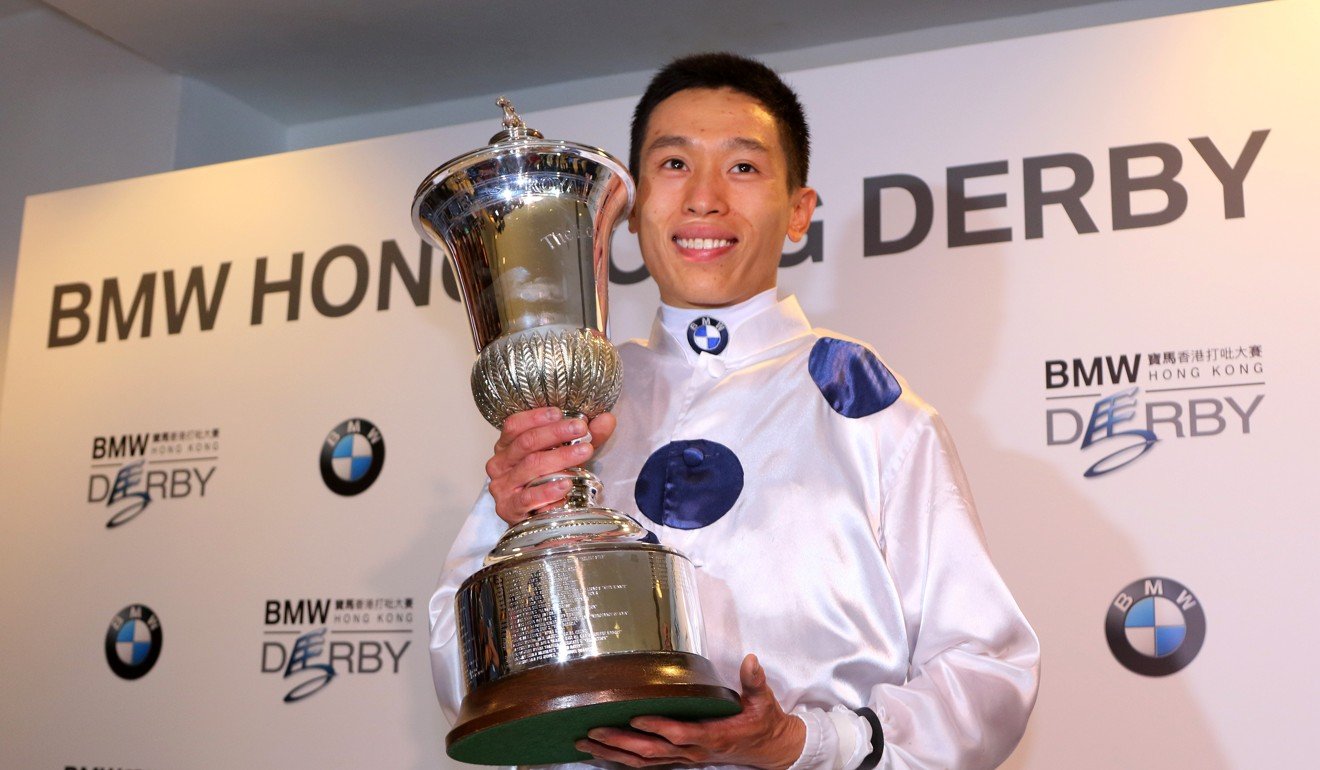 You lay eyes on Golden Sixty for the first time in the parade ring, what are your thoughts?
He looks good. I was thinking about the race a bit before it and then [trainer] Francis [Lui Kin-wai] was telling me some instructions but we knew the main thing was to make sure he relaxed, that was all.
It doesn't matter what the pace of the race is, he just has to relax, even if they are slow.
Once I jump on the horse, he feels really good and I knew we were ready.
Behind the barriers, you are milling for some time before being loaded in.
He cantered off nicely and behind the barriers I was warming him up a bit, he felt good, real good, he is totally ready.
I am thinking back to when I studied the race, it seemed a weird race because horses inside and outside me actually have similar pace and it depends on their trainers' instructions.
I was just focusing on making him relax in the race so when I loaded in the gates, I was focused on what I could do, imagining the picture of it all and when the gates opened, it was a matter of feeling what I should do.
Gates open, you jump from a sticky barrier nine.
He always jumps well, always. He used to race over sprinting trips – 1,200m, 1,400m – and raced on the speed so he always jumps well.
The thing is, I have to snag him back and switch him off straight away, and then get some cover.
He eventually switches off after the first corner, when we hit the middle of the corner, he is fine.
Going into the back straight, they went really slow but we're around horses and I didn't mind because I knew he had switched off, he was saving all his energy for the last bit.
The pace slackens and Blake Shinn takes off on $290 chance Playa Del Puente.
I knew I had to be patient, I thought about moving out three-wide but I said to myself 'you need to be patient' and wait for some clear running to improve.
When Blake Shinn took off and Neil [Callan on Columbus County] went three-wide, I was hoping the Brazilian jockey [Vagner Borges on Super Oasis] would move forward but he didn't so Neil had to improve even wider again to go forward.
At that point when I hit the home turn corner I hesitated just a little bit because the horses in front of me and outside me aren't going anywhere at all.
Rounding the home turn, Shinn is off and gone and horses are making their move, you are near-last.
The thing is, the horses we expected to lead in the race didn't end up doing it and the ones we expected to be quieter were leading so the whole race is a mess.
When everyone got into the home turn, it was a mess so I stayed behind and looked at the picture of them and trucked up behind them, it was a complete mess.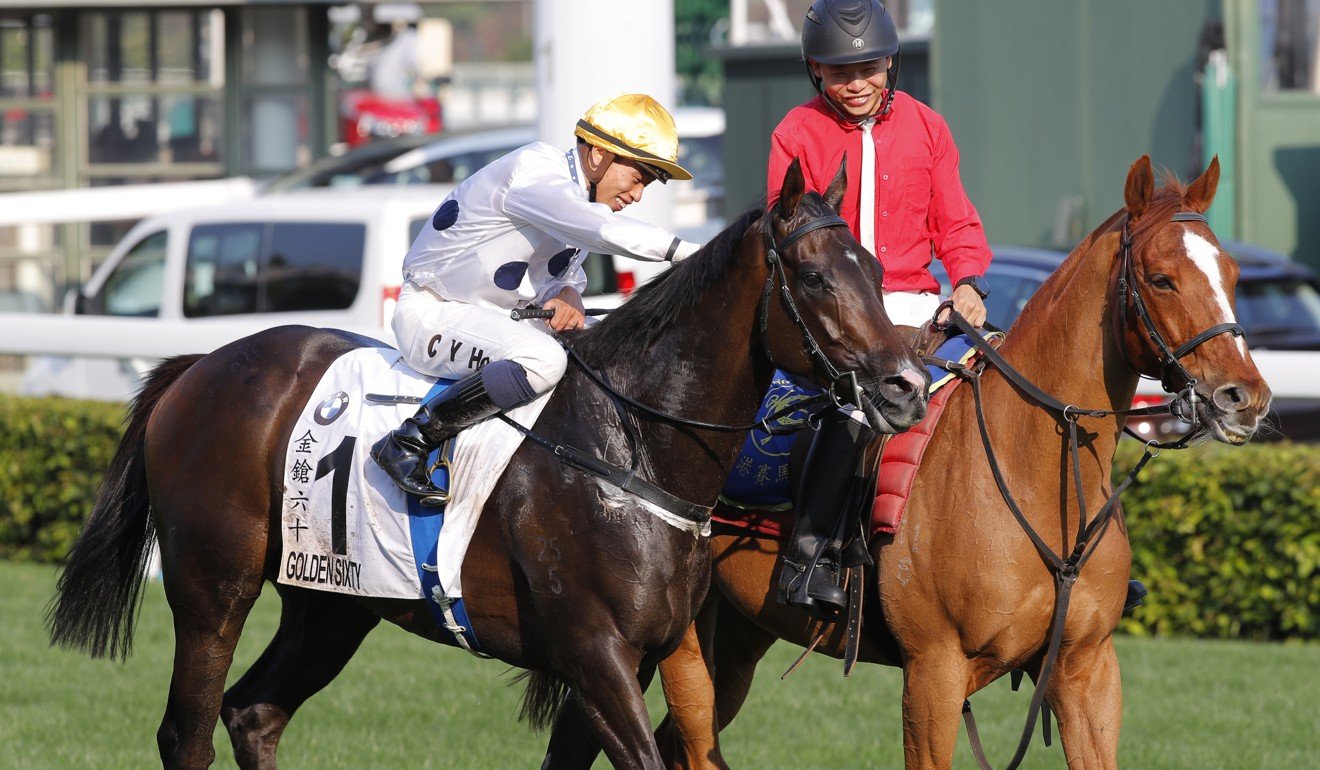 At that point I am thinking I just need to truck up behind them, they were all sprinting away already.
When they pushed the button, Golden Sixty was still travelling so well behind them, he was cantering and I just had to look for some clear running coming into the straight and let him balance up, when he is ready, then I can push the button.
Top of the straight, what are you looking at?
I was only looking at the horse in front because when I hit the straight, Zac [Purton on More Than This] is only next to me so he had no chance of beating me because he won't have the turn of foot. So I am not worried about him, it is more so the horse in front because he is a long way ahead.
Although I'm not thinking at the time [Playa Del Puente] can sustain that long run until the end, he actually does so at that point I was pretty sure I could go past him.
When did you ask Golden Sixty for his maximum effort?
At around the 350m mark I really asked him to go, when I hit the straight I just let him have a breather and get ready, when he was ready, then I asked him.
I knew he was going to be able to do it, when I looked at Blake and the winning post I knew we would catch him.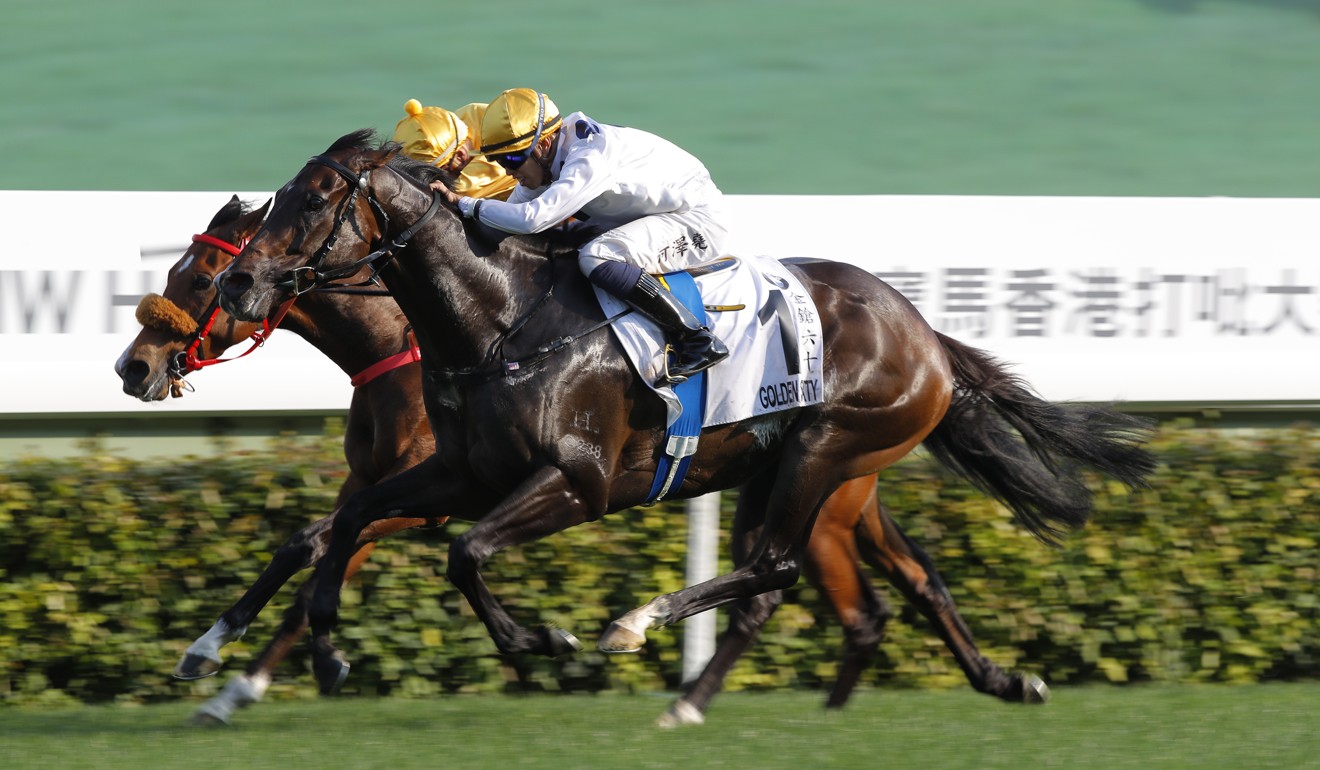 When I pressed the button on him, he sprinted home like crazy, I'm thinking 'I have never ridden something like this'.
I don't think anyone expected that horse to run second or even be close to winning really, he almost stole it.
Was there a fleeting moment you thought you might not get there?
The last 100m I am sure I am going to catch him because my horse has plenty in the tank and I just know he is going to give his best.
I hadn't been that emotional for ages, it is the horse that I love and we have been working really hard to get him there so to win all the four-year-old classics, capped off with the Derby, I am glad he did it.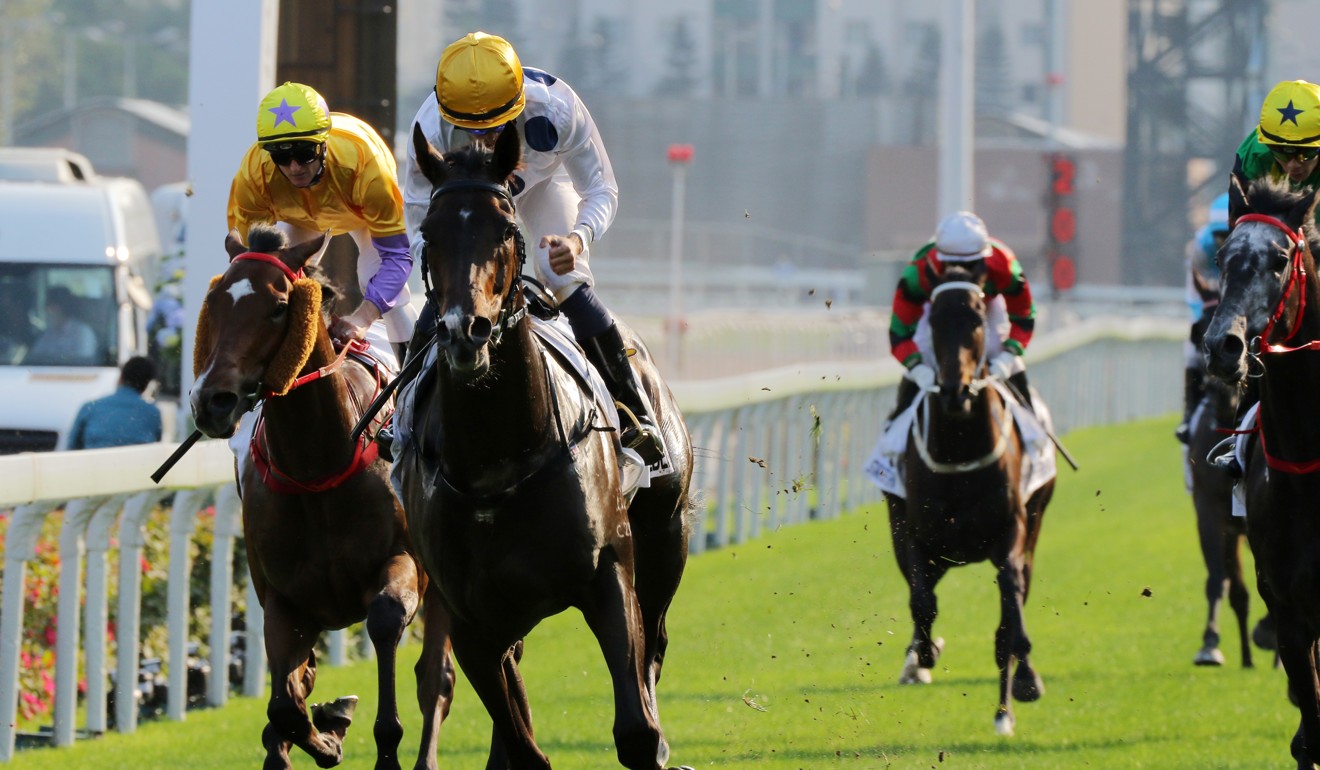 I could never dream of the [clean sweep] to be honest, I don't think anyone could. Not many jockeys can be that lucky to have a horse like this.
How did you celebrate the biggest moment of your career?
It was just dinner and then home. I prefer a quiet night, so it was just home for me.
I still had to wake up at 5.30am today to gallop some Class Five horses, that is how it works.
After the Group One, I still have to ride Class Fives, I am stuck with Golden Cannon [who has the same owner as Golden Sixty].
Purchase the China AI Report 2020 brought to you by SCMP Research and enjoy a 20% discount (original price US$400). This 60-page all new intelligence report gives you first-hand insights and analysis into the latest industry developments and intelligence about China AI. Get exclusive access to our webinars for continuous learning, and interact with China AI executives in live Q&A. Offer valid until 31 March 2020.