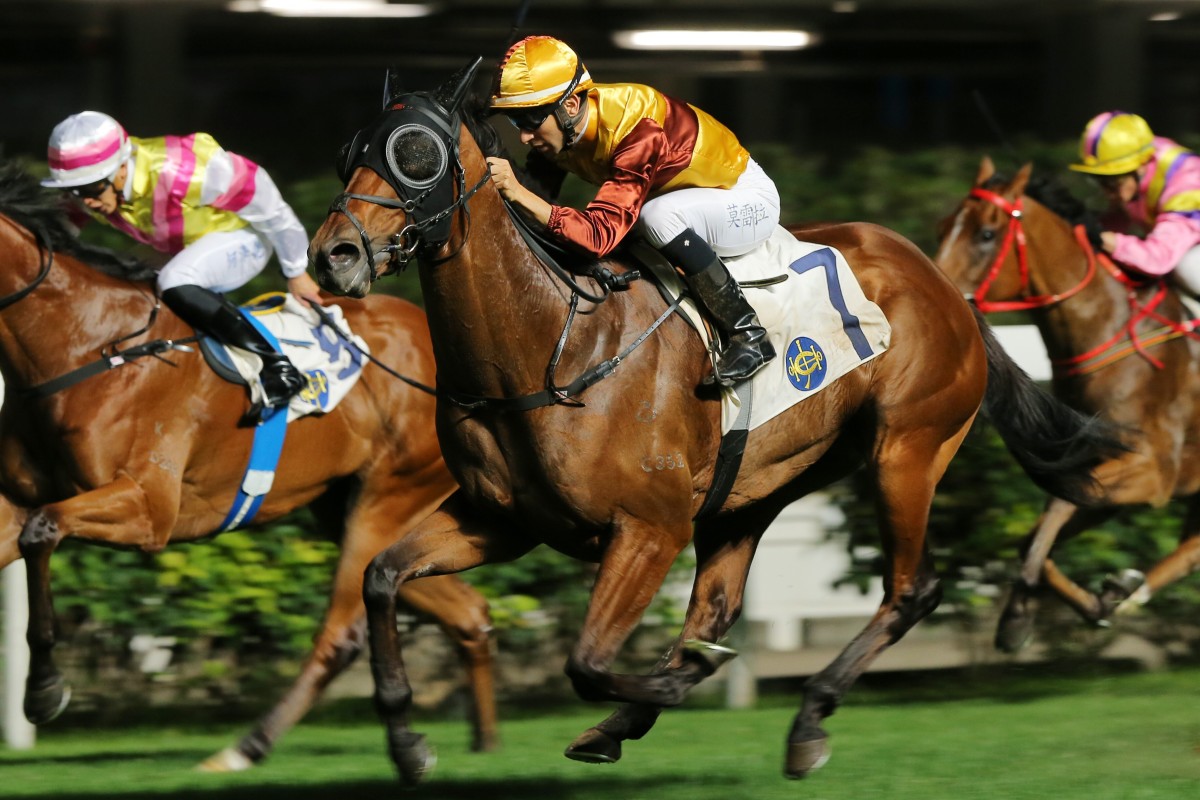 No horse in Hong Kong has had worse barrier luck than Simply Fluke, but gate 12 didn't stop the former "pedantic nutcase" from saluting at Happy Valley on Wednesday night.
It seems impossible but in the five-year-old's nine starts this season he's come up with draws of 11, nine, 11, 12, 11, 11, 14, 12, 12.
"Mathematically, it doesn't stack up," trainer Douglas Whyte said.
Those first seven runs came for Dennis Yip Chor-hong and while he was running well without winning, he's taken a big step forward since joining the stable of the 13-time champion jockey-turned-trainer.
Simply Fluke overcame the outside barrier to prevail in a 1,200m Class Four at the city track earlier this month with Joao Moreira aboard and he repeated the dose with that exact recipe on Wednesday night.
With the bad alley, the Magic Man took his medicine early – dropping out to last – but the hot pace up front suited and the gelding stormed home down the outside to score impressively.
To put the effort in perspective, Simply Fluke is the first horse to win from barrier 12 from 64 races on the A course at the Valley this season.
"He has done two very good jobs from the gates to the point now where if he does draw a gate, you get nervous that he won't know what to do," Whyte said.
Stable changes are a part of life in Hong Kong racing as owners try to find a spark in their pride and joy.
People notice if you get results with them, further building a trainer's reputation – something that is particularly important to do early in your career.
It is even better if the horse has behavioural issues and untapped ability – like Simply Fluke did.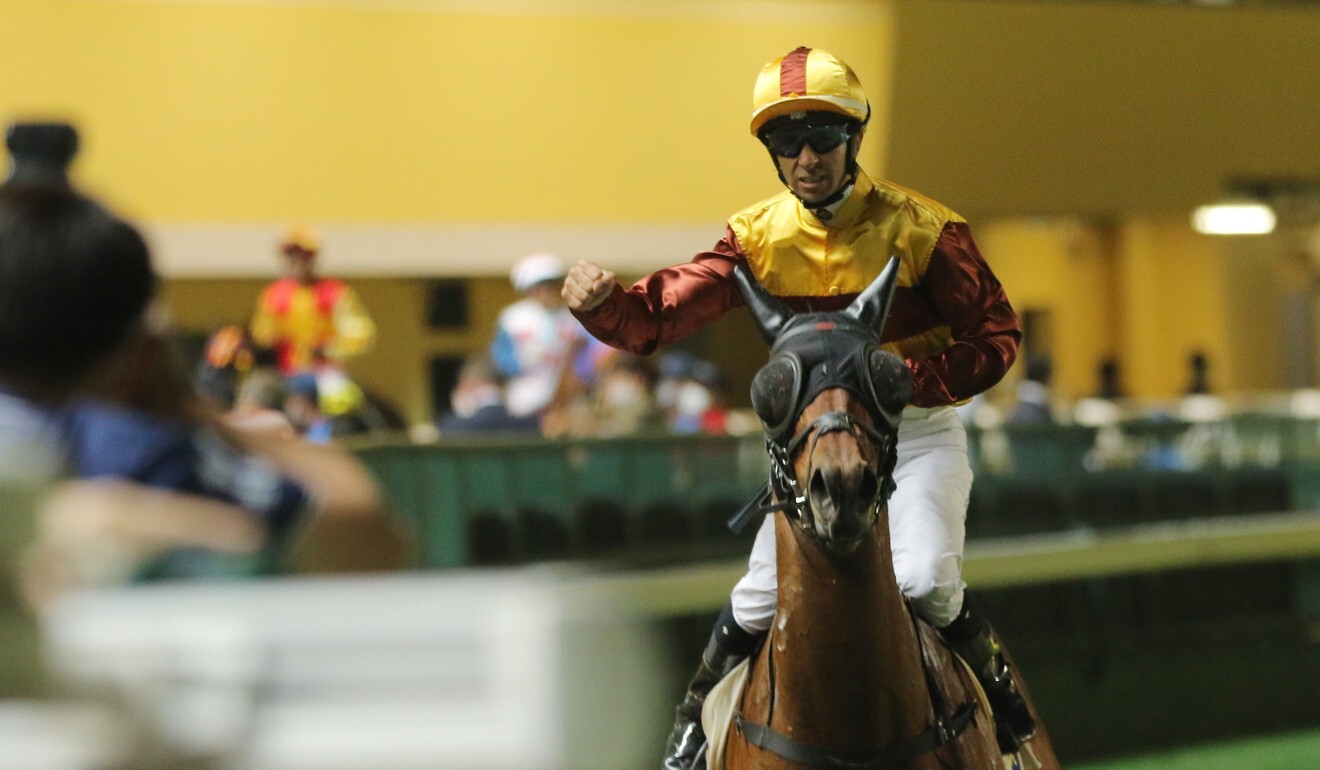 "When they come with problems and you can convert them, it is very satisfying," Whyte said.
"I don't fall off many horses and he knocked me off. He got a fright from the horse behind him and flipped over and landed on me in the tunnel so he has come a long way to this.
"That was about 10 days in, he was a pedantic nutcase who was scared of himself really – he used to take that to the track.
"When I think back to how I used to go around the track with him to now, it is quite astounding.
"I have a saying, that is if you try and make it quick, you're going to take a long time. If you don't have the clock ticking and don't have a time frame in mind, they transform very quickly.
"In life that makes sense too, if you put pressure on someone and tell them to do it, it is harder. With him, that is the perfect scenario.
"He needed time, not only to adjust to himself but to adjust to the environment he is in now and learn to enjoy what he is doing because he isn't going anywhere else."
It completed a double for Moreira, who also won with the Paul O'Sullivan-trained Victorious Seeker earlier in the night.
It means the Magic Man maintains his three-win lead over Zac Purton in the race for the jockeys' title after the Australian had a brace of his own with Happy Warrior (John Moore) and Sky Show (Jimmy Ting Koon-ho).
It was a night for doubles with O'Sullivan collecting his thanks to Acclaimed Light (Neil Callan), as did Derek Leung Ka-chun, who provided the first leg of Moore's duo with Gala Night and topped off his night at the office with Delightful Laos.
The latter proved a thorn in the side of those playing the triple trio and the six up with Tony Cruz's Irish import getting the chocolates at $60 in his Hong Kong debut.
Shining Gem increased Ricky Yiu Poon-fai's lead in the trainers' championship to six over Francis Lui Kin-wai.
Me Tsui Yu-sak and Dylan Mo Hin-tung combined to capture the last race of the night with the fast-finishing Good For You.
Meanwhile, jockey Antoine Hamelin will miss the meeting on May 20 after being suspended for careless riding aboard David ­Ferraris' Ambitious Heart in the fourth race.
The Frenchman was also hit with a HK$30,000 fine after ­interfering with Super Alliances and Colonel early in the home straight.
Help us understand what you are interested in so that we can improve SCMP and provide a better experience for you. We would like to invite you to take this five-minute survey on how you engage with SCMP and the news.