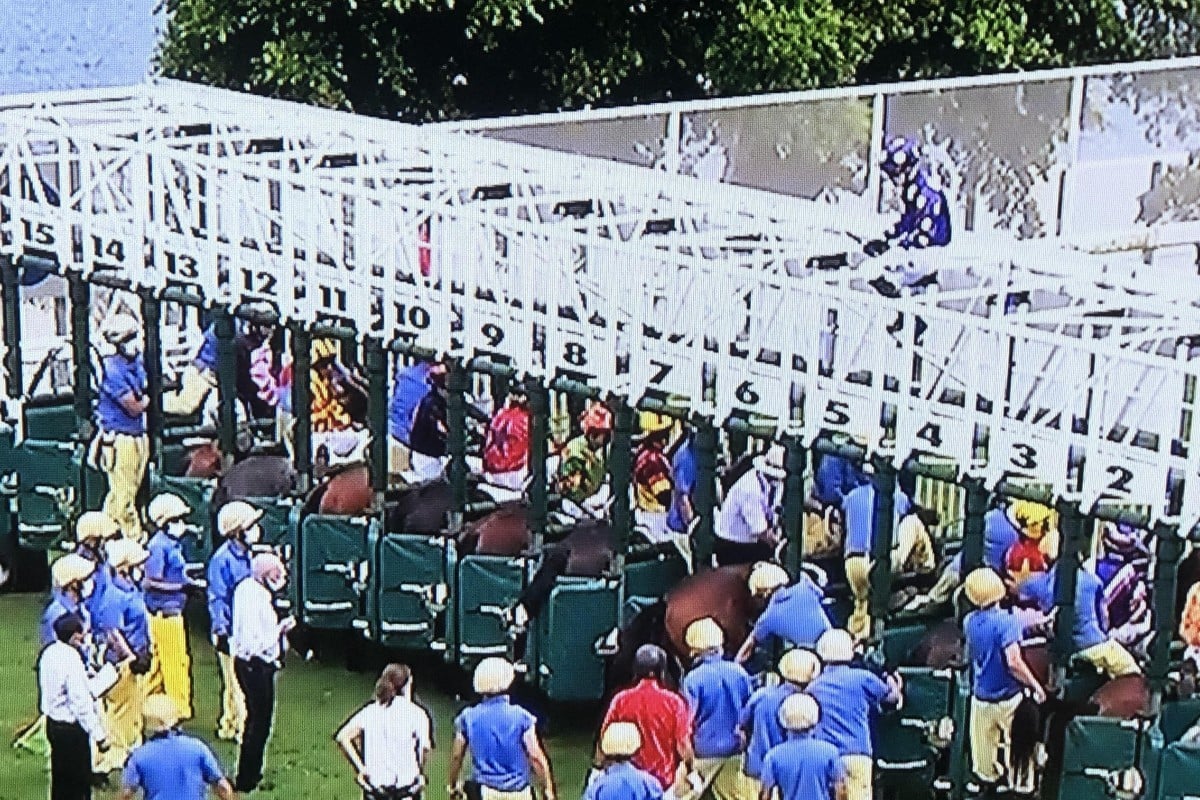 Trainer Caspar Fownes wants horses released from the barriers more quickly after his talented galloper Fast Pace caused unprecedented scenes when he got himself stuck in the stalls at Sha Tin on Wednesday.
The three-time champion trainer wants Hong Kong to mimic Japan when it comes to sending horses on their way, saying the gates should open as soon as the last runner is loaded.
Fast Pace – a known barrier rogue – was put into the gates last but the start was delayed slightly while other horses reared, causing jockey Antoine Hamelin to push the eject button when his mount got his back legs stuck on top of the rear gates.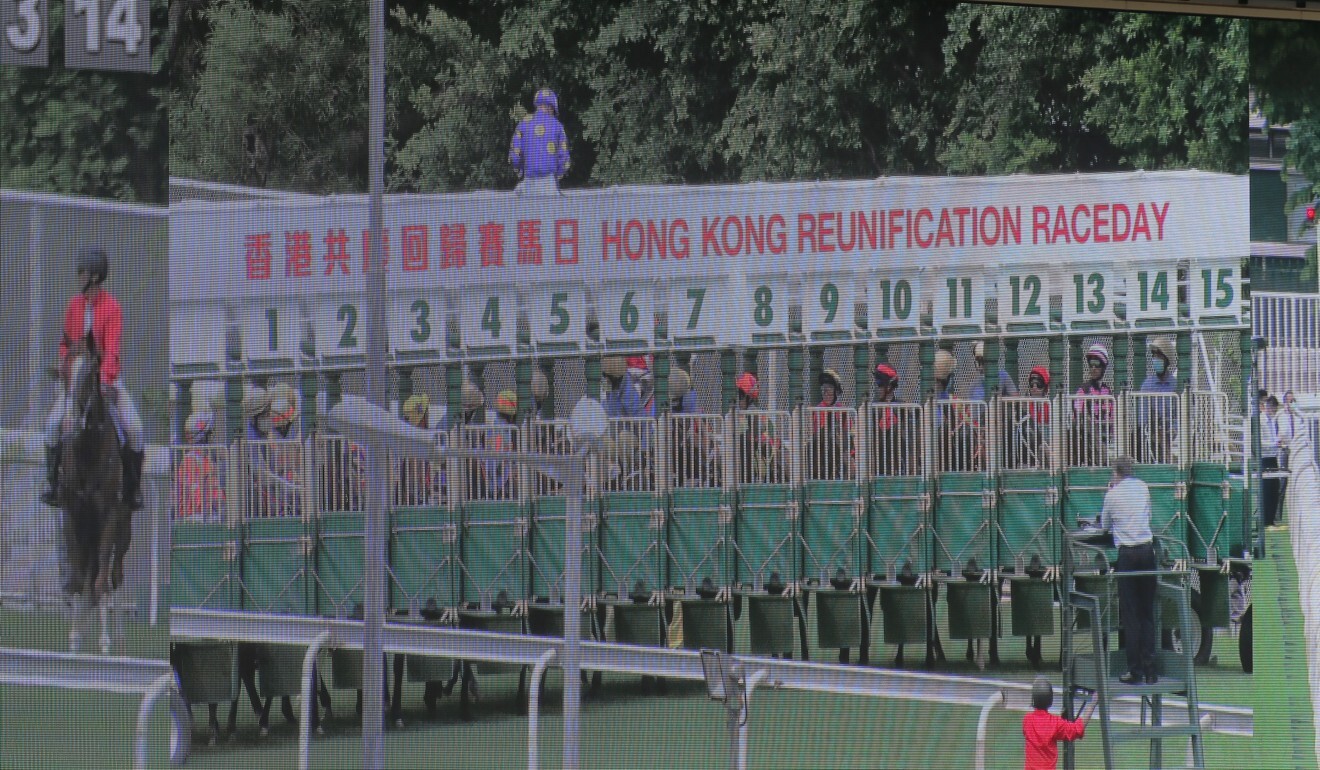 As a result, Hamelin scrambled to the top of the starting gates, forced to wait while attendants got Fast Pace out of his predicament.
Fownes – who says his comments are no reflection on the starter or barrier attendants – believes the jockeys would quickly fall into line if the Jockey Club adjusted its rules.
"The fact is when he [Fast Pace] goes in last and something else is playing up, the jockeys all complain [to the starter], that is the bottom line," he said. "Enough already, I am over it. It should be like Japan, the last horse goes in and we're going.
"You will have a few miss the start but I tell you what, after a week or 10 days the moaning will stop and they will know that when the last horse is coming in we are going, if you are not ready bad luck. I believe it's got to come to that.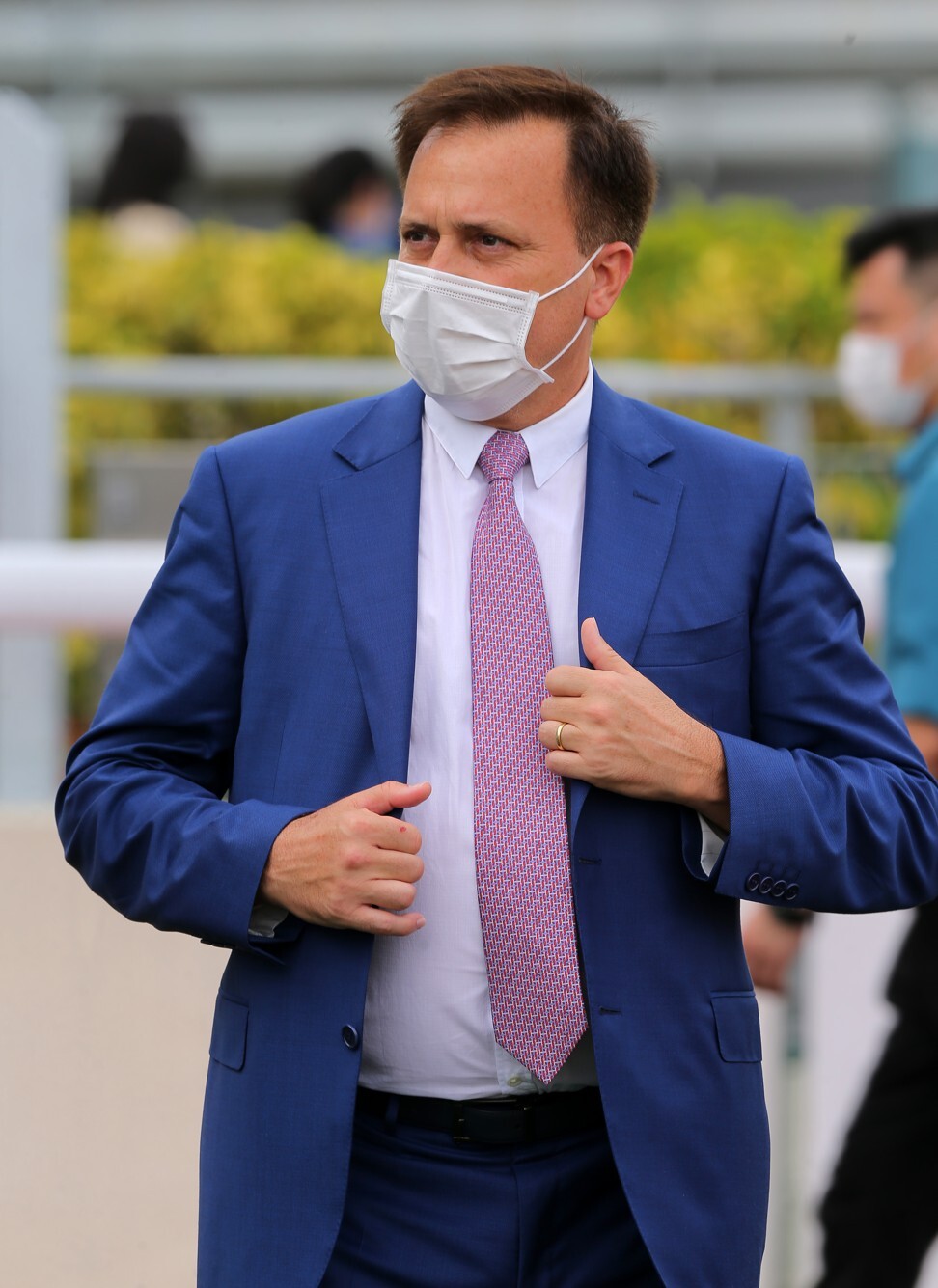 "They are waiting too long, everyone is shouting left, right and centre, you can't do that. Last horse in, if you ain't ready, bad luck. You have an inquiry and see if there is something wrong but that is the way it should be."
Fownes said significant work had gone into improving Fast Pace's barrier manners before the incident but believes it could be eradicated completely if the field was released quickly.
"You see a lot of funny things with horses that you don't expect them to do, it is just unfortunate what happened because we worked hard on the horse and the starting gate boys worked hard as well," he said. "This is a billion-dollar industry, fractions of seconds cost you winning results.
"It should be last horse in, everyone accepts it and that's it, that is my opinion and I am sure a lot will agree with it.
"If you put the [microphones] on back there, they are like a bunch of screaming kids – seriously, enough already."
A quick-thinking Hamelin was thankful for his rock climbing background, which allowed him to pull himself quickly to safety.
"I know the horse is a little bit special, we were waiting a little bit too much, he jumped and went back so it was blocked. For me it was safer to go up," he laughed.
"I knew it was better up there, it was better for me and better for him. It is the first time I have ever had to go up, it is disappointing because I think the horse had a good chance."
Chief steward Kim Kelly said he had never seen an incident like it in his time.
King of the County
While Fownes was left to stew what might have been with the well-fancied Fast Pace, he didn't leave empty-handed thanks to the talented Columbus County.
The four-year-old took out the Class Two Hong Kong Reunification Cup (1,800m) in impressive style, earning his connections a HK$1 million high achievement bonus in the process.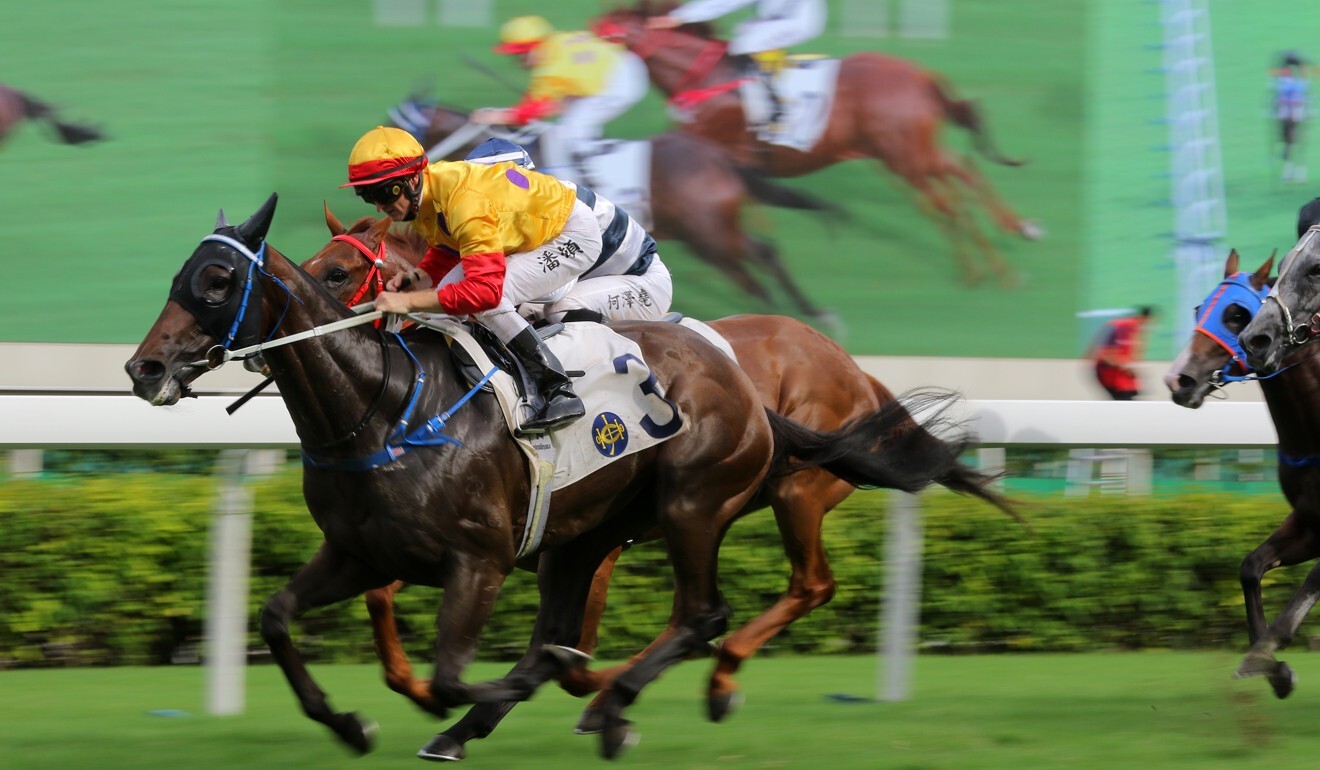 "He is a nice horse, I was seriously thinking of putting him away for the season after his last race because he is still maturing, still developing into his frame and I felt he'd be a better horse with some time off," Fownes said.
"I spoke to the owner and he was very good, he said do what you want to do. I thought he had been so close and I wanted to get the bonus for them with a win so I am glad we kept him in for one more race."
Magic Man cuts into Purton's lead
Joao Moreira clawed one win back off rival Zac Purton in the race for the coveted jockeys' championship on Wednesday.
His Sha Tin double moves him to within five of Purton with four meetings remaining, however the Brazilian will be forced to miss one of those through suspension.
The Magic Man put the writing on the wall early, winning two of the first four races with the David Hall-trained Red Brick Fighter and Tony Cruz's Beauty Angel.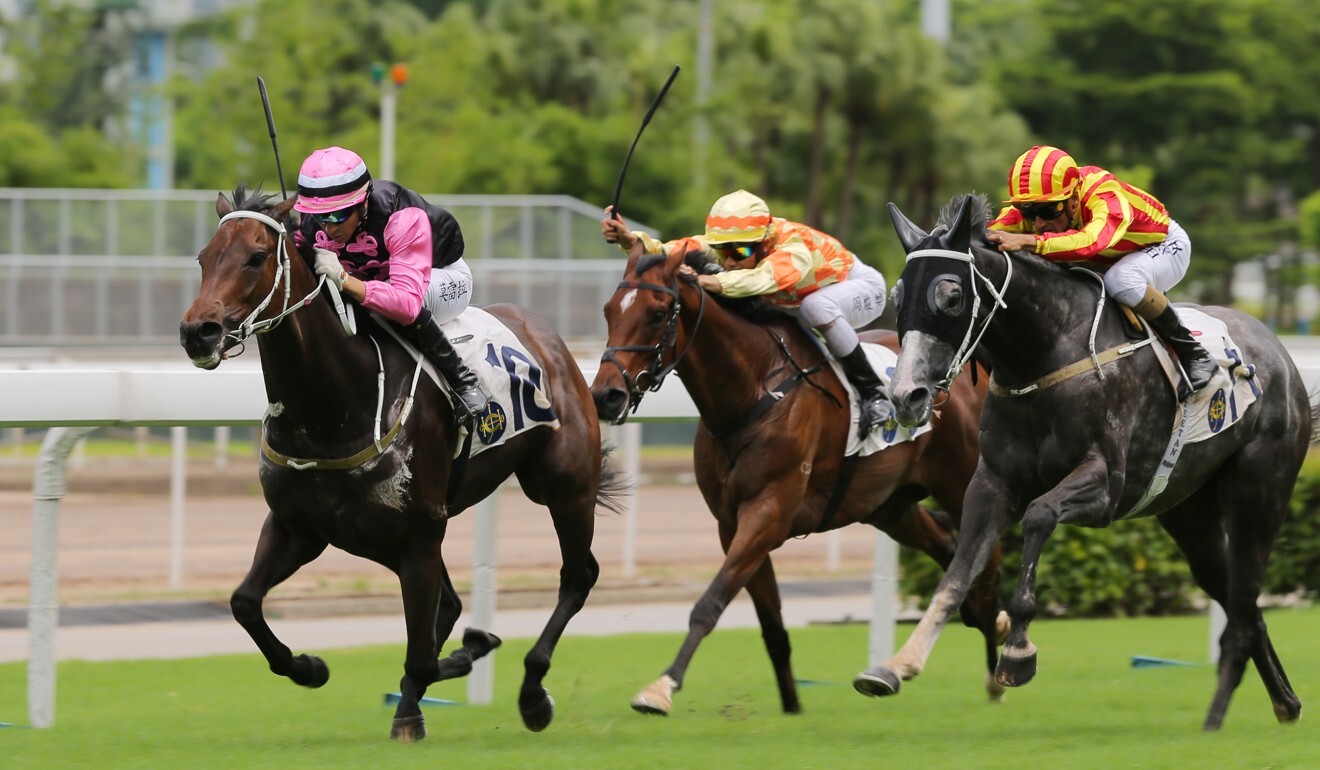 While it could have been a significant moving day for Moreira, he was unable to land the killer blow after being narrowly beaten on both Monkey Jewellery and Excellent Proposal later in the card.
Teetan hits Turbo
Karis Teetan kept his career-best season rolling with his ninth treble of the term at Sha Tin on Wednesday, booting home Yee Cheong Lucky, True Legend and Falcon Turbo.
After surpassing his previous best in a season of 84 on the weekend, the Mauritian moved to 88 for the term with another big afternoon in the saddle.
He continued his profitable relationship with the Douglas Whyte-trained Falcon Turbo in the Class Three Guangdong-Hong Kong Cup (1,200m), who he has now won on twice from just four attempts this season.
"He was actually very impressive. Dougie said before the race that the horse would run very well, he had been freshened up and his last gallop was good," Teetan said. "He gave me confidence, the horse jumped up well and he got into a perfect spot and once he found daylight in the straight he kicked nicely. I needed the line to come quickly because I was not making a lot of ground as Joao's horse was coming strong."