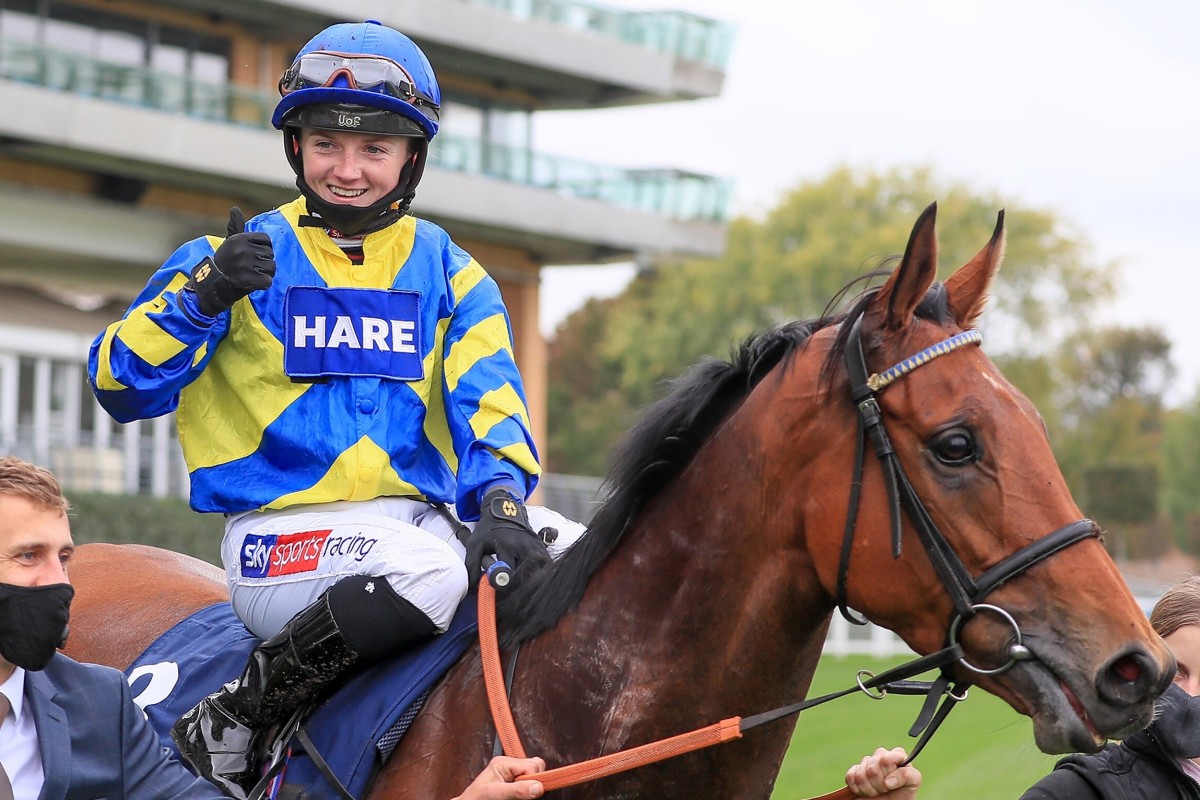 Hollie Doyle has been busy etching her name into the record books and on Wednesday night she can add another accomplishment to the burgeoning list by becoming the first female to win the International Jockeys' Championship.
The 24-year-old is just the third woman to compete in the prestigious event, following in the footsteps of Emma-Jayne Wilson (2007) and Chantal Sutherland (2009), but while her predecessors weren't able to win a race, Doyle is a huge hope after securing the prized ride on rising star Harmony N Blessed.
Jockey Club bookmakers have installed her a $6 second favourite, just behind international superstar Ryan Moore ($5), and Doyle is looking forward to the challenge.
"It would be an unreal way to end my year," she said. "Unfortunately I have to wait until the last race to ride my best one but if I can get a place or ride a winner before that, it would be a bonus."
Doyle has enjoyed an incredible 12 months, riding 142 winners in Britain and finishing fourth in the championship – smashing her own record for most victories by a female jockey in a season in the process – while collecting her first Group One by piloting Glen Shiel home in the Champions Sprint at Ascot.
On top of that, she was named The Sunday Times Sportswoman of the Year and is one of the six nominations for the BBC Sports Personality of the Year, alongside F1 champion Lewis Hamilton, cricketer Stuart Broad, boxer Tyson Fury, Liverpool footballer Jordan Henderson and snooker star Ronnie O'Sullivan.
Doyle takes it all in her stride and is happy to be a role model – if her success inspires the next generation of young girls to chase their dreams that is fantastic – but doesn't think gender is something she needs to champion.
"I just take it as it comes, I don't do anything differently to what I usually do. It would be great to ride a winner to get [the message] out there but I just see myself as a jockey now," she said.
"You can't walk into the industry thinking you're at a disadvantage because you're a girl. It's hard to be a jockey no matter what you are."
While female jockeys compete at virtually every meeting in countries like Britain and Australia, that level of integration hasn't happened in Hong Kong – former apprentice Kei Chiong Ka-kei is the last woman to have won a race here (July 2017) and the only one to do it in the past decade.
Doyle can change that at Happy Valley when she jumps aboard the David Hayes-trained Harmony N Blessed.
"He won quite impressively first time out and we're not drawn too bad in the middle," she said. "He shows plenty of gate speed so hopefully we get off to a good start and take it from there."
This is Doyle's first trip to Hong Kong and she says the hospitality of the Jockey Club – both in terms of the private plane that flew them in and the facilities at Beas River where she is quarantined – has been terrific, even if there was a six-hour wait to get the results of Covid-19 tests before take-off.
"I've never experienced anything like that in my life and I don't know if I ever will again," Doyle said of the private plane that flew herself, her boyfriend Tom Marquand, William Buick and Moore in from London. "It was incredible, we were treated like royalty."
While Doyle's stay will be fleeting – she is on a plane back to Europe on Thursday to ride in France over the weekend – she would love more opportunities in Hong Kong down the track.
"I hope it's not the last time I come here," she said. "It attracts the world's best jockeys and obviously the prize money is a huge bonus as well."
Doyle should get her first taste of that during the IJC.