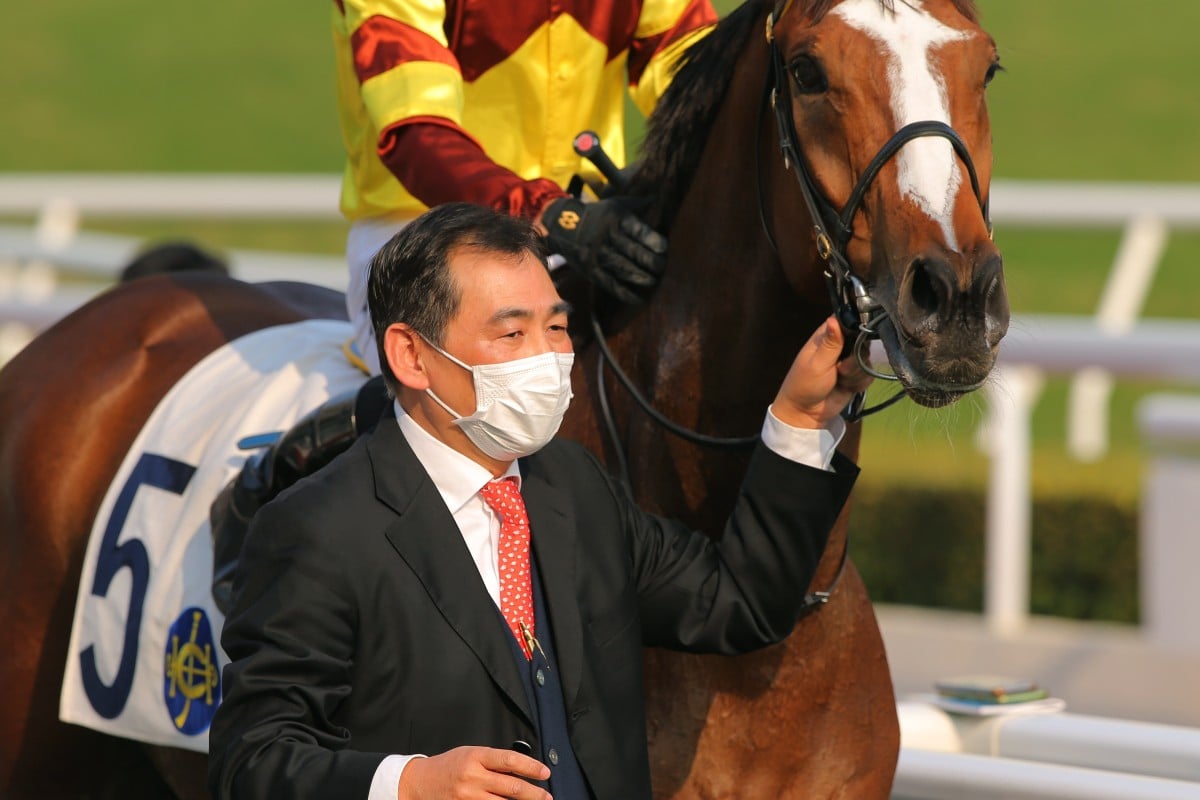 After saddling up 150 runners without success, Michael Chang Chun-wai is a winner again.
The happy-go-lucky trainer put on a brave face for much of the season with just one win next to his name, but the roar he let out – which echoed around Sha Tin when Family Folks put his head down on the line to win the Class Four Sea Eagle Handicap (1,200m) – suggested a weight had been lifted off his shoulders.
While the veteran handler said the theatrics were more to do with a savvy piece of betting, he admitted it was good to be back in the winner's circle after a four-month spell.
"Of course it was good, I backed the winner," he laughed while pointing to the $14.85 dividend semaphored on the big screen. "But it feels good, he is a nice horse."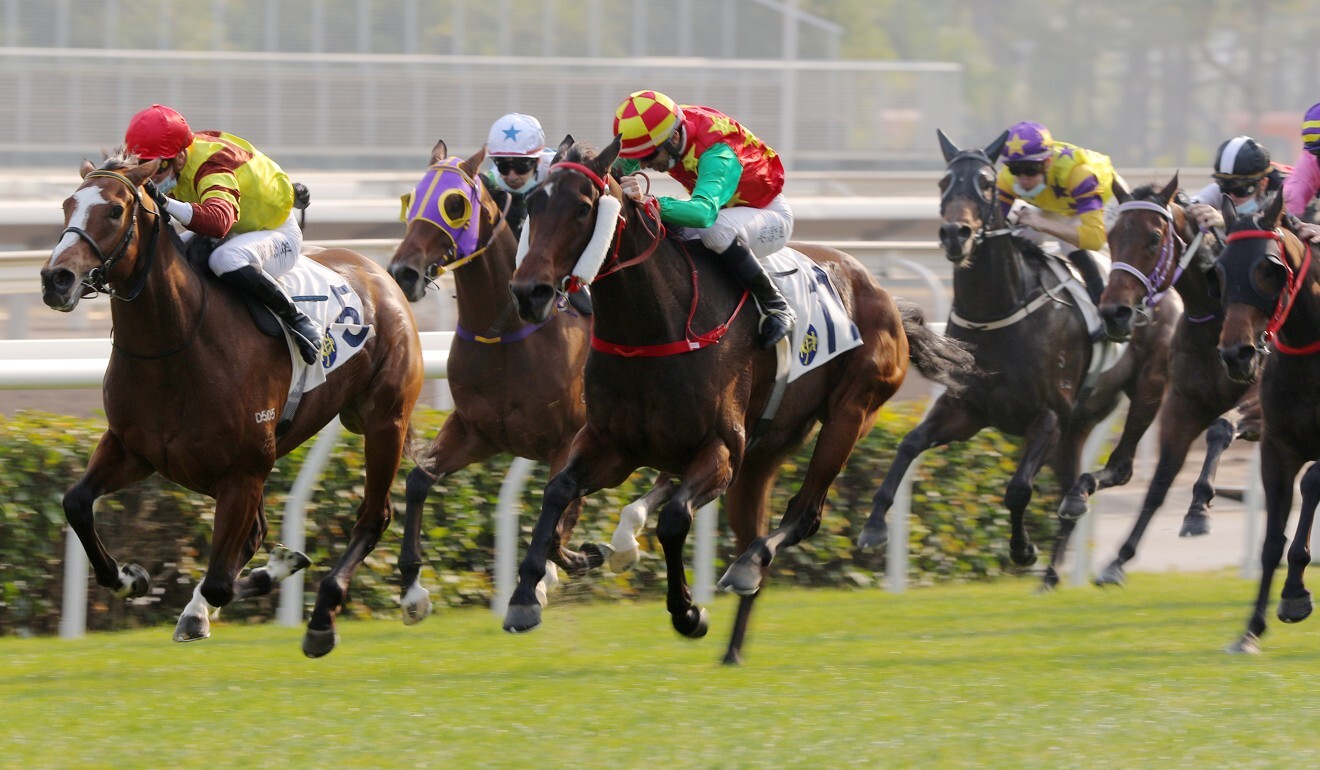 After putting in an eye-catching performance on debut last month, Chang was confident his Hong Kong International Sale graduate would break through, and he delivered under man of the moment Antoine Hamelin.
"His first run over 1,000m – he got an inside gate then the jockey came back and said there was a very strong headwind," Chang said of the fifth placing on debut.
"Actually, he still finished off well for fifth so this time I planned to step him up to 1,200m – that was the race for him."
The 59-year-old hopes Family Folks can be a catalyst to bring some new blood in his stable, which he says is full to the brim with old and slow horses at the top of their rating.
While he is not struggling for numbers, Chang knows the importance of new stock if he wants to pull season 2020-21 out of the fire.
"So far the horses haven't been good enough, we need some new blood," he said. "There are too many old horses. Look at ones like Bullish Glory, then there's Mega Heart who is an eight-year-old and he's still rated 83 and going around in Class Two.
"In Hong Kong where it's a handicap system, you need some more horses with the handicap down. Then you get new horses, but you have to wait for them to arrive."
With just two winners through 38 of the 88 scheduled meetings this season, it would still take a miraculous form reversal for Chang to avoid the first strike of his career.
Trainers who do not reach 16 winners in a season (18 if they also have stable as Conghua) are given a warning by the Jockey Club, with those who accrue three over their career forced to attend a "show-cause hearing" to explain why they should retain their licence.
Money munchers reign supreme
Favourite backers endured a nightmare day at Sha Tin with all 10 going under.
All up, more than HK$104 million in win bets from a total pool of HK$317 million went up in smoke across the 10-race card as the underdogs went on to shine.
Odds-on favourites Wellington ($1.70), Everyone's Delight ($1.90), Kings Shield ($1.70) all stung punters the most, with only the promising Wellington hanging on to even run a place.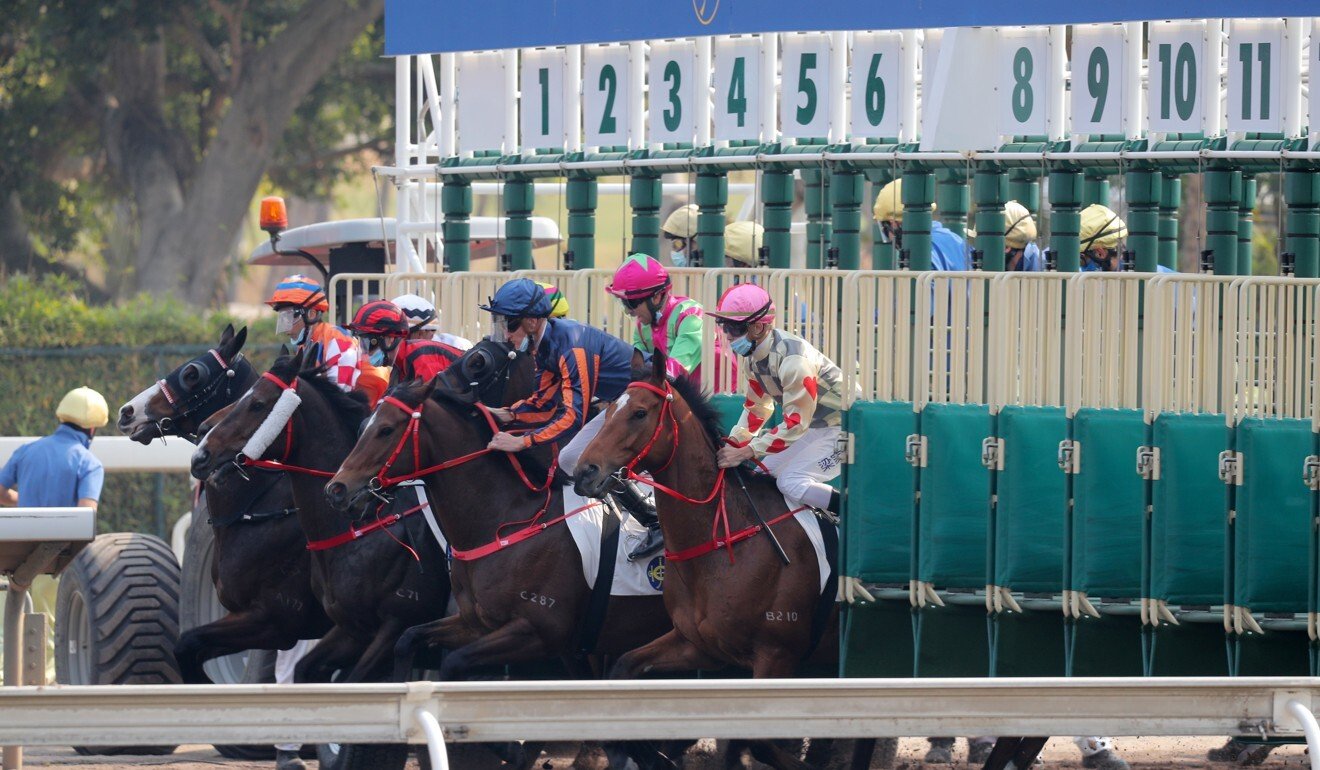 The likes of Daily Charm ($2.40), Super Ten ($2) and Carroll Street ($2.90) were also unsighted in the finish.
The difficulty flowed onto exotics for punters with neither the triple trio or six win bonus going off on the day, creating a mouth-watering jackpot for next weekend's dual Group One card, which also includes the Classic Mile for the four-year-olds.
Yung and Shinn pull off a heist
Benno Yung Tin-pang was as shocked as anyone on track when his $75 outsider New Future hacked up like an odds-on chance at Sha Tin on Sunday.
The four-year-old, having just his second start, was written off by punters in the Class Four Sea Eagle Handicap (1,200m) but he was able to swamp his rivals late under an unlikely partner in Blake Shinn.
It was Shinn and Yung's first winner together in 26 attempts and came after Zac Purton rode the horse on debut in December.
After settling towards the rear of the field, Shinn was left with a wall of horses in front of him at the top of the straight after some more-fancied rivals fell in his lap, but he was able to loop around there and arrive in time.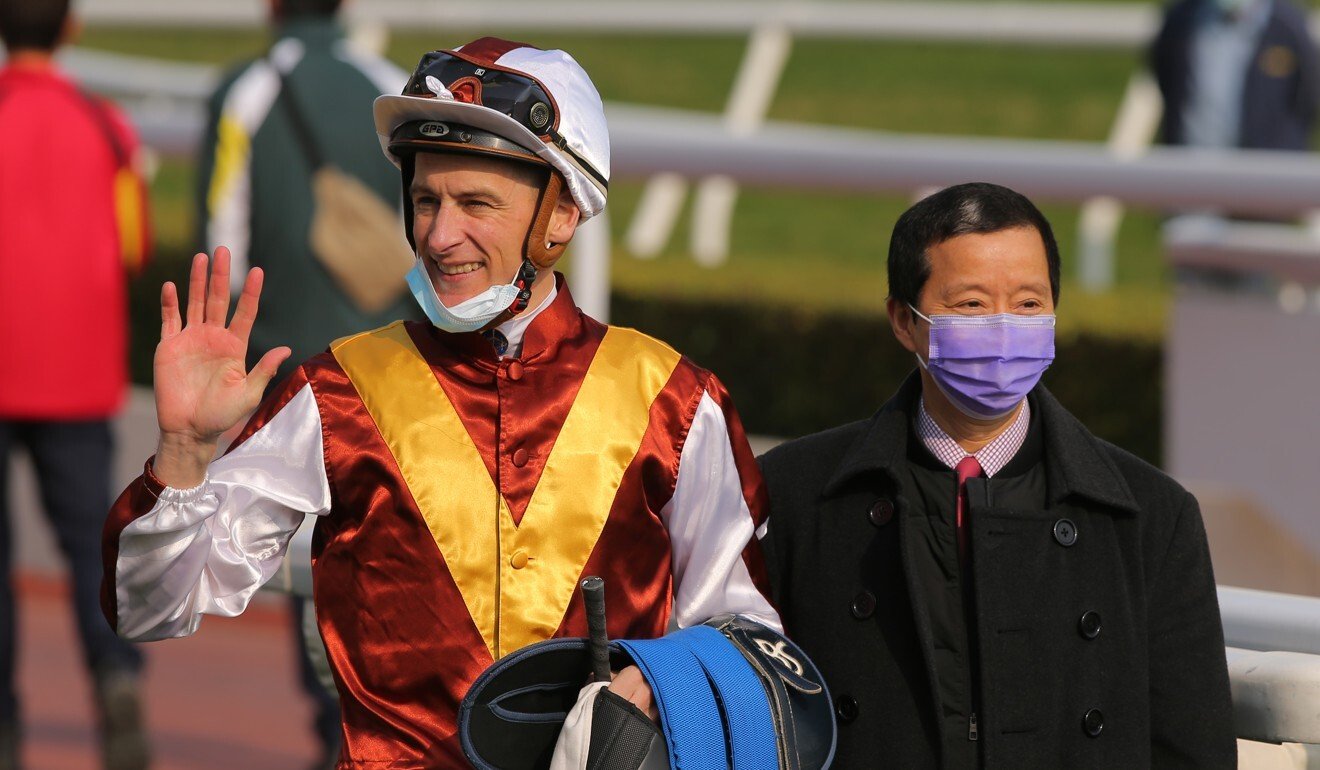 "I thought he would run well but I didn't know if it was a race that he could win," Yung said. "It was a good run last start, it wasn't as bad as what is says when you look at where he finished. Only because last time he got a bad draw at the Valley so he had to go right back. I thought the finish was not too bad.
"I was surprised, I thought he would run a good race but winning was even better, I was happy to have Blake on there, hopefully he doesn't go up to Class Three just yet."
It completed a double for Yung, who also won with Shanghai Dragon in the Class Five Swan Handicap (1,600m) to take his total to 11.
It marks Shinn's second win in the space of a week as well, bringing up his eighth for the season.
Cruz's Lady finishes first – finally
It has been three and a half years in the making – and taken three trainers – but Lady First has finally won a race in Hong Kong.
Originally imported after breaking his maiden in New Zealand as Sidestep, the gelding has been one of the more consistent performers during his stint in the city, but he just couldn't break through for that elusive victory.
After starting his career with Michael Freedman and being transferred to Jimmy Ting Koon-ho, Tony Cruz was the trainer who found the winning formula as Lady First (a gelding) captured the Class Four Spoonbill Handicap (1,650m).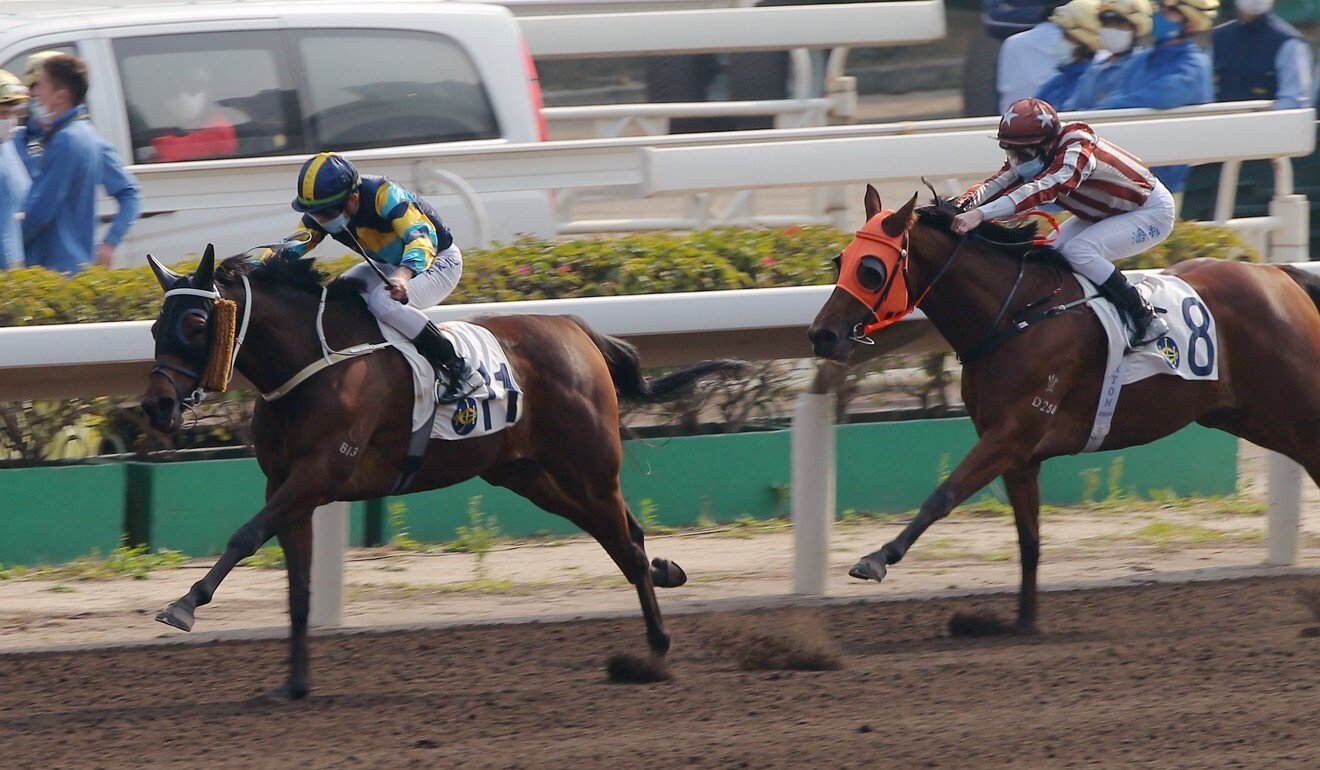 Heading into the race, the seven-year-old had four seconds, seven thirds and eight fourths to his name but the switch to the extended mile on the all-weather track worked wonders, beating So Awesome by three lengths.
Lady First started at single-figure odds in 22 of those 37 starts but he rewarded those who stuck fat with a $13 dividend.