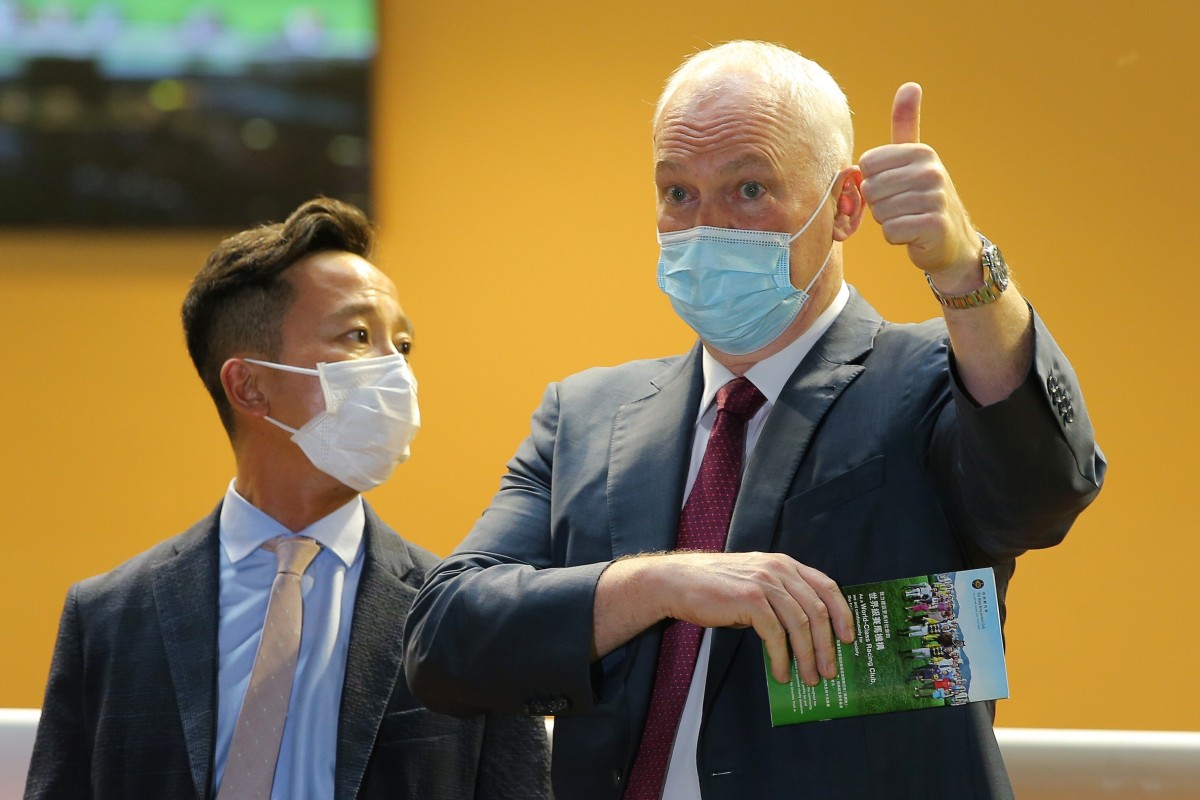 After a campaign devoid of any major highlights, David Hall found something to celebrate as Red Brick Fighter and Sun Of Makfi delivered him a double at Happy Valley on Wednesday night.
The Australian has actually been ticking along OK – he notched his 30th victory of the term, sits top 10 in the championship and is on track to have his best season since 2016-17 (when he had 37 winners) – but there haven't been any big days or feature races to hang his hat on.
It was the first time the Australian had a double since September 13 and Hall's view of the season overall is coloured by a rough patch over winter where more than a dozen horses walked out of his stable, starting with the once-promising sprinter Joyful Fortune.
But when viewed through a different lens, that negative can be turned into a positive and the way he's come through that difficult period and is still performing is cause for optimism.
As is usually the case in racing, winning is the ultimate elixir.
"It's been a little bit tough at different times but it's always good to get a double – it always makes things a bit better," Hall said.
Sun Of Makfi looks to have more wins in store after breaking his maiden in the Class Four Rumsey Handicap (1,650m) after knocking on the door in recent starts.
After jumping from barrier three, Alexis Badel slotted into the box seat and the four-year-old enjoyed the perfect run in transit before finding clear running in the straight and scoring in smart fashion.
"If any horse deserved to win one it was him," Hall said. "He had the perfect run tonight, I think Badel was probably giggling getting to the corner – he hadn't spent a penny – and he got a nice lead-in to the 200m mark and had a strong kick. It was certainly his race.
"He's just a little horse and he's pretty genuine – he's always shown that he'll get a couple of wins on the board, he just mentally had to settle down a little bit and learn to relax. And he's still not the full article yet … so it's good to get the win and I'm looking forward to next season with him as well."
Red Brick Fighter ran over the top of his rivals to claim the second section of the Class Four Morrison Handicap (1,200m) with Hall's former apprentice Matthew Poon Ming-fai in the saddle.
The five-year-old's past two wins have come at the course and distance but the trainer believes he is also capable over further – and at either venue.
"I still think he's got the flexibility – he's not just a one-trick pony – but he got a smooth race tonight, a nice speed and fresh out of Conghua the 1,200m was the right move," Hall said.
The feel-good story of the night was the tough win of Paul O'Sullivan's warrior Harrier Jet, who claimed the fifth win of his Hong Kong career at start 72.
Everything went to plan for Zac Purton, who found the box seat early and stuck to the rail before the nine-year-old stuck his neck out on the line to pip Fortune Carrier.
Harrier Jet has been in Hong Kong so long he almost qualifies for permanent residency – he arrived during the 2014-15 season – and even though he's no star, O'Sullivan marvels at the stable favourite.
"He's the kindest horse I've ever trained, he's just done a bloody good job," he said. "I think the key is that he's remained sound physically and mentally. He's a really solid Class Four horse. Not many nine-year-olds win two races in a season.
"Up until the last stride it looked as though he was going to get beat but the other horse just came to the end of its run and he stuck his head out.
"It will certainly be his last race of the season, he's owned in Beijing and I don't know what they want to do but if he was to come back it would be a pretty quiet season."