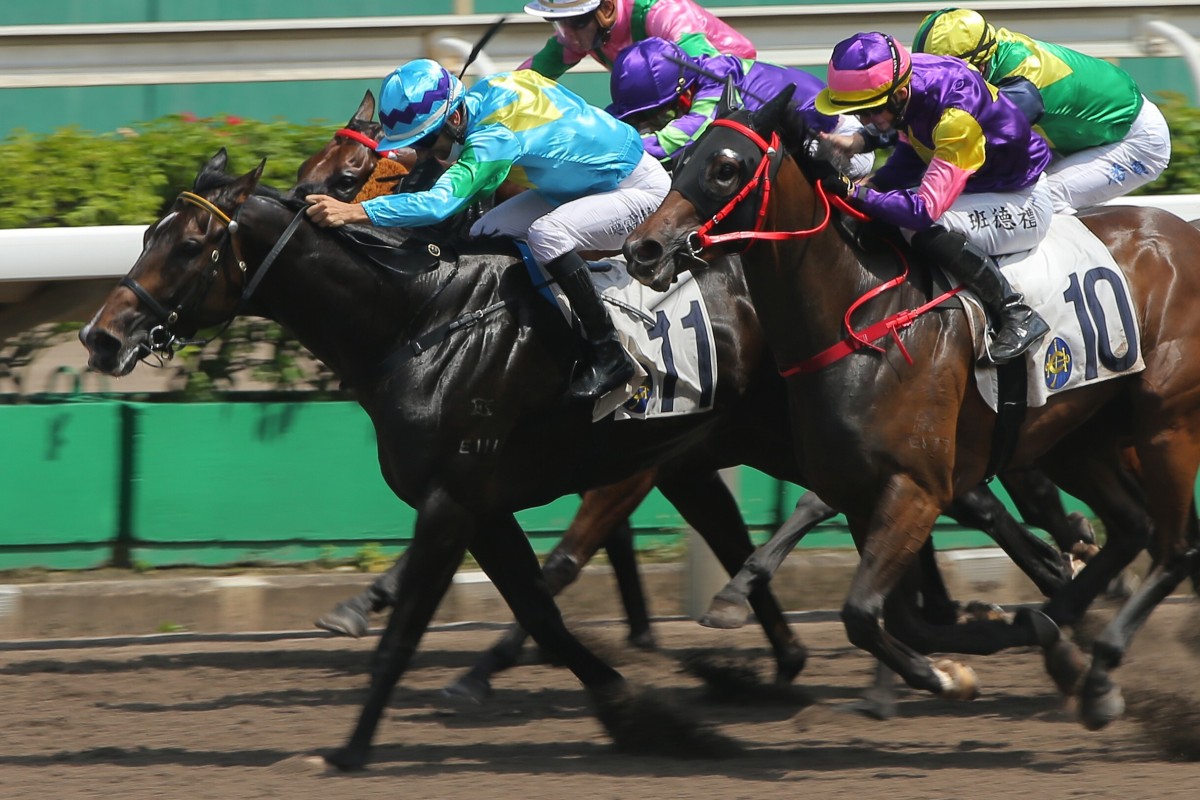 Michael Chang Chun-wai says the prospect of his first strike for missing the Jockey Club's performance benchmark does not concern him one bit as he comes to the end of his worst season as a trainer.
Handlers in Hong Kong must produce at least 16 winners a season – 18 if they have stables in Conghua – and it's three strikes and you're out, with Chang certain to fall short after landing just his eighth winner of the term with Steel Win at Sha Tin on Sunday.
"I'm not concerned at all, I believe in myself and I have always done the job well. When you train a slow horse, what can you do?" Chang said.
Chang has been close to a strike before, scraping by on prize money after only training 13 winners in 2014-15 and landing 16 victories in 2016-17 and 2017-18.
But as dire as the campaign has been for the 59-year-old, he remains optimistic there will be greener pastures ahead.
"I've got eight to 10 youngsters for next season and I hope one or two are faster," he said.
While Steel Win's victory was only Chang's eighth of 2020-21, it was jockey Joao Moreira's 151st and the Brazilian was at his best from gate 11 in the Class Four Wong Cup (1,200m) on the all-weather track.
After positioning Steel Win one off the rail in midfield from the wide draw, Moreira swung out turning for home and urged the $2.80 favourite home by a shorthead from Everyone's Victory, with Fourawarrior third in his first start since moving from Tony Millard to David Hayes.
It was Steel Win's first victory at start seven after he had slid from a rating of 52 to 43, meaning he only had to carry 117 pounds in Sunday's contest.
"It was a pretty weak field and coupled with the light weight and a good jockey, it was a good combination," Chang said.
Steel Win's success was the middle peg of a treble for Moreira, who had earlier hit the 150-win mark with victory aboard the Caspar Fownes-trained Breeze Of Spring in the Class Five Swaine Cup (1,400m).
He went on to take out the Class Three Chow Silver Plate (1,600m) with the John Size-trained Beauty Fit to finish the afternoon on 152 winners.
It's the third time Moreira has hit 150 after tallies of 168 in 2015-16 and 170 in 2016-17 and the 37-year-old has a fourth jockeys' premiership in his keeping.
With a 29-win lead over Zac Purton and the Australian suspended for the final two meetings of the season, Moreira cannot be headed.
"It puts me in a relaxing situation, I can really enjoy it. I think it also helps for me to be riding better than I was four months ago," he said.
Moreira's title win puts an end to three years of Purton dominance and ties the pair on four premierships apiece.
"It's been a much better season than the last three and no doubt it's all about the support I've been getting and being injury free," he said.
"I'm feeling good in myself and I'm able to produce – I know I'm riding well and when you're feeling well in yourself that helps a lot.
"But at the end of the day it's all about the horses I've been getting on because if I didn't get those rides I'm sure I wouldn't be winning as many races."