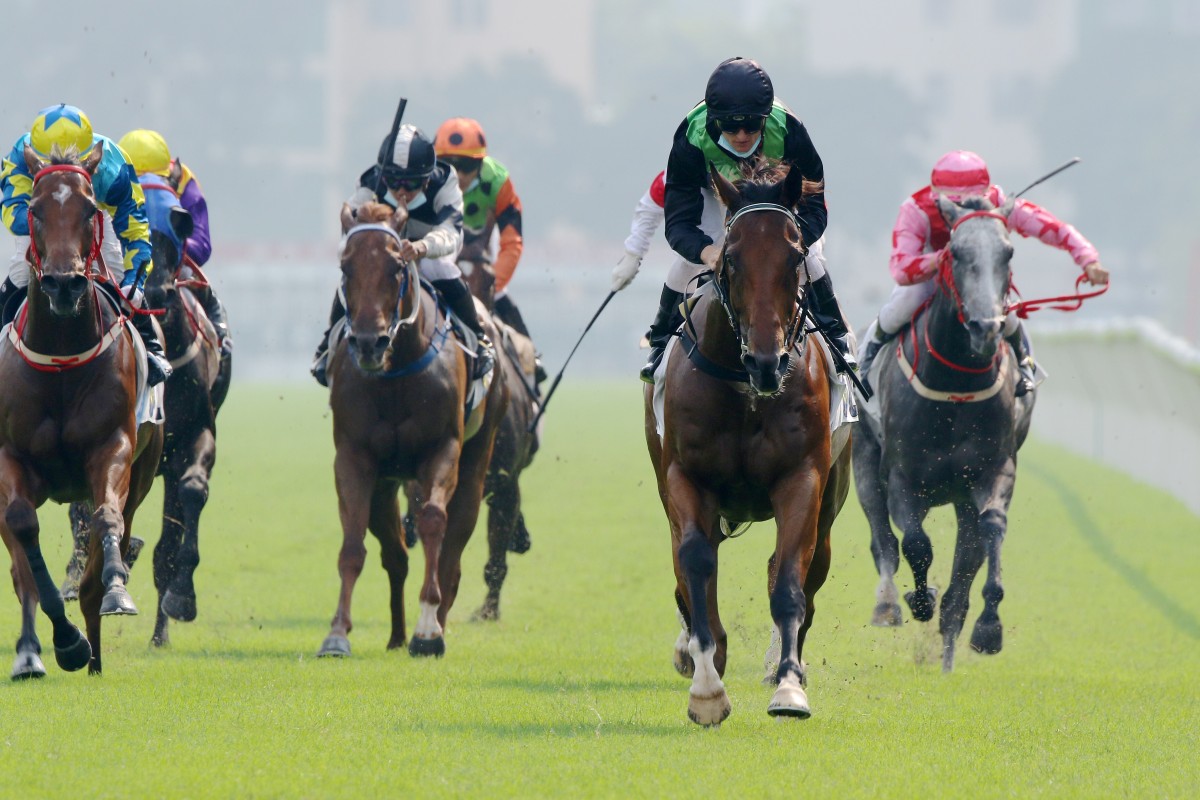 As Nervous Witness was storming to a second consecutive victory at Sha Tin on Friday, there was carnage unfolding behind him of the like that often leads to similar havoc in the stewards' room.
Carroll Street nearly went through the rail and was lucky to stay on his feet, with the four-year-old suffering a lacerated front leg and tailing off 13-lengths last as a $7.30 chance.
But while a bumping match between Flying High under Matthew Chadwick and Vincent Ho Chak-yiu's mount Propice led to Carroll Street being severely checked, the stipes came to the conclusion that "whilst the incident was one of some significance and resulted in two horses being badly hampered, the stewards were not able to apportion blame for the incident to any rider".
Jerry Chau Chun-lok had positioned Carroll Street a handful of lengths behind Nervous Witness and while its hard to imagine the galloper challenging the runaway winner, he was well placed to produce a strong finish before his chances, and in turn those of Frankie Lor Fu-chuen's Ian, evaporated.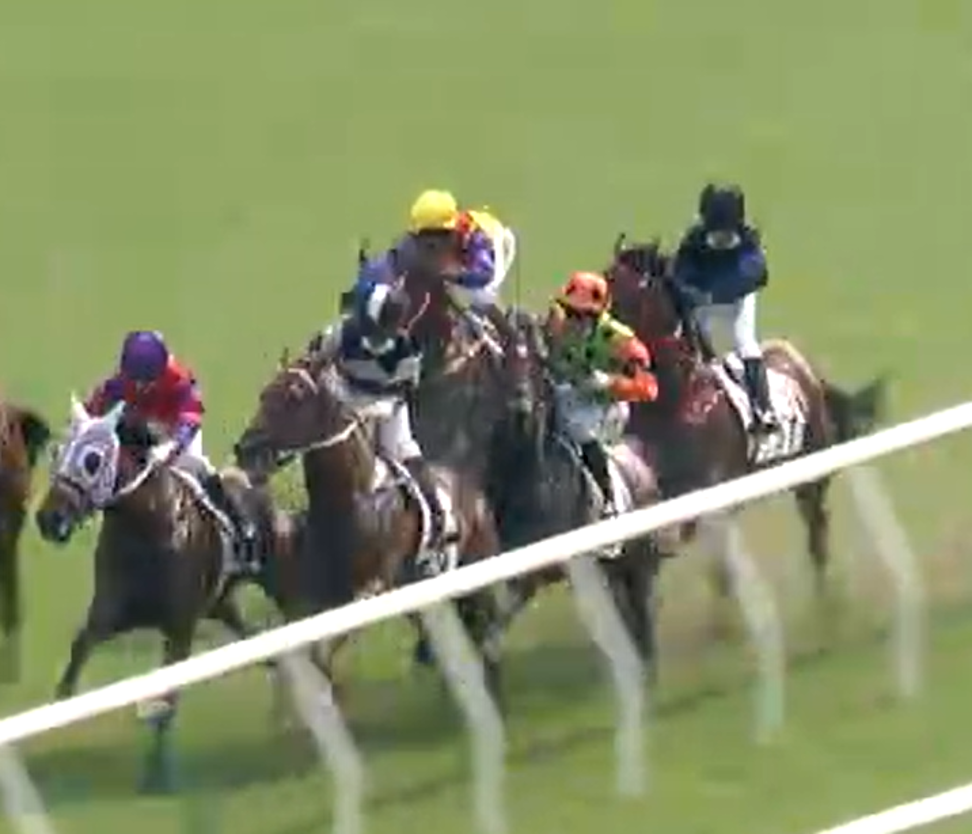 It was a miracle Chau and Carroll Street didn't end up on the turf and it was a visual that immediately had some wondering how many jockeys were in line for a ban and of what severity, but Chadwick and Ho were only issued warnings for shifting ground.
"The fact of the matter is that just because you have bad interference doesn't mean there has to be blood on the carpet in the inquiry room," Jockey Club chief steward Kim Kelly said.
"Generally there is blood on the carpet in the inquiry room when an incident like that happens but to establish that somebody is guilty of careless riding you have got to establish the carelessness and we couldn't come to the necessary level of comfort that a rider had ridden carelessly.
"It was difficult to tell on the videos whether the bump was initiated by Vincent Ho's horse just making slight contact with the hindquarters of Flying High and that horse being turned in, or whether there was a slight shift out from Chadwick's horse which was accentuated after the hit on the hindquarters by being turned in, which made it a much worse interference than it otherwise would have been.
"We're not about finding a fall guy, it's not about 'well, there's been bad interference and someone has to be to blame and we're going to pin it on somebody'. That's not how the system works."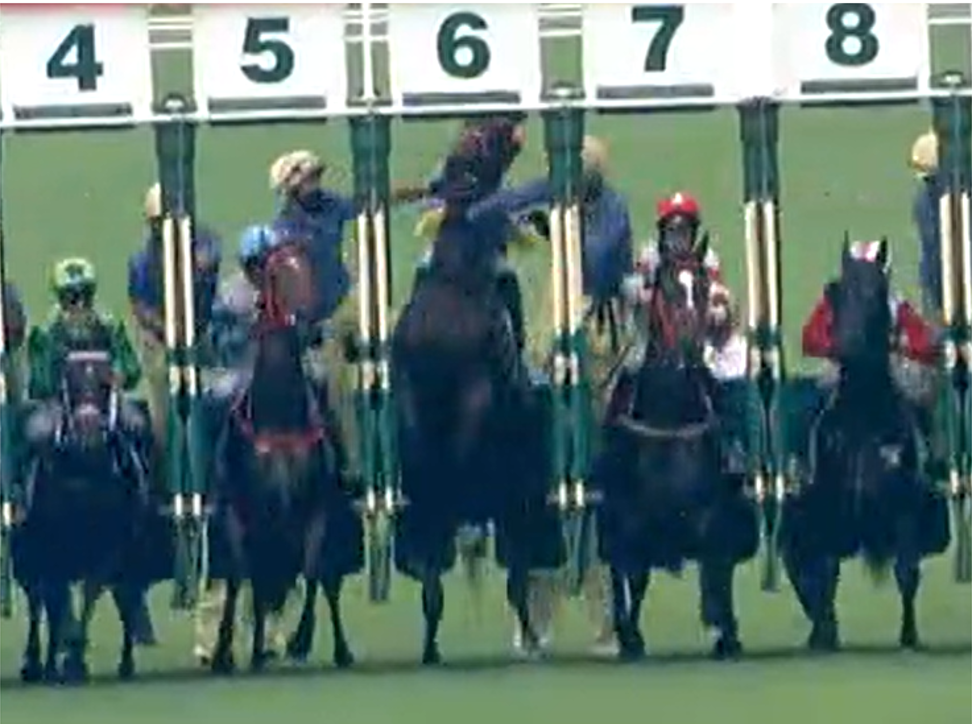 Punters losing Faith?
After having no luck at all when running into backsides late as the $2 favourite first-up this season, Leap Of Faith's misfortune went to another level in a bizarre incident at Sha Tin on National Day.
Sent off as the $5.50 second elect, Leap Of Faith's race was as good as over before he left the barriers, with a starting gate handler accidentally impeding jockey Karis Teetan as the horse jumped.
The stewards' report read: "When Soulmate reared, one of the starting gate handlers, which was assisting that horse, became unbalanced and as a result bumped K Teetan (Leap Of Faith) as that horse jumped away which resulted in K Teetan becoming very unbalanced and causing Leap Of Faith to begin awkwardly."
On the replay it appears as though the handler puts his hand on Teetan's back or shoulder as he loses his balance.
"This was definitely the first time something like this has happened to me. It felt like I was pulled back and when I came out of the gate my body was further back and my hand was up," Teetan said.
"With the pressure we are coming out of the gates with, if anything touches you, you will just go back. My instruction was to race in a handy position but by me falling back and pulling on the horse's mouth, I had to race further back."
There was no respite for those that had invested their hard-earned in Leap Of Faith winning, however, after the five-year-old ran on gallantly for third.
"Whilst the stewards formed the view that Leap Of Faith's ability to jump on terms with the field had been compromised by K Teetan becoming unbalanced as a result of being bumped by the starting gate handler, acting under the provisions of Rule 12 (19) which provides that no horse which is declared first, second, third or fourth place in a race is able to be declared a non-runner and having regard to Leap Of Faith having finished third in the race, weighed-in was declared on the numbers semaphored by the judge," the stewards' report said.