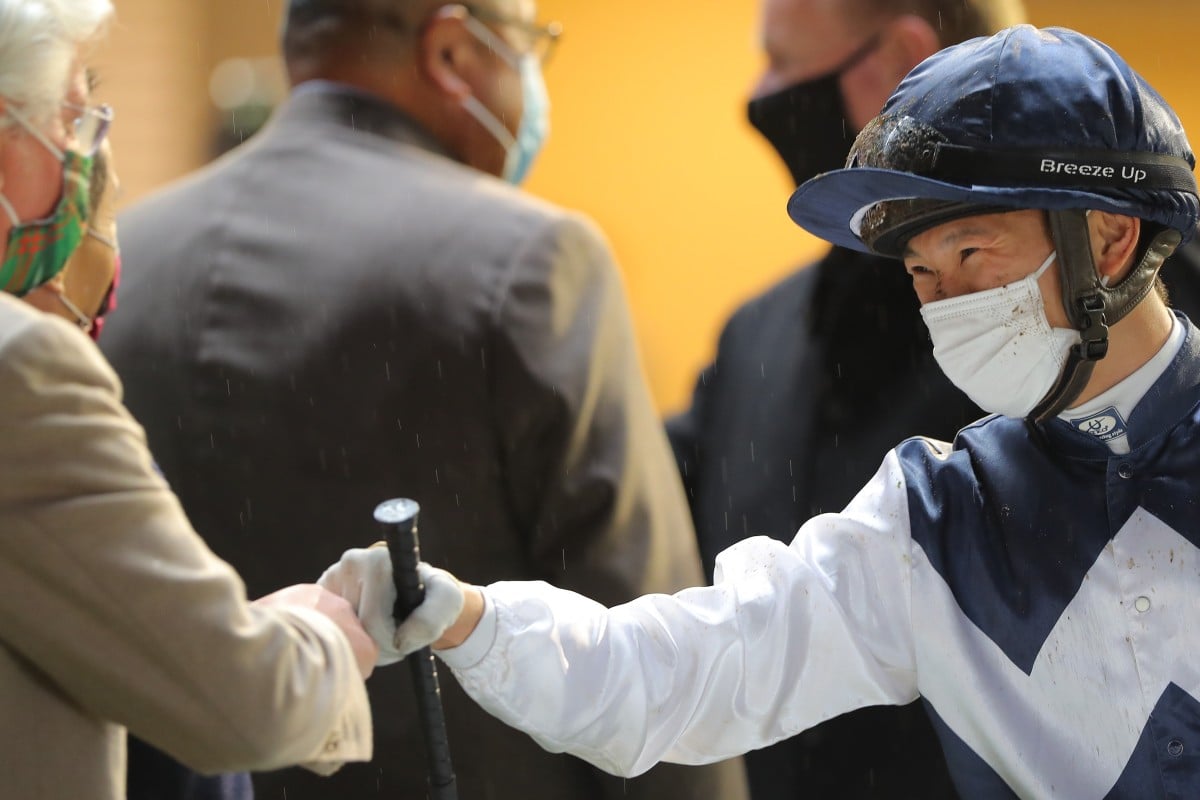 Jerry Chau Chun-lok returned from a three-meeting absence with a bang at Happy Valley on Wednesday night, saluting aboard the Tony Millard-trained Sacred Ibis in the Class Four Uranus Handicap (1,800m).
Chau was a late withdrawal from the meeting on December 5 after requiring stitches in his hand on December 3 and his injury-induced absence flowed into a suspension, meaning he was raring to go for the midweek fixture.
"My hand is perfectly recovered and I always feel well after a break, so I'm very grateful to be able to win this race for Mr Millard," Chau said.
It was Chau's first win for Millard in just his fifth ride for the South African, and his first since April.
Chau produced a patient ride aboard Sacred Ibis, letting him travel behind midfield before pulling him off the rail as they turned for home, picking his way through traffic and letting the eight-year-old go down the middle of the track.
It was Sacred Ibis' fifth win at start 38 but his first since January 2019 and first in 19 starts for Millard, with the trainer joking the veteran might have known the end was near if he didn't perform.
"He must have heard us talking [about possible retirement]. He's a funny old horse. Last week, he came back and could hardly blow a candle out after his race," Millard said of Sacred Ibis, who ran ninth in the second leg of last week's International Jockeys' Championship and seemed to appreciate the quick backup and step-up in trip from the extended Valley mile.
"Jerry was really sympathetic with him tonight and he took the gaps at the right time and the old horse saw daylight and really accelerated."
Star Brazilian jockey Joao Moreira and 11-time champion trainer John Size combined for a treble to continue their strong recent form as a duo, saluting with Special M, Incanto Prepared and A Smile Like Yours.
The unflappable Karis Teetan landed a double after walking away unscathed after hitting the turf in Sunday's fall in the Hong Kong Sprint, getting the chocolates aboard Chris So Wai-yin's Jolly Forever and the Francis Lui Kin-wai-trained Spicy Grill.
"I think I've had four falls in four months and things don't go your way at a certain time but you just have to keep your head up and keep working," the Mauritian said.
"It's hard to forget about the falls. My shoulder has healed now but Sunday's fall might have woken it up a little bit, but I just have to forget about what's happened and hope that there are better things to come."
Jolly Forever broke his maiden at start 16 under a positive Teetan ride in the Class Five Neptune Handicap (2,200m) and So knows he will have to pick his battles carefully if he is to experience more success with the five-year-old.
"This win was amazing, I have been waiting for a long time. I think this horse can go 3,200m," So laughed.
"The horse is limited obviously and we don't have many distance races for him. We have to wait for the Happy Valley 2,200m but it seems like the horse can go a bit further.
"Karis did a very good job, he's smart. We told him that if the pace is slow then just take off at the 1,000m and he did a really good job. His clock is working."
Teetan took off from the back after passing the 1,000m and looped the field to sit outside the lead before grinding out a gutsy victory in the straight.
"Chris told me this morning the horse would just keep going and at the 1,000m, I just wanted to get out and get going. Into the straight, he just did not stop. He just kept going," Teetan said.