Covid-19 has ensured there won't be a single fan on track to see Golden Sixty's attempt at joining Silent Witness in the rarest of air but the fervour gripping Hong Kong is no less intense than what the city experienced almost two decades ago.
Douglas Whyte got a front-row seat to Silent Witness' record-setting 17th straight victory in 2005 – he was aboard seventh-placed Scintillation – and the South African will be one of a handful of trainers trying to prevent Golden Sixty matching that Hong Kong record at Sha Tin this Sunday.
"I would say there's a similar aura around him – the public love him and they love to see him race," Whyte said.
"Golden Sixty hasn't travelled unfortunately, whereas Silent Witness won in Japan, but Golden Sixty has stepped up to 2,000m, he's won a mile and he's the real deal. He's equalled Silent Witness win-wise and recognition-wise he'd be on a par as well."
🏆Hong Kong Mile (G1)
1600m , 26.000.000 HKD, for 3yo+
🇭🇰Sha Tin

Golden Sixty (AUS)
(6G Medaglia D'oro - Gaudeamus, by Distorted Humor)
J : C. Y. Ho
T :K.-W. Lui
O : Stanley Chan Ka Leung
B : Asco International Pty Ltd pic.twitter.com/1SCvUpsgZu

— 𝙒𝙤𝙧𝙡𝙙𝙍𝙖𝙘𝙞𝙣𝙜 (@WorldRacing1) December 12, 2021
Golden Sixty entered unchartered territory with his victory in last month's Hong Kong Mile, becoming the first Hong Kong-trained galloper to win 19 races, and will face six rivals in the Group One Stewards' Cup (1,600m) as he chases another record this weekend.
Whyte remembers the days of the baying masses descending on Sha Tin to cheer on their hero Silent Witness and Hong Kong will be holding its collective breath as Golden Sixty looks to do the city proud once more.
"If these were the days when Silent Witness was running it would be catastrophic [if the public were locked out]," Whyte said.
"This is what people come to the races for, it's what the public wake up for – to come and see these champions. It's a disaster but thankfully we're still racing."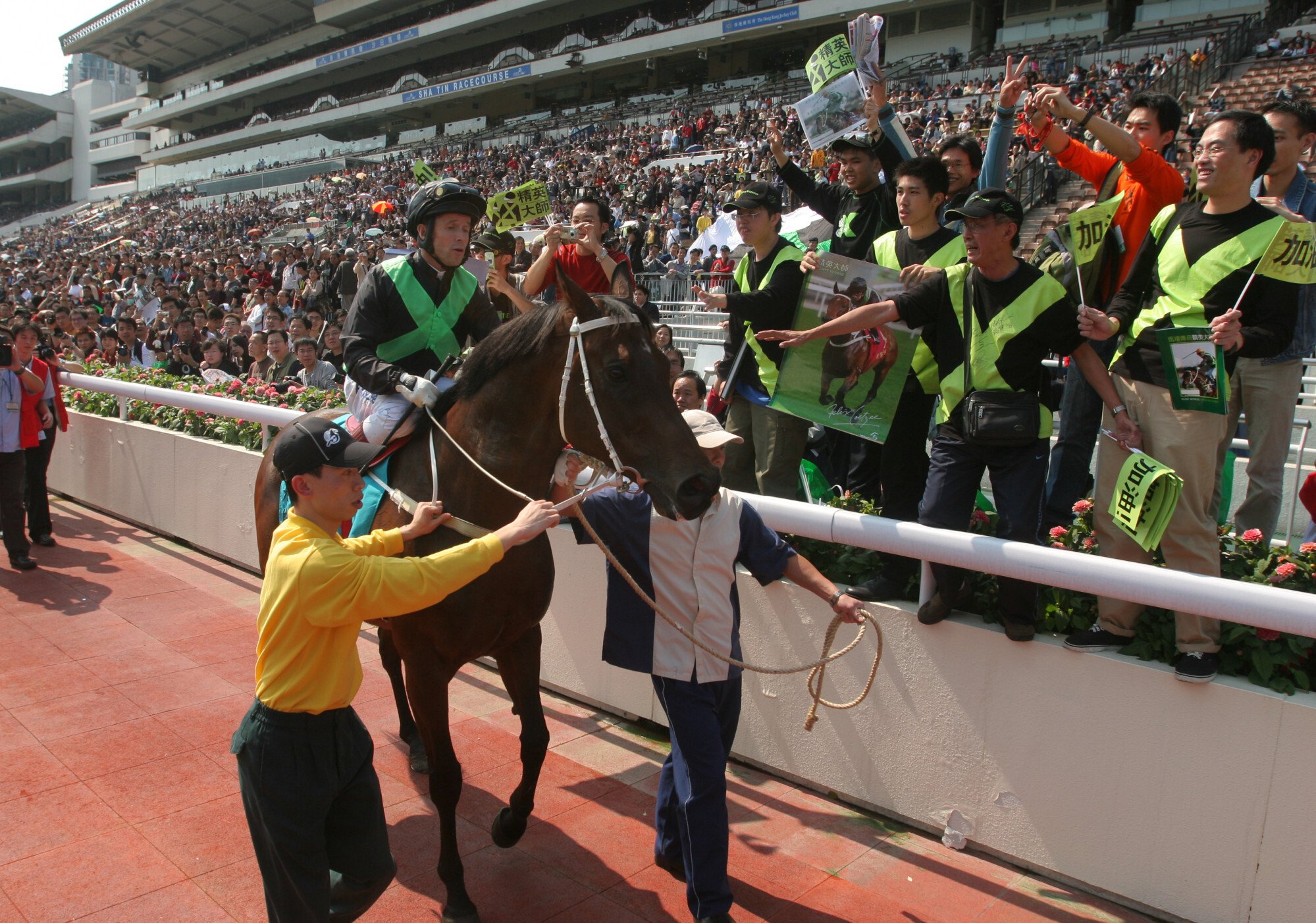 Whyte saddles up Russian Emperor in the Stewards' Cup, who is stepping back in trip after running third in last month's Hong Kong Cup and is heading towards the Gold Cup (2,000m) next month.
"He's been freshened up and he had a lovely trial the other day. I've only given him one piece of work since the trial so he's on the fresh side. To wait until the Gold Cup is too long and I thought it looked a nice race for him," Whyte said.
Golden Sixty's other rivals are More Than This, Waikuku, Sky Darci, Healthy Happy and Kings Shield and jockey Vincent Ho Chak-yiu expects it to be business as usual for the Francis Lui Kin-wai-trained superstar come Sunday.
"At the age of six, I think he's better than before – mentally and physically," Ho said. "He's more mature. I wouldn't say he's changed a lot, but after the summer he's got a bit bigger. He knows what to do in the mornings and in the races."
🏆 Hong Kong Cup (G1)
2000 m, 30.000.000 HKD, for 3yo+
🇭🇰Sha Tin

Loves Only You (JPN)
(5M Deep Impact - Loves Only Me, by Storm Cat)
J : Y. Kawada
T :Y. Yahagi
O : DMM Dream Club
B : Northern Farm
🥈Hishi Igauzu (Heart's Cry)
🥉Russian Emperor (Galileo) pic.twitter.com/1PowlLhnas

— 𝙒𝙤𝙧𝙡𝙙𝙍𝙖𝙘𝙞𝙣𝙜 (@WorldRacing1) December 12, 2021
Whyte also has a presence in the afternoon's other Group One contest, saddling up Stronger in the Centenary Sprint Cup (1,200m) against the likes of Sky Field, Wellington and Master Eight.
"He's a proper little horse and if he was a hand higher he'd be a Group One horse. If there are any chinks in the other horses' armour, he'll be there to lap it up," Whyte said.
"He's as honest as the day is long and he'll give his best but there's just always a query when it comes to the Group Ones – he's just a length behind the best of the best."