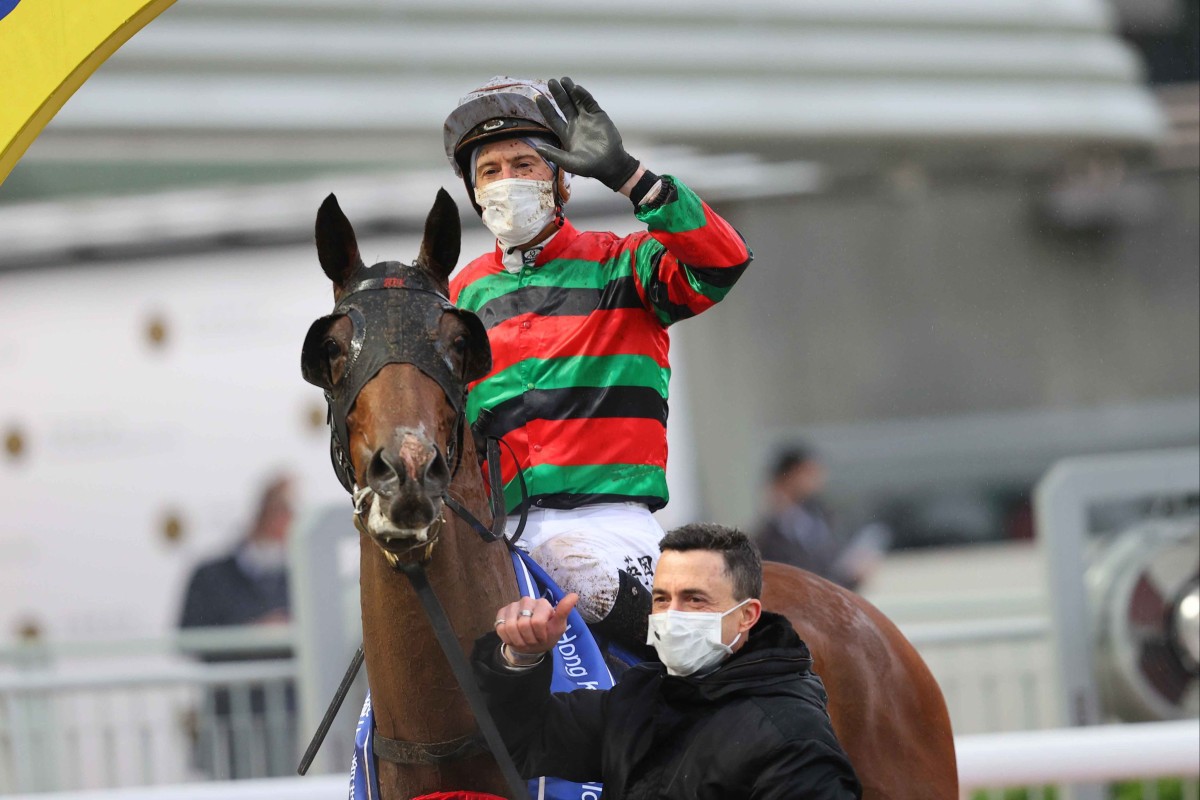 Trainer Douglas Whyte is celebrating his second Group One win of the season after Russian Emperor blew away his rivals to run out an impressive winner of the Group One Citi Hong Kong Gold Cup (2,000m).
Whyte saddled up the first two home, with Savvy Nine also beating superstar Golden Sixty.
The reigning Horse of the Year was disappointing in third and failed to fire for the second race in a row, but even at his best he may have struggled to beat Russian Emperor under an inspired ground-saving ride from Blake Shinn.
The race was run on yielding ground – before Sunday just 75 of 7,439 turf races in Hong Kong since September 2011 had been run in those conditions – and Whyte was delighted that track conditions deteriorated throughout the day.
"It's very satisfying," Whyte said. "This horse deserves it but more so the owners. They have been so patient.
"The horse has done what I expected him to do. The rain has helped but he still had to win and he's done just that. There's been a lot of people trying to move the horse and a lot of people who have had the boot in for me and karma's a funny thing."
Whyte's patience has certainly been rewarded and he revealed it took time for Russian Emperor to adapt to life in Hong Kong
"These European horses, once they have a full season or a season and a half, they find their straps," Whyte said.
"He was always going to be a good horse but he was always jarry, always feeling the tracks. He's just now acclimatised and the more you seem to give him, the better he gets.
"He has adapted, I haven't changed and although I've had pressure, I haven't put pressure on to him. He's now given me that pressure back."
Confidence had been building as a result of Russian Emperor's recent work and former champion jockey Whyte, who won the Gold Cup twice during his riding career in Hong Kong, put the final touches on the horse's preparation himself.
"When I galloped him last Tuesday, I jumped off, called Blake and I said 'you're in business'," Whyte said.
"That turf gallop and trial put me in high confidence with the horse and when the rain came, it gave me another level."
Shinn, who was forced to wait two years for his revenge over Golden Sixty after being denied in the last strides aboard Playa Del Puente in the 2020 Hong Kong Derby, saved every yard on Russian Emperor, scraping the paint until making his challenge in the straight.
The Aussie top gun believed that this was his chance to beat Golden Sixty and was delighted to nab his second Group One in Hong Kong.
"I really believed that this was going to be our opportunity," Shinn said. "All the stars aligned with the rain and everything just went to plan.
"He's a really talented horse and he's been running really well. Full credit to Douglas. He's really figured out how to prep him for the big days and perform at the elite level and that's what great trainers do.
"They know how to peak them for the big days and Douglas has done that again today. It's just really satisfying to get this result on the horse and I really thank Douglas for keeping me on him.
"Four starts ago we were luckless and I rang Douglas after the race and asked him to keep me on the horse and he did, so I have to thank the owner for sticking by me and this is just reward for everyone involved."