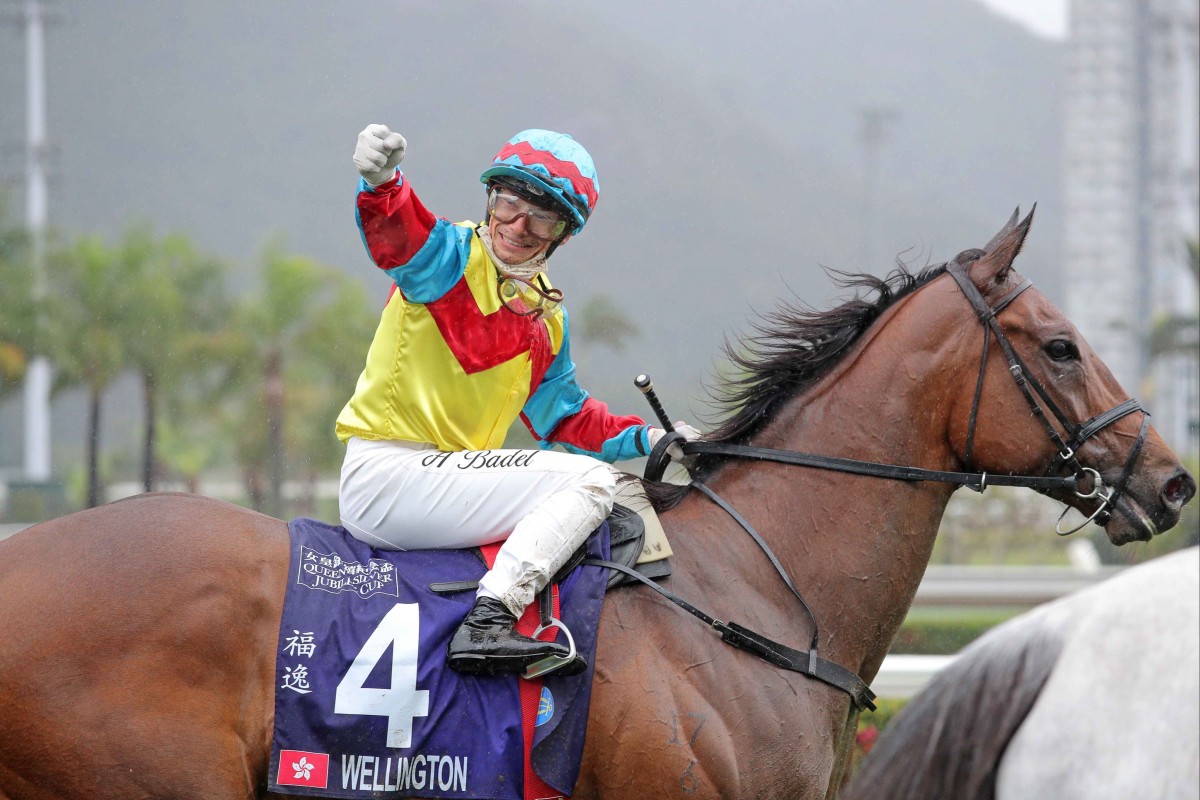 Alexis Badel is in the middle of a stop-start season but he is giving it his all as he attempts to chase down Karis Teetan and secure a podium finish in this season's jockeys' championship.
Badel finished sixth in the premiership in his first full season in Hong Kong last year but is destined to go at least a couple of places better this time around.
Sitting fourth in the title, he is 12 winners behind Teetan after 50 fewer rides and is confident of ending the season on a high.
"It would be a significant effort to catch Karis and finish third," Badel said. "Karis has been here long enough to know the place very well, he's got good support and is riding well, so I will need to maintain my good rhythm and avoid suspensions. It will be challenging but I will try my best."
If he is to miss out on his goal of third place, Badel will look back on suspensions as one of the main reasons. The Frenchman misses out on this Sunday's meeting at Sha Tin as he serves his fifth ban of the season and he is determined this one will be his last.
"I feel a bit angry and frustrated with myself because I'm fourth in the jockeys' title but I am the victim of a few suspensions," Badel said.
"It's negligence from me and I should improve on that and correct it – it shouldn't happen and it's cost me a lot of winners. It makes life harder for me.
"I've been here long enough to adapt to Hong Kong's racing rules and the riding style. France and Europe is totally opposite to Hong Kong. Don't get me wrong, I'm not saying we can do whatever we want in France but it's different.
"Hong Kong is very strict and you don't have to make a big mistake to get charged with careless riding, so you have to be very focused, consistent and careful."
In pre-Covid times, jockeys could use their enforced spell on the sidelines to relax and refocus the mind but current restrictions for jockeys means the only batteries Badel will be recharging are on his phone and iPad as he watches race replays.
"It's tough to be suspended at the moment and I wish I could get away for a while," Badel said.
"A few years ago before the pandemic, you could go away for a short holiday or do whatever you needed to do. Now it's very difficult because we are trying to maintain a bubble to keep racing, so it's impossible to think about, or do, something else.
"You have to stay in this closed environment, so you keep thinking about the races and watching everything as you try to chase rides and keep an eye on it."
While the suspensions have been low points for Badel this season, there has also been plenty of highs, notably picking up a second Group One win in Hong Kong aboard Wellington.
"That was a real target for me and I told myself that it would be great if I could find a few horses to win Group Ones in Hong Kong," Badel said.
"I like riding quality horses and I'm so happy that Wellington won his Group One again, so that's the positive part of the year."
There could be another huge positive around the corner as Turin Redsun takes aim at the Hong Kong Derby after he finished a good second to California Spangle in the Classic Cup last week. Badel was delighted with that performance as he feels the race was not run to suit his mount.
"There was a slow pace so basically Zac [Purton] won the race out of the jump because of the natural speed of his horse," Badel said. "He just settled in front and many horses were not relaxed in the race off that pace, I think it was a huge effort and I was very pleased."
Heading into the Derby later this month, another big run is expected.
"The distance seems to be an advantage for him and his trainer [Douglas Whyte] knows exactly what to do with this type of staying horse. I'm sure he's going to have a very strong chance," Badel said.