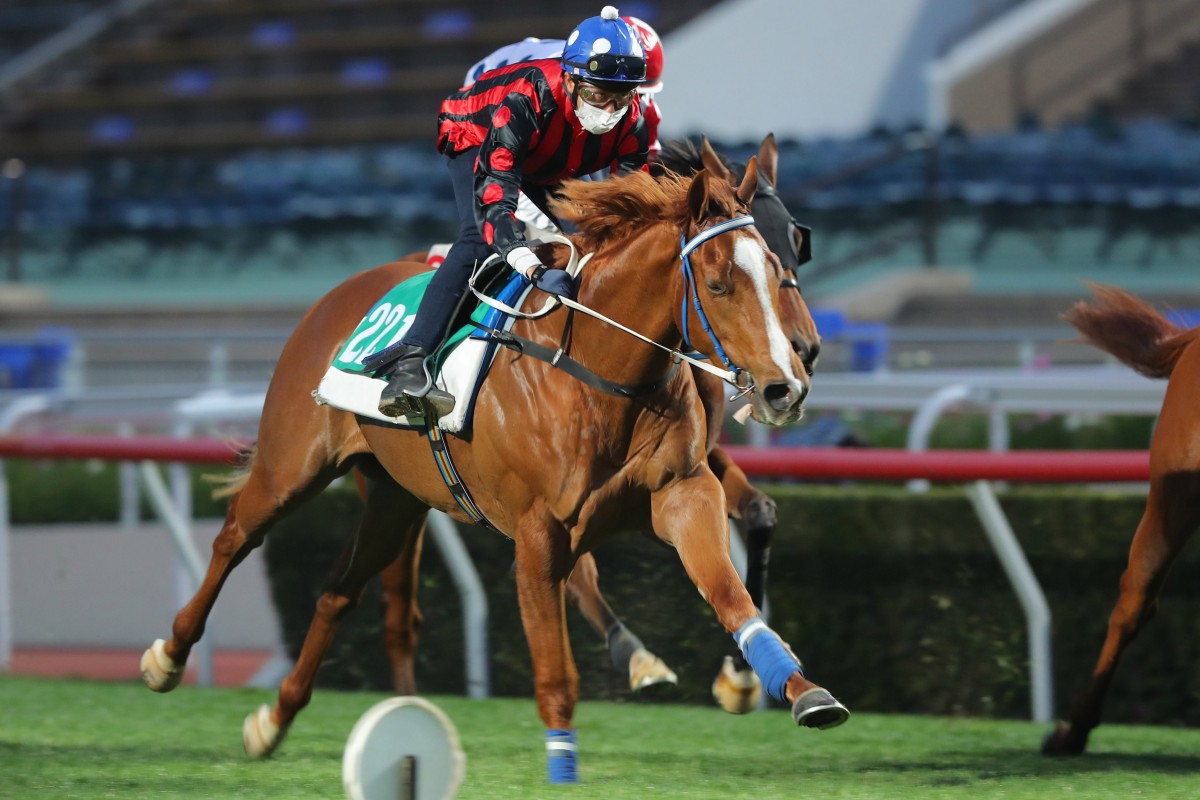 In a normal week there are probably not too many British eyes focused on a Class Three at Happy Valley but that could change this Wednesday when one of the highest-rated two-year-olds in Europe last year makes his eagerly awaited Hong Kong debut in the Hing Tung Handicap (1,000m).
Atomic Force was officially ranked joint-ninth in the official European two-year-old classifications in 2021 with a rating of 114 after winning at Group Three and Group Two level in France at the end of his juvenile career.
Trained in Britain by Kevin Ryan, Atomic Force had always showed plenty of spark as a youngster and Ryan's son and assistant Adam remembers the son of Cotai Glory fondly.
"He came to hand very early and he was showing the right signs from the get-go," Ryan said. "The thing with him is that not only did he have ability, he had a great temperament and a good mind on him. He really took to his work and all he wanted to do is please."
The decision to sell Atomic Force must have been a difficult one but, given the way Group racing is structured in Europe, there were limited opportunities for the gelding to race at the highest level.
"We'd have loved to have kept a horse of his quality," Ryan said. "But the way the gelding rules are in top-level Group Ones over here, there were very limited opportunities for him.
"For the owner and the horse, there are better opportunities where he is now and he deserves to take his chance in some big, valuable races."
It's clear then that the decision to sell Atomic Force to prominent Hong Kong owners the Siu family had nothing to do with a lack of scope and Ryan felt that he was the type likely to improve physically as a three-year-old.
"I haven't seen him since he moved but he was always that powerhouse, all muscle. He had the scope that he could continue to improve physically so it wouldn't surprise me to know that he's gone on to be a bull-like sprinter," he said.
That assessment is backed up by Atomic Force's new trainer, Hong Kong champion Caspar Fownes, who feels he has a raw but powerful sprinter on his hands.
"He's a nice horse, still developing and he's got something there," Fownes said. "He's got a massive frame and he's going to keep growing into that.
"He's done well overseas and he was obviously a precocious two-year-old but he looks the type of horse to me who is still maturing and still growing, so he could be quite nice going forward."
Given his previous form in European races, none of which were run around a bend, Atomic Force has been allocated a rating of 84 ahead of his Hong Kong debut and Fownes feels it may take a while for him to acclimatise to a different style of racing.
"It's very tough when you come to Hong Kong and you're thrown a rating of 84," Fownes said. "That makes it very hard for these horses because they were running against their own age group as two-year-olds in Europe and if they're strong they can dominate and look very progressive.
"Then you bring them to Hong Kong and you're running them against older horses and races are run at a different tempo and different tracks.
"It can all become a bit overwhelming for them but we've given him a good preparation and it's time for him to go to the races."
Fownes has targeted this particular Happy Valley race for a while with Atomic Force and feels it is the perfect way for him to start out.
"This is a nice rating-band race being open to up to 85-rated horses," Fownes said. "I'd picked it out for a long time and thought this was the one for him to have his first run and that will just tell us exactly where he is, how he'll handle the turns and just toughen him up a little bit.
"This season is more for seeing where we are with him and if he can run here and be competitive in his first few starts, it will be a massive bonus."